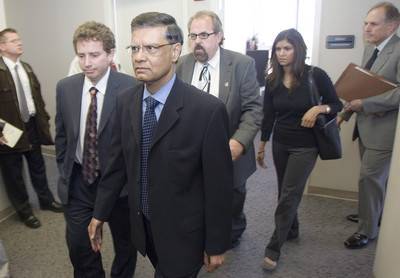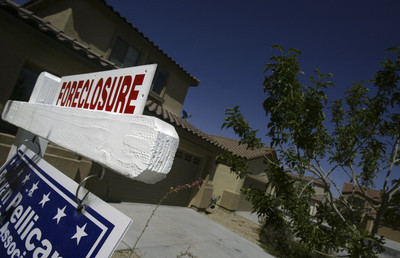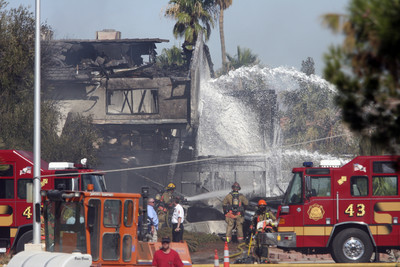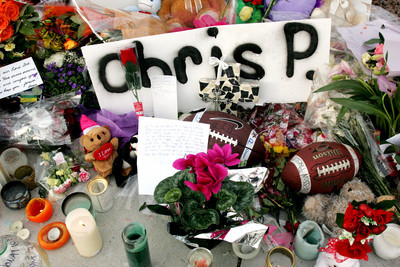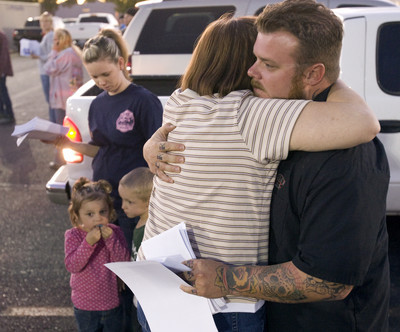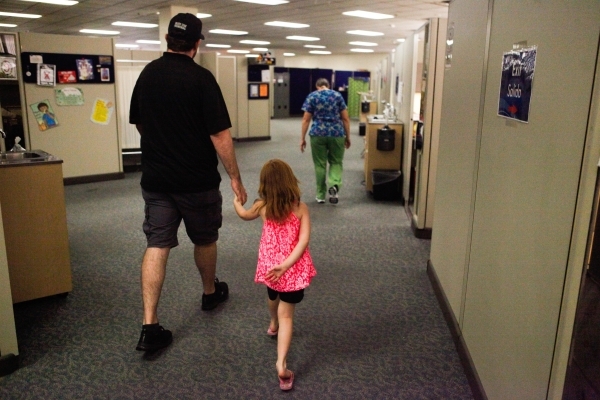 Who says the media crave scandal and corruption? That we print nothing but bad news because we want to sell papers?
That is simply not true.
Take a look at the top 10 news stories from 2008, as voted on by the Review-Journal's staff. It's a virtual wheelbarrow full of fun! Marshmallow cream pies wrapped in the smiles of children! Sunshine, rendered in words!
Why, 2008 will almost certainly go down as one of the happiest 366-day periods (it was a leap year, remember) in Las Vegas history.
OK. Not really. Pretty much what you've got here is disease, depression and death. We're sorry. We hate doing this to you. But reality is what it is. It's been a tough year for all of us.
Even the stuff that just missed the top 10 list was flashy enough to sell a few papers: The state's lieutenant governor, Brian Krolicki, was indicted, but he blamed politics; it snowed more than it has here since 1979; homeowners associations were accused of rigging construction defect lawsuits; the Monte Carlo's facade burned when welders worked without required permits. We're surprised the obvious and rapidly approaching apocalypse didn't make the list.
Ah, well, let's get this thing started.
1. IRONY, MEET YOUR MAKER
Tens of thousands of people received chilling letters from government health authorities warning them that they might have contracted a deadly disease from HEALTH CARE PROFESSIONALS.
Workers at two Las Vegas surgical clinics owned by Dr. Dipak Desai were accused of improperly reusing vials of medication, which led authorities to notify more than 50,000 patients that some might have been exposed to disease. Both centers have since shut down and Desai (pictured below, top left) faces a host of troubles.
So far, nine patients who have been diagnosed with hepatitis C have been directly linked to the two clinics. More than 100 other cases might be connected.
The scandal — it involved the largest such notification in U.S. history — has launched inquiries by local police, the state Medical Board, the FBI and the IRS.
2. POP
The bubble exploded and shrapnel hit us all. Home values plunged. Homeowners stopped paying the bills. Banks swooped in. Foreclosures soared. Inventory grew. Debt piled up. Financial institutions failed. Tourism slowed. Tax revenue trickled in. Budgets were cut. Jobs were lost.
The foreclosure crisis grew out of the giddy days of yore, when you could buy a house on Monday, sell it on Friday, and retire over the weekend. No more.
Nevada is among the nation's leaders in foreclosures. Unemployment is at a 25-year high, and will probably go higher.
Gaming revenue is down more than 20 percent, year-over-year, which means state tax revenues are down as well.
State officials have projected budget cuts of massive proportions in coming months. Almost nothing is spared. Textbooks, medical care, construction. It's all going to be cut.
Legislators closed this year's gap with a special session in December, but next year isn't looking any better.
Pop.
3. NEVADA GETS OBAMA FEVER
Nevada had more politicians passing through it in 2008 than a swanky strip club with a don't ask, don't tell policy on graft.
Our five priceless electoral votes got us wooed endlessly, from the early primaries and caucuses right through the November election.
Barack Obama turned the state blue for the first time since Bill Clinton's reign. Voter registration rolls swelled to record levels, particularly the Democratic rolls.
There were also local elections, which saw the end of Bruce Woodbury's career after 27 years on the Clark County Commission because of term limits. Dina Titus whomped Jon Porter and will replace him in Congress. The state Senate went Democratic, and the Assembly reached the magical two-thirds Democratic majority.
4. IF HE HADN'T DONE IT …
Nine years ago, we welcomed the dawn of the year 2000 with trepidation and excitement. Nine years it's been since that idiocy took us all along for a ride. Long time, no?
That's how long O.J. "the Juice" Simpson will be behind bars. Nine years, at a minimum. Maybe as long as 33, assuming he's alive that long.
Simpson, the most famous might-have-gotten-away-with-murder-former-world-class-athlete ever to rob a couple of small-time memorabilia dealers in an off-Strip casino, groveled before District Judge Jackie Glass before she sent him to the hoosegow.
It didn't work.
She pointed out that he was clearly guilty, as the whole thing was recorded on audio tape. She pointed out that what he did was violent. She didn't have to point out what a bunch of idiocy this all was. Simpson quite capably did that himself.
5. Judge not, lest ye be … Oh, never mind. Judge away
The Ick Factor of the year award goes to Nicholas Del Vecchio and Elizabeth Halverson, both of whom began 2008 as paragons of virtue and are ending it as something quite different.
Both lost their bids for re-election, but that's the least of their problems.
Del Vecchio, a Family Court judge, was removed from office in October after he admitted to numerous sexual improprieties. They included having sex with a staff member during work hours.
Halverson? You'll remember her as the larger-than-life, wheelchair-bound District Court judge who rarely gets mentioned without the word "embattled" real close to her name.
Halverson, who was already suspended from the bench, was removed from her judgeship in November.
Allegations against her were numerous, the most memorable that she forced her bailiff to rub her feet.
6. DAMMIT, JIM, YOU'RE A POLITICIAN …
He ain't Rod Blagojevich, but Nevada Gov. Jim Gibbons made the paper every now and then for things that weren't, shall we say, governorly.
Like text messaging a gal pal 860-odd times in a six-week period.
Or battling it out in public with his perhaps-not-coincidentally estranged wife, Dawn, in their divorce proceedings.
Or announcing that he is no longer the target of an FBI investigation that had alleged he took unreported gifts when he was a congressman.
Gibbons' poll numbers crashed and burned.
7. EXPERIMENT IN PROGRESS
People died in several plane crashes this year, many with connections to the North Las Vegas Airport.
The first crashed in June at Mount Charleston, killing four Californians. It had taken off from North Las Vegas Airport.
Then, an experimental plane out of North Las Vegas Airport crashed into a house Aug. 22 near Lake Mead Boulevard and Simmons Street.
The crash killed pilot Mack Murphree, as well as Jack and Lucy Costa, who were in their home minding their own business.
Six days later, a small airplane experiencing engine trouble clipped a power line and plunged into a house on north Jones Boulevard, a mile short of the runway at North Las Vegas Airport.
The pilot, William Leahy, was killed. But all 10 people in the house were able to scramble to relative safety.
Three weeks later, a Las Vegas couple, Floyd and Diane Williams, were killed when their plane crashed near Denver. They had taken off from North Las Vegas.
In early October, Las Vegan Greg Jaspers, a former Air Force test pilot, died when his experimental plane crashed near Sandy Valley.
The crash had no connection to North Las Vegas Airport.
Las Vegan Grant Phillips died in October when his experimental plane crashed in Utah. He was returning to … North Las Vegas Airport.
All of that had people who live near North Las Vegas Airport carefully watching the sky. And complaining.
County airport director Randall Walker says he wants more local control over airports, but federal authorities say that's a long shot.
8. IT'S A WEST SIDE STORY
Summerlin hugs the western edge of Las Vegas like a big brother with strong shoulders and a BMW in the garage. It is rarely mentioned in crime stories of any sort.
Except this year.
In February, 15-year-old Christopher Privett, a freshman and honor student at Summerlin's Palo Verde High School, was killed in a drive-by shooting that no one can make real sense of.
Two teenagers are charged with murder in the case.
9. NANCY GRACE ALMOST SMILED
Cole Puffinburger is a 6-year-old kid with the cutest name ever to grace these pages.
He was kidnapped from his home after his grandpa, Clemens Fred Tinnemeyer, stole $4 million from a Mexican drug cartel, according to court documents.
A frenzied, nationwide search ensued. Cable news outlets got goose bumps.
And then, Cole turned up a few days later, walking alone in a downtown neighborhood. A bus driver picked him up. He is perfectly fine.
His grandpa and others were arrested.
10. HOSPITAL NEEDS CARE
The folks at University Medical Center must be looking forward to the end of 2008. The county's public hospital is in need of a little treatment itself after the awful year it had.
The hospital cut a dozen programs after Medicaid announced it would cut its reimbursement rate.
The outpatient oncology program was nixed, as was UMC's contract with the Nevada Cancer Institute, which handled outpatient cancer treatment.
The hospital also cut its programs for prenatal care and kidney dialysis.
Along with the cuts, UMC's kidney transplant program was harshly criticized for its relatively high death rate. Though threatened with closure, the program was given a six-month reprieve and ordered to improve. Or else.
To top it all off: UMC's former CEO, Lacy Thomas, who'd been fired a year earlier, was indicted in February and charged with steering lucrative contracts to his friends.
Contact reporter Richard Lake at rlake @reviewjournal.com or 702-383-0307.
ON THE WEB
Top photos of 2008
Top 10 stories of 2008
1. Hepatitis C scandal
2. Economy tanks
3. Elections
4. O.J.'s antics
5. Judges removed
6. Gov. Gibbons' troubles
7. Planes crash
8. Privett killing
9. Puffinburger kidnapping
10. UMC's in trouble