September 21, 2008 - 9:00 pm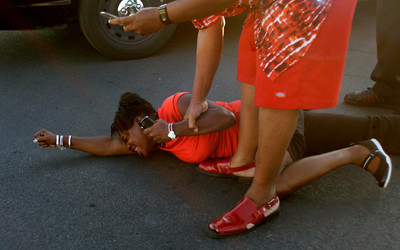 Opening statements, a field trip and an expletive-laden audiotape marked the first week of testimony in O.J. Simpson's Las Vegas trial.
Defense attorneys began the week by painting the Hall of Fame running back as a man who just wanted his stolen treasures back.
Prosecutors countered with a different story, one in which Simpson and his armed entourage planned to storm in on two memorabilia dealers and retake property to which he had no legal right.
On Friday morning, the trial briefly moved to the scene of the crime, a guest room at Palace Station, where jurors were treated to a tour.
An audiotape of the alleged robbery dominated the rest of Friday's testimony.
Simpson and Clarence "C.J." Stewart are charged with armed robbery and kidnapping in connection with the confrontation a year ago.
MONDAY
MUTH SEEKS LOUX PROBE
Conservative political activist Chuck Muth is asking the U.S. Department of Justice to investigate the state Agency for Nuclear Projects following revelations that its executive director, Robert Loux, gave himself and other staffers unauthorized pay raises.
Muth also has filed a complaint in District Court seeking Loux's removal.
In another development, two lawmakers have requested a bill to put Gov. Jim Gibbons in charge of the agency rather than the Nevada Commission on Nuclear Projects, a panel of part-time appointees.
TUESDAY
NINE LIVES EXTENDED
Feral cats got a reprieve as the Clark County Commission created a "trap, neuter and return" program to replace the old practice of rounding up strays and euthanizing them.
The new rules make it legal to tend strays in urban areas but not rural parts of the county, where there are concerns about the impact of cat colonies on migratory birds.
WEDNESDAY
OBAMA SWINGS AWAY
Democratic presidential nominee Barack Obama blasted the economic policies of GOP opponent John McCain during a speech to more than 11,000 people at Cashman Field.
Obama's campaign stop came after recent visits to Nevada by McCain's running mate, Sarah Palin, and McCain's staunch ally, Sen. Joe Lieberman, I-Conn.
Obama's 17th trip to Nevada included a stop in the GOP stronghold of Elko.
THURSDAY
DODGERS WALK
It's official: The Los Angeles Dodgers are ending their 8-year Triple-A affiliation with the Las Vegas 51s.
The Florida Marlins, Toronto Blue Jays and Washington Nationals are the leading candidates to replace L.A.
The Dodgers will be returning to their roots in Albuquerque, N.M., their Triple-A town from 1963 to 2000.
FRIDAY
CHARGES DISMISSED
The federal government agreed to dismiss criminal charges against self-proclaimed medical consultant Howard Awand.
He and personal injury attorney Noel Gage were accused of conspiring with doctors to cheat injured clients and line their own pockets.
U.S. District Judge Justin Quackenbush in June dismissed the charges against Gage when the government refused to grant immunity to Dr. Mark Kabins, who is also under investigation. Quackenbush said the same order would apply to the Awand case.
The 9th U.S. Circuit Court of Appeals is reviewing the judge's order and could reinstate charges against Gage and Awand.
Week In ReviewMore Information
By the Numbers 1203 — The guest room and crime scene at Palace Station that was toured by jurors Friday in the ongoing armed robbery trial of O.J. Simpson. 73 — Percentage of English-as-a-second–language students in Clark County who were born in the United States. 28 — Grocery store branches that Nevada State Bank plans to shed in January as part of a change in strategy for the largest locally based commercial bank. 4-0 — The Mountain West Conference's football record last weekend against Pacific-10 Conference opponents, including UNLV's win at then-No. 15 Arizona State. 561-586 — Record posted by the Las Vegas 51s during their eight-year run, which ended Thursday, as the Triple-A affiliate for the Los Angeles Dodgers. Blogs Vegas Voice: UNLV awards run the gamut. Book Nook: An obituary for a crime writer. VegasLand: WTH, Mr. President? Multimedia Nascar trucks: view the slideshow view the videoUNLV FOOTBALL OJ Trial COMING MONDAY Elko on Obama view videoQuotes "It's all determination. You could either have no optimism about it and it won't go anywhere, or you could be like me and always look at the positive side and be ready to move." LaQuan Phillips, Green Valley High School senior, on a spinal cord injury he suffered in a Football game on Sept. 5. "Unfortunately, his burglar alarm just ate his baby." Jason Howe, neighbor of a couple whose 4-month-old daughter was killed by the family's two pit bulls on Sept. 12. He was angry over the family having the dogs and was not being flippant. "They not only don't like the stock market. They're not sure they trust the government or the banks anymore." Peter Atkinson, President of Black Rock Community Bank on the reaction by some valley residents to last week's wall street meltdown.