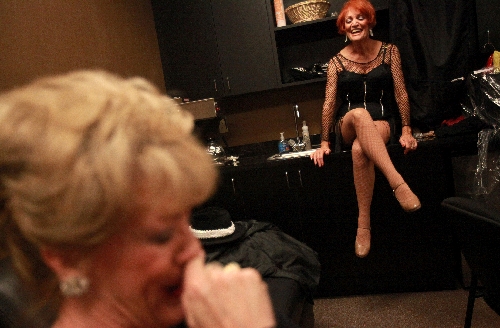 The remains of a Las Vegas woman missing since April were found buried beneath the clutter in her own home, which family friends previously characterized as the residence of a compulsive hoarder.
After a months-long search that involved volunteers, trained dogs and police helicopters with infrared scopes, the remains of 67-year-old Billie Jean James was discovered Wednesday by her husband, Bill, in a tiny room packed with 5 tons of debris.
The couple had built a second home on their property to hold all of James' belongings. One family friend called the back room where she was found "her rabbit hole."
Monday
Death ruled homicide
The death of an infant whose catheter was severed at Sunrise Children's Hospital has been ruled a homicide by the Clark County coroner.
Nurses Jessica May Rice and Sharon Ochoa-Reyes from the hospital's Neonatal Intensive Care Unit had their state licenses suspended after a police investigation into 14 incidents of disrupted catheters since February.
Coroner Mike Murphy said homicide does not necessarily mean the death was murder or even intentional.
Tuesday
Suicide leads to arrest
The May 9 death of local professional golfer Erica Blasberg has been ruled a suicide, but a man faces a misdemeanor charge of obstruction of justice in connection with removing items from the woman's house prior to police officers' arrival.
Dr. Thomas Hess, 43, turned himself in to authorities in Henderson.
Police say he previously admitted to removing a suicide note from the scene and hiding it in his vehicle along with prescription medications taken from Blasberg's house.
Wednesday
Detective may have lied
Las Vegas police Detective Bryan Yant is under investigation for apparently lying about drugs he didn't seize and actions he didn't take during a 2009 police raid that never happened.
The 10-year veteran of the department, who remains on paid leave, last week was cleared by a coroner's inquest in the fatal shooting of Trevon Cole while serving a drug warrant in June.
In seeking the warrant, Yant misstated Cole's criminal history.
The department's internal affairs unit is investigating that case and Yant's actions in at least one other drug case recently thrown out by a judge.
Thursday
Board won't boost pay
The Clark County School Board decided to ignore advice from its search firm and stick with a $270,000 salary offer as it looks for a successor to Superintendent Walt Rulffes.
Search firm Jacobson & McPherson recommended adding a performance bonus to increase the salary range to $325,000 to $340,000.
Friday
Anti-anti-incumbency
All five incumbent statewide officeholders hold leads over their challengers, according to a Review-Journal and 8NewsNow poll.
Democratic Attorney General Catherine Cortez Masto has opened a decisive 17 percentage point lead over Republican challenger Travis Barrick.
Republican Lt. Gov. Brian Krolicki holds a 12 percentage point lead over Democrat Jessica Sferrazza.
Meanwhile, Democratic Secretary of State Ross Miller holds a 14 percentage point lead over Republican Rob Lauer.
Treasurer Kate Marshall and Controller Kim Wallin, both Democrats, hold single-digit leads.
Week In Review
More Information
NUMBERS
68
Percentage of Nevada mortgages underwater at the end of June, the highest percentage in the nation,according to a real estate data provider.
66
Percentage of voters who say they back Sharron Angle but wish the Republican Party had nominated someone else to challenge Harry Reid, according to a new R-J poll.
82
The number of contestants Miss Mexico Jimena Navarrete beat out to be crowned Miss Universe during the pageant Monday at Mandalay Bay.
1,648
Number of yards Bishop Gorman High School grad DeMarco Murray needs this season to set the career rushing record for the Oklahoma Sooners.
QUOTES
"It was presented to them like a multiple-choice question: A: justified. B: excusable. C: blank. D: either (answers) A or B."
Attorney Andre Lagomarsino
offering his take on instructions given to the coroner's inquest jury that cleared police detective Bryan Yant in the june 11 shooting death of trevon cole, who was unarmed. Lagomarsino represents Cole's family.
"N-squared, S-squared."
One suggested nickname for the Nevada National Security Site, the new official title given monday to the area northwest of Las Vegas previously known as the Nevada Test Site.
"It was a bad hand. A bump in the road. Sometimes Lady Luck is fickle."
Ron Wall
Professional poker player known as "the Duke of Fremont," on the brutal beating and robbery he survived on June 26.
"You wouldn't think so."
Police Officer Dan Woodard
When asked if female criminals tend to be as violent as male criminals. Las Vegas Police on Wednesday announced the arrest of 10 members of an all-female gang called Lady Macc in connection with a violent spree of robberies and burglaries in May.
MULTIMEDIA lvrj.com/multimedia
SLIDE SHOW: Heavy rains bring flood advisory
VIDEO: Girl gang found in Las Vegas
SLIDE SHOW: Ms. Senior Nevada State Pageant
VIDEO: UNLV kicks off fall semester
SLIDE SHOW: AFAN celebrates 24th Black & White Party
VIDEO: Movie Minute with Carol Cling
VIDEO: Doug Elfman: What's Hot This Weekend