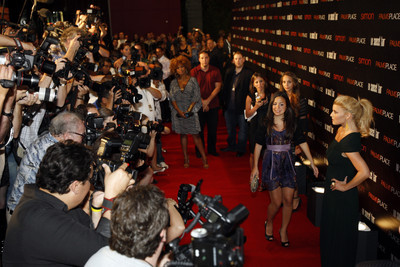 The majority of union workers on MGM Mirage's CityCenter project went on strike late Monday after union negotiations with the developer and construction company regarding the construction site's safety broke down.
The May 31 death of a sixth worker on the $9.2 billion project led the Nevada Building and Construction Trades Council to take action against MGM Mirage and the project's general contractor, Perini Building Co. The council demanded that the companies submit to an immediate work site safety assessment, pay for on-site training and grant full job site access to union and safety officials among other things.
Workers ended their strike and returned to work Tuesday night.
MONDAY
HEPATITIS PROBE
Responding to criticism, the president of the state Board of Medical Examiners told Gov. Jim Gibbons and Nevada lawmakers that the regulatory agency is diligently investigating doctors' culpability in the hepatitis C outbreak.
The medical board's Investigations Division is "vigorously, urgently and professionally pursuing its investigation," said a letter signed by board President Javaid Anwar.
TUESDAY
YUCCA FILING
The federal government's plan to bury nuclear waste in Nevada took a significant step forward when the Department of Energy applied for permission to build a repository at Yucca Mountain.
The license application represents a milestone for the project that was conceived more than 25 years ago as a resting place for 77,000 tons of spent nuclear fuel.
WEDNESDAY
AT THE PUMP
The local cost of a gallon of regular, unleaded gasoline swept past $4 for the first time, jumping from an average $3.99 Tuesday to an all-time high of $4.02 Wednesday, according to AAA.
THURSDAY
VALLEY STANDOFF
A police officer was wounded and a suspect killed in a standoff near Durango High School in southwest Las Vegas.
Metropolitan Police Department Officer Blake T. Penny was shot in the leg during an exchange of gunfire with the suspect. Penny was expected to fully recover.
FRIDAY
GRADUATION TALLY
A study published in Education Week calculates that the Silver State has the lowest high school graduation rate in the country at 45.4 percent. The national average is 70.6 percent.
School officials were skeptical of the methodology of Diplomas Count 2008. Gloria Dopf, the Nevada deputy superintendent, said it's "not a graduation rate, it's an attrition rate" because it emphasizes the loss of students.
Week In ReviewMore Information
Blogs vegas voices: Loews Lake Las Vegas Resort is offering a one-hour class for children, from age 5 to teenagers, on the basics of sushi dining. vegasland: Ticketmaster auctions unsold tickets for Madonna's 'sold-out' concert. Vin Suprynowicz: Bob Barr wins the Libertarian presidential nomination, but he's no libertarian. sherman Frederick: Tuesday is a day for the calendar, the day America becomes Clinton-free. the online guy — tidbits: We're looking for people to join an online R-J focus group. book nook: Reviews of "The Art of Keeping Secrets," "Women of Wisdom," "Odd Hours," "Sabriel," "Eccentric Glamour," "Labyrinth," and "The Delivery Man." Numbers 50,000 — animals taken each year to Lied Animal Shelter, Southern Nevada's regional animal shelter. 18 — Las Vegas' ranking out of 100 cities for the size of its carbon footprint. The smaller the carbon output the lower the ranking. 8,647 pages in the Department of Energy's application to build a nuclear waste repository at Yucca Mountain. 3 seasons in a row that the Las Vegas Wranglers have been eliminated from the playoffs by the ECHL champions. 8 — number of Clark County School District high schools that will require athletesto submit to drug testing. $76 million — unpaid outstanding taxes that could be collected through a state tax amnesty program beginning July 1. Quotes "In actuality, Louis Mydlach was standing close behind Roy, surreptitiously holding him up by his pants!" "the secret life of siegfried & roy" book authors claiming that the first time illusionist roy horn stood following the tiger attack — to applause at a "havana night club" show in august 2004 — it was really security guard louis mydlach doing the work. "On days like this, you always get a call from your parents and spouses or children, saying, 'I'm glad it wasn't you who was hurt. Stay safe out there.'" assistant sheriff rod jett following the wounding of las vegas police officer blake t. penny in a standoff with a shooting suspect. Penny is recovering from a wound to his leg; the suspect was killed.