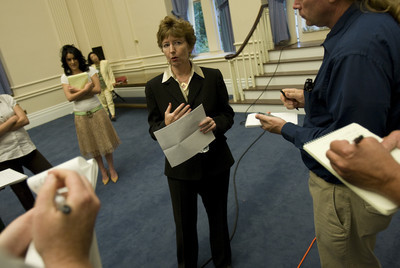 The Nevada Legislature approved $275 million in budget cuts Friday in a rare special session to balance the budget for the fiscal year that starts Tuesday.
In a speech to the Assembly early in the day, Speaker Barbara Buckley, D-Las Vegas, said: "The governor challenged lawmakers to meet this serious challenge, and meet it we will."
Senate Majority Leader Bill Raggio, R-Reno, predicted early on that lawmakers would finish in one day.
He was right. The Legislature adjourned a little over 12 hours after it opened.
Afterward, Gov. Jim Gibbons said he would review the approved bills in detail, but saw no problem in signing them into law.
MONDAY
Cab passengers will pay an additional 45 cents a mile starting July 6 after the Nevada Taxicab Authority voted unanimously to increase rates in reaction to rising gasoline costs.
The fare boost includes a permanent 20 cents per mile charge and a temporary 25 cents per mile fuel surcharge that could be increased if gasoline prices climb above an average of $5 a gallon.
TUESDAY
Nevada slipped in the Milken Institute's 2008 State Technology and Science Index to the index's bottom 10, falling from No. 43 in 2004 to No. 45 today. The Silver State fared worst in human capital, placing last in the nation. It also ranked No. 48 in technology and science work force. In technology concentration, at least, Nevada broke into the top half, coming in at No. 23.
WEDNESDAY
Economist Keith Schwer declared Southern Nevada's economy has indeed entered a recession.
"This is the story line. Yes, there is a recession," said Schwer, director of the Center for Business and Economic Research at the University of Nevada, Las Vegas. "Three things come together to account for our outlook of a recession: oil, credit and housing."
THURSDAY
District Judge David Wall granted a preliminary injunction preventing authorities in Clark County from enforcing Assembly Bill 579, a new law that categorizes sex offenders by the crime for which they were convicted instead of their risk of re-offending.
The law, commonly known as the Adam Walsh Act, was set to take effect on Tuesday.
FRIDAY
Las Vegas ranked poorly in a national study evaluating cities for the value of care their hospitals give patients.
Las Vegas placed No. 82 out of the country's 100 biggest markets in an analysis that weighed hospitals' affordability and efficiency against quality of care and patient satisfaction.
Week In ReviewMore Information
BLOGS • heavy pedal: Southern Nevada lost a great motor sports event when the SCORE Desert Racing series was canceled. • vegas voice: I've been blurbed, writes TV critic Christopher Lawrence. • vegasland: Jay Leno to whiney celebs: "Shut up" and "find another (expletive) job." • from sherm's desk: Perhaps for the first time in our modern era, Nevada will be hard hit by national economic woes. multimedia • gun decision: Writer Alan Choate talks with people about the Supreme Court ruling on the Second Amendment. • fear and loafing: Cory Levitan plays in a poker tournament. QUOTES "We are so far away from where most of the people live. It is jackrabbits and snakes from here to Kansas City." maurice gallagher president and ceo of las vegas-based allegiant air, Discussing the airline industry's incremental move away from long-haul flights that bring tourists to southern nevada because of sharp increases in fuel prices. "There's only so much the human body can take. Chris' body took the human limit. It was just a horrible, devastating shot." andrew himmler a friend of chris luscombe's, discussing the bob baskin park shooting victim who died wednesday at university medical center. luscombe survived 18 days after being shot when a gunman opened fire on a crowd in the park. "If I was anybody else, I wouldn't be going to court." o.j. simpson referring to the kidnapping and armed robbery charges he'll face in a Sept. 8 trial in Las Vegas. the former nfl star made the remarks in an interview with a fargo, n.d., radio station. NUMBERS 12 hours the Legislature spent in special session on Friday. $275 million amount lawmakers cut from the budget during the session. 2,000 former Area 51 workers now eligible for health payments to ill nuclear weapons workers. 45 minutes it took for a jury to convict Sherri Love of murdering her 7-year-old daughter, Arabella Moreno. 20 number of times Love stabbed Arabella, according to authorities. 5% May's decline in traffic at McCarran International Airport.