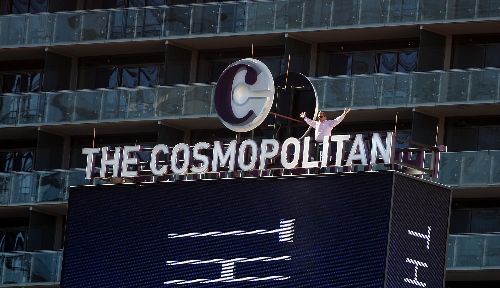 Evidence of an economic recovery was hard to find last week, as two gaming giants reported weak second-quarter results, vacant land prices tumbled and new benefits for the long-term unemployed were proposed in Congress.
Harrah's Entertainment lost $274 million in the second quarter, reversing a year-ago profit of $2.29 billion, while Boyd Gaming Inc. saw its second-quarter profits fall 73 percent to $3.4 million.
Also in the second quarter, vacant land prices slipped to $154,700 an acre, down 15.2 percent from the previous quarter and off nearly 40 percent from a year ago.
On Wednesday, U.S. Sen. Harry Reid joined 10 Democrats on legislation that would create new benefits for the long-term unemployed and businesses that might give them jobs.
It's unclear whether the bill might be passed when Congress returns from recess in September.
Monday
Record hot month
July was the hottest month ever recorded in Las Vegas, according to the National Weather Service.
The average temperature last month was 96.2 degrees, the highest since record keeping began in 1937. The previous record, set in July 2007, was 95.4.
Tuesday
Officers face charges
Two Las Vegas police officers are facing criminal prosecution for their role in the fatal crash of a suspected drunken driver in May.
Police are recommending charges against Aron Carpenter and Andrew Charles Ubbens after the two officers ignored repeated commands from a sergeant to stop pursuing a driver in the northeast valley on May 19. The chase ended in a five-car crash that killed Ivan Carrillo, 26, of North Las Vegas.
Carpenter faces charges of felony reckless driving and misdemeanor vehicular manslaughter. Ubbens faces a misdemeanor reckless driving charge.
Wednesday
Rulffes' stay extended
The Clark County School Board voted to extend Superintendent Walt Rulffes' contract to Jan. 4 while the search continues for his replacement.
Rulffes, 70, has been at the helm of the nation's fifth-largest school district for five years. During the six-month extension he is voluntarily taking a 20 percent pay cut, which will be based on an annual salary of $307,632.
Thursday
Park backers fight line
The hard work that has gone into proposing a new national park to protect fossils and rare plants in northwest Las Vegas might be erased if more power lines are allowed to cross the area, backers of the park said.
They are worried about NV Energy's desire for right of way in an area that's being considered for national monument status.
The monument is being sought to protect fossils of mammoths, North American jaguars and other creatures as well as plant species such as buckwheat and bearpoppy.
Friday
Museum on the move
The Lied Discovery Children's Museum will move into the Smith Center for the Performing Arts, which is expected to open in the spring of 2012 at Bonneville Avenue and Grand Central Parkway.
The museum, which opened in 1990 on Las Vegas Boulevard near Washington Avenue, features kid-friendly exhibits in the arts, sciences, nature, music and the humanities.
Details of the move to the $485 million Smith Center are expected to be announced during a Wednesday news conference at the museum.
Week In ReviewMore Information
NUMBERS
31
Days in July when the temperature hit triple digits, marking the first time since 1988 and just the fifth time since 1931 that it hit at least 100 every day of the month.
22
The amount of ice, in tons, used to create the Monte Carlo's new Minus 5 Ice Bar, where the walls, seats and even the glasses are made of ice.
$2.7 billion
Current equity value of CityCenter, down from $4.9 billion in October. Equity value doesn't include the value of the buildings, which has not been made public.
20-1
The Minnesota Vikings' odds of winning the Super Bowl if quarterback Brett Favre retires, according to the Las Vegas Hilton. With Farve still playing, the odds are 12-1.
QUOTES
"What's happening in this country is a violation of the First Commandment."
Sharron Angle
In an April radio interview talking about what the Republican senate candidate called Democrat-backed entitlement programs "built to make government our God." The First Commandment warns, "Thou shalt have no other gods before me."
"You can't shelter your way out of this problem. You have to nip it in the bud."
Dr. Gary Weddle
Administrator of Henderson's animal shelter, arguing in favor of a new city ordinance requiring pet owners to sterilize their dogs and cats.
"You need to wear a life jacket or you die."
Carter Cox
What the 9-year-old learned from a July 31 boating accident on Lake Mohave. National Park Service officials said Carter and his family of five adults and seven children lived through the sinking of their boat because of proper life jackets and training.
MULTIMEDIA (lvrj.com/multimedia)
VIDEO: Sheriff Doug Gillespie editorial board meeting unedited
VIDEO: Carol Cling's weekly MOVIE MINUTE
VIDEO: Thousands attend job fair
VIDEO: 12-member family survives sinking boat
VIDEO: Officer Mike Madland receives Purple Heart Award
VIDEO: 2010 Star Trek Convention and Propworx memorabilia auction
VIDEO: Local B-Boy Crew prepares for the UBC Event at MGM