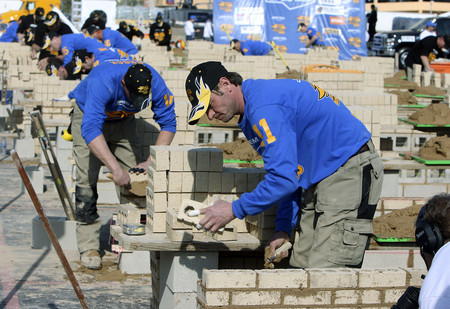 No funeral arrangements have been made just yet, but the Yucca Mountain Project received its last rites from the Obama administration Monday.
The potential death knell came with the release of a new White House budget that essentially zeroes out federal support for the proposed nuclear waste repository in Nevada.
The announcement prompted the Department of Energy to file paperwork seeking to suspend licensing for the site and serve notice that, within 30 days, it will withdraw its bid to build the controversial project.
After more than 20 years of fighting, opponents reacted to the news with optimism tinged by a heavy dose of caution.
MONDAY
CHINESE MONEY TRAIN
Backers of a proposed magnetic levitation train that would ferry passengers between the Los Angeles area and Las Vegas announced that China is willing to loan $7 billion to build the project.
All that is needed for the loan to go through is a promise of support from the U.S. government.
Maglev officials said the Export-Import Bank of China is willing to lend the money with the knowledge that if the California-Nevada Super Speed Train Commission is unable to pay it back, federal officials will.
TUESDAY
A 'BLOW' TO VEGAS
President Barack Obama angered Las Vegas boosters (and a few boat sellers) when he mentioned the city (and boats) as examples of reckless spending in tough economic times.
Though his words were surely accurate, Obama drew the wrath of Nevada officials for singling out the city in such a way for the second time in less than a year.
Obama later tempered his remarks somewhat, but one valley boat seller could not be talked down. The scrolling sign in front of Pro Shop Motor Sports and Marine in Henderson read, "Shut up Obama. Just shut up."
WEDNESDAY
CAR PLOWS INTO CASINO
Two women were killed and seven other people were injured when a car crashed through the front entrance of the Edgewater Hotel & Casino in Laughlin.
Las Vegas police are investigating whether a medical episode may have caused 70-year-old Walter McGie, of Kelso, Wash., to plow his 2007 Pontiac Vibe into the building. He escaped injury but faces felony reckless driving charges.
Police said no skid marks were found at the scene, indicating that McGie never applied the brakes before impact.
THURSDAY
SCHOOL JOBS, PAY AT RISK
While state teachers union president Lynn Warne refused to support salary cuts without collective bargaining negotiations, Clark County School District Superintendent Walt Rulffes warned that budget cuts could force thousands of teachers to be laid off.
The comments came during a meeting of the Legislature's Interim Finance Committee to discuss Nevada's $881 million tax revenue shortfall.
FRIDAY
DAT'S SUPER!
Las Vegas is braced for a bigger "Big Game" than usual this year. The Las Vegas Convention and Visitors Authority expects about 278,000 people to come to the city for the Super Bowl, a 13.5 percent increase over last year.
The nongaming impact from all those visitors could approach $90 million, despite strict NFL rules that bar casinos from using the words "Super Bowl" to promote their "Big Game" parties and specials.
Week In ReviewMore Information
NUMBERS
39
Different states where highly radioactive nuclear waste will continue to be stored now that the proposed repository at Yucca Mountain appears dead.
2,125
The number of jobs the Yucca Mountain Project has lost since 2005.
$97.6 million
How much Yucca Mountain oversight money the Department of Energy has paid to the state of Nevada since 1983.
$23.6 billion
How much ratepayers have poured into the fund set aside to build a central repository and transport high-level nuclear waste to it.
QUOTES
"You don't blow a bunch of cash on Vegas when you're trying to save for college."
President Barack Obama
During a Tuesday speech in New Hampshire. The comment marked the second time in a year the president name-dropped Las Vegas while talking about reckless spending, prompting a scolding from Nevada officials. Las Vegas Mayor Oscar Goodman called Obama "a real slow learner."
"There is no place better to have fun than Vegas."
President Obama
In a letter to Sen. Harry Reid, D-Nev., sent later Tuesday to try to smooth over the kerfuffle. Reid called on Obama to "lay off Las Vegas." No word on whether the good folks at Disneyland have demanded an apology from the president over his "no place better to have fun" remark.
"Me and Bill both looked at each other at the same time and said, 'What in the hell was that?'"
Penny White
Describing the reaction she and her husband had when a block of ice weighing 30 or 40 pounds fell from a passing airplane tuesday morning and plowed almost completely through the roof of their Henderson home.
MULTIMEDIA
• BUDGET CUTS BEING CONSIDERED: lvrj.com/cuts
• DANNY TARKANIAN SPEAKS WITH THE RJ EDITORIAL BOARD: lvrj.com/tarkanian_rj
• UNLV FOOTBALL COACH BOBBY HAUCK PRESS CONFERENCE: lvrj.com/hauck
• MOVIE MINUTE: lvrj.com/movieminute
• "FEAR & LOAFING" — GOLF CADDIE: lvrj.com/caddie
• HOLOCAUST SURVIVOR SPEAKS TO HIGH SCHOOL STUDENTS: lvrj.com/holocaust
• ICE CHUNK FALLS IN HENDERSON HOME: lvrj.com/chunk
• UNLV BASKETBALL RADIO COLOR COMMENTATOR
ROBERT SMITH: lvrj.com/smith