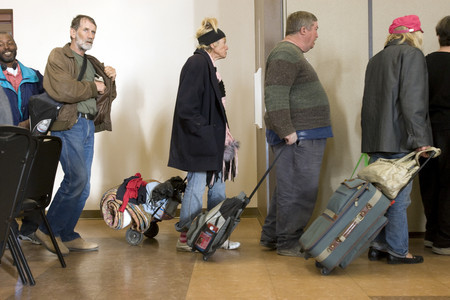 It was a somber week in a terrible year for the Metropolitan Police Department, which buried two of its own in separate funerals three days apart.
Hundreds turned out as officer Trevor Nettleton, 30, was laid to rest on Wednesday. A motorcade escorted his casket up the Strip and through downtown on its way to his funeral service in Summerlin.
Corrections officer Daniel Leach, 49, was remembered in a funeral service on Saturday. The 25-year police veteran was killed in a Nov. 21 crash while driving a police van to pick up detainees in Laughlin.
Nettleton was gunned down on Nov. 19 in the garage of his North Las Vegas home in what police are calling a robbery attempt.
Four Las Vegas police officers have been killed this year, making 2009 the deadliest year in department history.
MONDAY
SENTENCE IN ACORN CASE
The brains behind an illegal voter registration incentive program that led to felony charges against ACORN, a national grass-roots community organizing group, was sentenced to three years of probation.
Christopher Edwards pleaded guilty in August to two gross misdemeanor counts of conspiracy to commit compensation for registration of voters. As part of the plea deal, the state attorney general's office dropped 13 felony counts against Edwards in exchange for his testimony against Association of Community Organizations for Reform Now and co-defendant Amy Busefink.
TUESDAY
A HOME UNDER THE SEA
Bad news from the publishers of a leading price index: Las Vegas remains the "most depressed" housing market in the nation.
According to Standard & Poor's, which publishes the Standard & Poor's Case-Shiller home price index of 20 major cities, Las Vegas prices have fallen for 37 consecutive months and are off 28.6 percent from a year ago.
Meanwhile, two other reports showed that more than half of valley home mortgages are underwater, meaning the owner owes more than the property is worth.
WEDNESDAY
CITY, UNION MAKE NICE
After a long-running and often nasty fight, Las Vegas officials and the Culinary union may have found a way to play nice.
Under an agreement set for City Council consideration Wednesday, the union, which represents hotel and casino workers, would get the labor guarantees the city accused them of wanting. In return, the union would agree not to use lawsuits or ballot measures to oppose a proposed new City Hall or similar projects in the city's redevelopment area.
THURSDAY
A WATERY COIN FLIP
Lake Mead could receive some much-needed surplus water in the coming year or continue its decline toward levels not seen since the reservoir was first filled.
The latest projections from federal forecasters now say there is a 50-50 chance that Lake Mead will get more water than usual from Lake Powell next year.
The surface of Lake Mead has dropped 120 feet since drought took hold on the Colorado River in 2000.
FRIDAY
ANALYST: CITYCENTER OK
The financial troubles of Dubai World, which has asked the markets for a six-month stay on repaying some $60 billion in debt, shouldn't impact CityCenter, which begins opening this week, one analyst said.
Dubai World, the investment arm of the Persian Gulf emirate, invested almost $6 billion into MGM Mirage in August 2007 to acquire 50 percent of the $8.5 billion CityCenter project and about 9.9 percent of MGM Mirage's common stock.
Week In ReviewMore Information
NUMBERS
50-50
Chance that Lake Mead will rise next year, according to the latest projections from the U.S. Bureau of Reclamation.
1965
The last time the water level in Lake Mead was as low as it is right now.
$337,000
How much severance money North Las Vegas will have to pay if the City Council votes Wednesday to part company with City Manager Gregory Rose.
14,801
The announced crowd in Las Vegas for Friday's United Football League championship game, which saw the hometown Locomotives win 20-17 in overtime.
QUOTES
"Take the 'H' from the 'B' and put it in the 'A.'"
What police say Saul Williams Jr., A suspect in the shooting death of Las Vegas police officer Trevor Nettleton, told his stepbrother in a phone call from the North Las Vegas Detention Center. Police said The A stands for "attic," the B for "bathroom" and the H for "heat," a reference to the GUN.
"At the preschool level, everybody takes a nap time. A student gets up to walk to the bathroom, most students will walk around kids. (This child) will walk over or through kids."
A father describing the effects of dyspraxia, a developmental disorder affecting the body's relationship to space and time.
"People have been just driving up, delivering turkeys."
Sharon Mann
spokeswoman for Catholic Charities of Southern Nevada, commenting on the recent increase in donations from individuals and families amid a decline in donations overall.
MULTIMEDIA
• TREVOR NETTLETON FUNERAL: lvrj.com/nettleton_funeral
• CHANGING OF THE GUARD AT VIEWING FOR SLAIN OFFICER NETTLETON: lvrj.com/trevor
• 2009 MOTORTREND SHOW: lvrj.com/motortrend09
• UNLV BASKETBALL vs HOLY CROSS: lvrj.com/unlv_hc
• MOVIE MINUTE: reviewjournal.com/media/video/movmin112709.html
• UFL CHAMPIONSHIP GAME — LOCOMOTIVES VS FLORIDA TUSKERS: lvrj.com/locos_tuskers
• BLACK FRIDAY SHOPPERS: lvrj.com/black_friday
• UNLV BASKETBALL vs LOUISVILLE: lvrj.com/
unlv_louisville
• UNLV FOOTBALL vs SAN DIEGO STATE: lvrj.com/unlv_sds