November 1, 2009 - 10:00 pm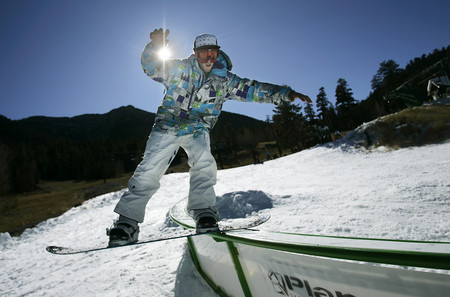 A District Court judge from Gardnerville dealt a blow to the Southern Nevada Water Authority's proposed pipeline, effectively stripping the project of the water it would have carried to Las Vegas in its first phase.
Judge Norman Robison ruled that State Engineer Tracy Taylor "acted arbitrarily, capriciously and oppressively" in 2008 when he cleared the authority to pump more than 6 billion gallons of groundwater a year from Cave, Delamar and Dry Lake valleys in Lincoln County.
Authority officials vowed to appeal the ruling, which a spokesman described as biased and "flat-out wrong."
The Nevada Supreme Court would hear any appeal brought by the state engineer's office, the water authority or both.
MONDAY
HIT THE CALL BUTTON
There are plenty of beds but not enough medical personnel available to treat an onslaught of H1N1 patients.
So said Southern Nevada health officials when asked about contingency plans for a true emergency relating to the so-called swine flu.
The statement came just days after President Barack Obama signed a declaration that made the H1N1 outbreak a national emergency.
TUESDAY
CANCER WAR ESCALATES
The Nevada Cancer Institute celebrated its new research center, a $50 million, 184,000-square-foot facility that now ranks as the largest dedicated research building in the state.
The research center is named for Ralph and Betty Engelstad, namesakes of the Engelstad Family Foundation of Las Vegas, which committed $20 million for the facility on top of $15 million it gave to the institute for lung cancer research in 2006.
WEDNESDAY
YEP, ANOTHER ARENA
Las Vegas has another potential arena developer scoping out land downtown.
The Cordish Companies, a Baltimore-based developer, has floated plans to build a sports arena on 12 acres of city-owned land. First, though, the company wants a contract with the city to lock up the property while Cordish researches the project.
The land includes the Las Vegas City Hall site.
Council members, some of whom support building a new City Hall, will consider the contract this week.
THURSDAY
'STOLEN VALOR' CASE
A Veterans Affairs employee from Las Vegas has been indicted in the first known prosecution in Nevada under a 2005 law outlawing false claims of military honor.
According to the indictment, David M. Perelman claimed to have received a Purple Heart medal for wounds he suffered in Vietnam when in fact he had been wounded by a self-inflicted gunshot in 1991.
Perelman, 56, also is accused of stealing about $180,000 in monthly disability benefits from the federal agency over 14 years.
FRIDAY
FEDS SAY JOBS CREATED
More than 5,600 jobs have been created or saved in Nevada through the $787 billion federal stimulus plan, government officials report.
According to the recovery.gov Web site, Nevada has been awarded $988 million in stimulus funds, but has received only $315 million so far. The funds have created or saved 5,667 jobs, it states.
A spokesman for Gov. Jim Gibbons questioned the accuracy of the job figures.
Week In Review
More Information
Slideshow of Las Vegas Ski and Snowboard reopening|
NUMBERS
18
Number of deaths in Clark County now attributedto the H1N1 virus this year.
$25,000
The monthly alimony sought by Abigail Schwartz, the widow of philanthropist Milton I. Schwartz, in a case now before the Nevada Supreme Court.
$2,000
The amount of that alimony money Abigail Schwartz needs for her hair and makeup, according to an attorney representing Milton I. Schwartz's son.
$1.62 billion
The net third-quarter loss reported Tuesday by Harrah's Entertainment, which operates eight properties on the Strip.
28
Daily flights into Las Vegas due to be cut in February by U.S. Airways, McCarran International Airport's second busiest carrier.
QUOTES
"As if they're coming out of someone else's mouth, I hear these words: 'You know what? (Expletive) it. Yeah. Let's get high.' "
An excerpt, published by the Times of London, from "Open," Andre Agassi's memoir in which the Las Vegas tennis star and philanthropist admits trying crystal meth during his playing days.
"Sorry ain't gonna cut it. But all I can tell y'all is sorry."
Gerald Davison
Who turned 18 on Halloween, shortly before he was sentenced to life in prison on Monday for the 2008 murder of high school freshman Christopher Privett.
"You're going to get kicked, bitten and scratched. You're going to get knocked down and pooped on. If I don't have three flavors of poop on me by noon, I obviously haven't been doing my job."
Veterinarian Valerie Holt
Describing what it would be like to share your home with 170 animals. Holt and her husband, Jay, have turned the property around their house in Moapa into a zoo.
MULTIMEDIA
Michael Jackson movie
Automobile collection
Carol Cling's weekly Movie Minute
Corey Levitan's "Fear & Loafing" — Pigeon Control
PBR