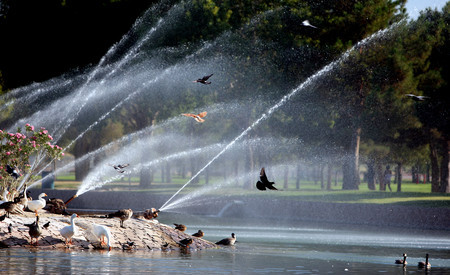 A large-scale shift to so-called "green energy" could be as good for the economy as it is for the planet.
That was the central message during the National Clean Energy Summit 2.0 at the University of Nevada, Las Vegas, where a host of panelists and speakers urged policymakers to commit to alternate energy development.
Participants in the event included former President Bill Clinton, former Vice President Al Gore, U.S. Senate Majority Leader Harry Reid, D-Nev., oilman T. Boone Pickens, and U.S. Secretary of Labor Hilda Solis.
Outside the event, about 100 people gathered to protest Reid and the green agenda.
MONDAY
HISTORY RELOADED
An 1850s tintype of a man thought to be Henry Comstock, the miner for whom the Comstock Lode was named, has been discovered by a Massachusetts collector and dealer of old photos.
The collector wouldn't say how much he paid for the clear photographic image but did say he will loan it to the Nevada State Museum in Carson City for public display.
The Comstock Lode refers to the gold and silver discovery, worth $18 billion in today's prices, that launched the mining district around Virginia City and led to statehood for Nevada.
TUESDAY
NO WAY IN HELLER
Rep. Dean Heller, R-Nev., said he won't jump into what's shaping up to be one of the state's highest-profile political races: a challenge to U.S. Senate Majority Leader Harry Reid, D-Nev.
Heller was widely considered one of the most promising candidates to take on Reid, but Republican officials said Heller has notified party leaders that he intends to seek another term in the U.S. House of Representatives, where he holds a relatively safe seat and is rising in stature.
WEDNESDAY
DOCTOR SPURS MARCH
If a Las Vegas physician's idea continues to spread, doctors from around the country will march on Washington Oct. 1 to draw attention to their views on health care reform.
"It is time that we stand up for ourselves," obstetrician-gynecologist Dr. Richard Chudacoff wrote in a June letter to a medical Web site.
Since then, the letter has become the manifesto for an event now being planned as the Million Med March.
THURSDAY
A VALLEY DIVIDED
Water officials from Nevada and Utah reached an unprecedented agreement over a groundwater basin split by the border and targeted as a water source for Las Vegas.
The deal divides groundwater in Snake Valley between the states while seeking to protect farmers, ranchers and other residents.
It also could clear the way for the Southern Nevada Water Authority to tap the basin, although the deal delays action on the authority's plans in Snake Valley until 2019.
FRIDAY
JURY CLEARS OFFICER
A coroner's inquest jury ruled that a Las Vegas police officer was justified when he shot and killed John Paul Hambleton after a struggle and foot chase on July 1.
A jury of seven deliberated about an hour and a half before clearing police Detective Jeremy Hendricks of any wrongdoing.
Hambleton, 32, was shot once in the back as he fled police who had been questioning him in the sexual assault of a girl under 14.
Week In Review
More Information
NUMBERS
$292.8 million
The amount Las Vegas received from the sale of federal land from 1998 to 2008 under the Southern Nevada Public Land Management Act.
$250,000
How much SNPLMA money the city expects to get in the coming fiscal year, thanks to the collapse of the local real estate development market.
20
Years that have passed since Las Vegas water officials sought permission to tap billions of gallons of groundwater in White Pine County's Snake Valley.
2019
The soonest the state will hold a hearing on those Snake Valley water applications, under a new agreement just reached between Nevada and Utah.
"65 jillion"
The (estimated) number of attorneys in Las Vegas, according to Bob Feldman of the Nevada Insurance Council, as quoted in the Road Warrior column.
QUOTES
"I said, 'What? Locomotives? You've got to be kidding me.'"
Jim Fassel
On his initial reaction to the nickname for the Las Vegas team he will coach in the new United Football League.
"You have to be very good and very lucky."
Lt. Joe Ojeda
commander of the Las Vegas police department's air support section, on how one of his pilots safely landed a police helicopter in the middle of the street after an engine failed.
"We had 350 to 400 people living in tents. We had a 19-year-old pregnant girl practicing prostitution in a tent. We had drug dealing. Two people in recent months died in the tents."
Gary Schofield
Las Vegas Deputy Police Chief, describing conditions in a tent city in downtown's homeless corridor.
MULTIMEDIA
• FAITH LUTHERAN HIGH SCHOOL FOOTBALL
• MOVIE MINUTE
• LE REVE
• UNLV FOOTBALL TRAINING CAMP
• LAS VEGAS ENERGY SUMMIT TOUR
• HOTEL 32 AT MONTE CARLO