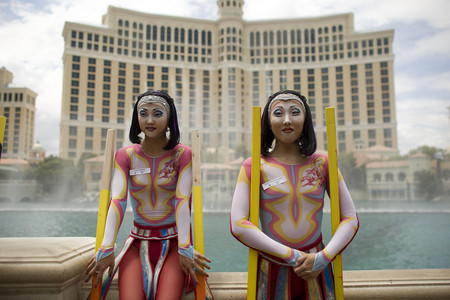 Sen. John Ensign called a Las Vegas news conference on Tuesday to disclose what he called "the worst thing that I've ever done in my life": an affair with a married woman from his campaign staff.
Cindy Hampton, 46, worked for Ensign at the same time her husband, Doug, 47, served as a top aide to the senator.
The affair lasted from December 2007 to August 2008, a period during which Cindy Hampton saw her pay double and her job responsibilities increase.
The Hamptons left their jobs in May 2008.
After disclosing the affair, Ensign, 51, resigned his leadership post with the GOP, where he was seen as a new voice — or even a presidential candidate — for Republicans trying to rebuild the party.
Ensign indicated he plans to stay in office and that his wife of 21 years, Darlene, is standing by him.
Since he was elected to the House of Representatives in 1994, Ensign has established himself as a social and religious conservative. He called for President Bill Clinton's resignation over his affair with Monica Lewinsky.
MONDAY
CLOSE VOTES AFFIRMED
In the first of two election recounts in as many days, Stavros Anthony's 10-vote victory was confirmed in his race against Glenn Trowbridge in Las Vegas City Council Ward 4.
On Tuesday, election workers similarly affirmed new Henderson Mayor Andy Hafen's 45-vote margin over City Councilman Steve Kirk.
Both recounts failed to find even a single vote out of place.
TUESDAY
ROGERS: FIRE ASHLEY
In one of his last acts before retiring as the state's higher education chancellor, Jim Rogers declared that University of Nevada, Las Vegas President David Ashley should be fired.
Rogers urged the action in a letter to the 13-member Board of Regents, which governs the higher education system.
Ashley, 58, vowed to fight the chancellor's recommendation.
WEDNESDAY
UNEMPLOYMENT SPIKES
Joblessness in Nevada set a record in May, according to a report from the Nevada Department of Employment, Training and Rehabilitation.
Unemployment reached 11.3 percent statewide in May, up nearly 1 percentage point from April's 10.6 percent. And experts expect the jobless rate to continue to climb.
The old record was 10.7 percent in December 1982.
THURSDAY
NEW CITY HALL IN DOUBT
The economy may have decided the bitter fight over whether Las Vegas should build a new City Hall.
Blaming skittish financial markets, Mayor Oscar Goodman said the project may now be unaffordable.
It marked the second time in two days that one of Goodman's signature downtown projects hit a snag. On Wednesday, the Mob Museum became embroiled in a contractor dispute that could lead to litigation, tying up its opening for years.
FRIDAY
TUITION HIKED; PAY CUT
Tuition will go up and pay will be cut under a plan approved by the Nevada higher education system's Board of Regents to deal with state budget cuts.
Tuition at the system's colleges and universities was already set to rise 5 percent. Now it will go up by another 5 percent for each of the next two years, while most system employees are forced to take furloughs equaling about a 4 percent pay cut.
Week In ReviewMore Information
NUMBERS
155,000
Nevadans who found themselves out of work in May, according to employment figures released last week. Experts expect that number to climb.
1.53
Inches of rain that fell Thursday on Long Island, N.Y., washing out the first round of the U.S. Open.
0.87
The total amount of rain recorded in the Las Vegas Valley so far this year.
0
The number of votes changed as a result of recounts conducted last week in two razor-thin municipal election contests in Las Vegas and Henderson.
65
Average number of Las Vegas homes that could be powered for one year by the Springs Preserve's 2,200 solar panels, most mounted above the parking lot.
QUOTES
"Marriage is the cornerstone on which our society was founded."
Sen. John Ensign, R-Nev.
In a 2004 U.S. Senate Speech in favor of a constitutional ban on gay marriage. On tuesday, Ensign disclosed an affair he had last year with a married woman who worked on his Senate campaign.
"If political clout was gasoline, Nevada wouldn't have enough to power a dog flea's motor scooter across a dime."
John Funk
Former Nevada Test Site worker, on why it took him almost a decade to get $250,000 in federal compensation for illnesses he blames on chemicals he was exposed to on the job.
"The sad thing is there are 12 dummies on the jury who will convict him. They should be hung along with the feds."
A Comment posted on a Review-Journal Web site story about the federal tax trial of a Las Vegas business owner. Such comments prompted a federal subpoena seeking to identify the authors of posts deemed threatening.