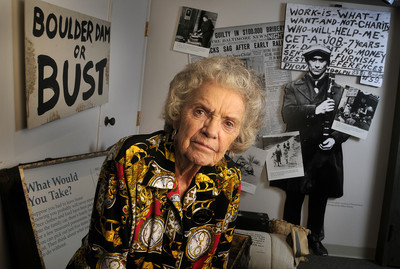 In a last-minute blitz to win the Silver State, a flurry of presidential candidates, their running mates and their supporters descended on the valley or announced plans to come here before Tuesday.
Former Republican candidate Mitt Romney came to town on Friday in support of GOP nominee John McCain.
Democratic nominee Barack Obama visited Henderson on Saturday. He was followed several hours later by former Republican candidate and New York City Mayor Rudy Giuliani, here to stump for the GOP ticket.
McCain is slated to be in Henderson on Monday afternoon, while his running mate Sarah Palin works Reno and Elko Monday evening.
Also Monday, Obama's wife, Michelle, is expected to visit Las Vegas.
By the close of early voting on Friday, more than 45 percent of Clark County's 815,000 registered voters already had cast their ballots.
MONDAY
TAX HIKE PUSHED
Supporters of a room tax increase for Nevada's public schools presented a petition 130,000 signatures long urging the Legislature to approve the hike.
The petition, sponsored by teachers unions and casino employees, is part of a "two-prong attack" that includes a ballot question to increase the room tax rate 3 percentage points that voters will see in Tuesday's election.
TUESDAY
LOGGING GOES VERTICAL
The U.S. Forest Service used a helicopter to remove trees from Mount Charleston in an effort to reduce the threat of wildfires in the area.
The $7 million project to create buffers between foliage and structures will eventually treat 2,300 acres of forest around homes, access roads and other points of interest.
WEDNESDAY
MOTHER IMPLICATED
A Las Vegas police lieutenant testified during a custody hearing that 6-year-old Cole Puffinburger's mother might have been involved in the boy's kidnapping.
Julie Puffinburger told investigators that before the boy's kidnapping, she had gone to her bars and her father's hangouts and lied about Cole being kidnapped in an attempt to draw her father out of hiding, Lt. Clint Nichols said.
The boy was on vacation with his father at the time.
THURSDAY
GAMING SLIDE GOES ON
Wynn Resorts Ltd., buoyed by its casino in Macau, posted a second straight quarterly increase in profits, while International Game Technology saw its profits cut in half during the fourth quarter as economic conditions continued to pummel gaming companies.
IGT is looking at cutting costs, which could include job reductions, to save $100 million annually.
Casino revenues at Wynn Las Vegas fell 4.6 percent during the third quarter.
FRIDAY
PORTER, TITUS TIED
A Review-Journal poll shows Rep. John Porter, R-Nev., and his Democratic challenger Dina Titus deadlocked for the 3rd Congressional District seat.
Each drew 44 percent of the votes among 400 likely voters surveyed Tuesday and Wednesday by Mason-Dixon Polling & Research Inc. of Washington, D.C.
Mason-Dixon managing director Brad Coker said a victory Tuesday by Barack Obama might also mean a win for Titus.
Week In ReviewMore Information