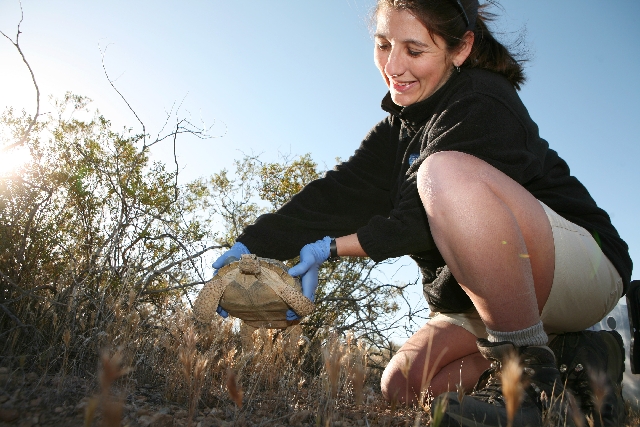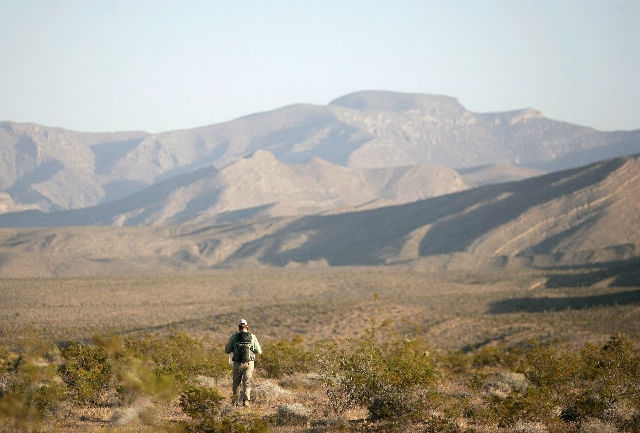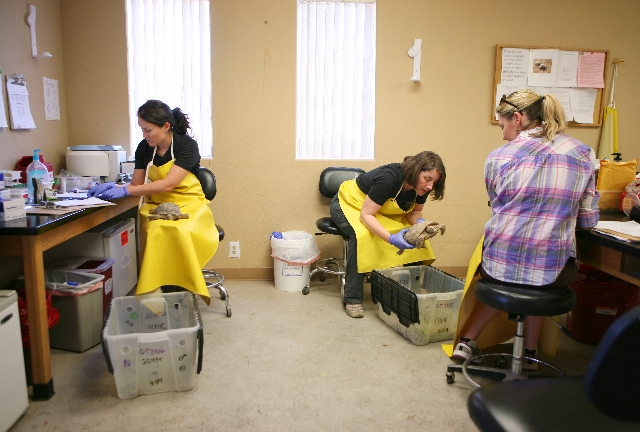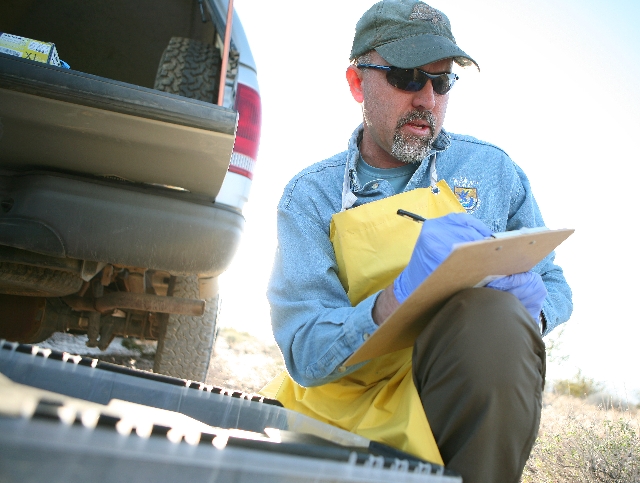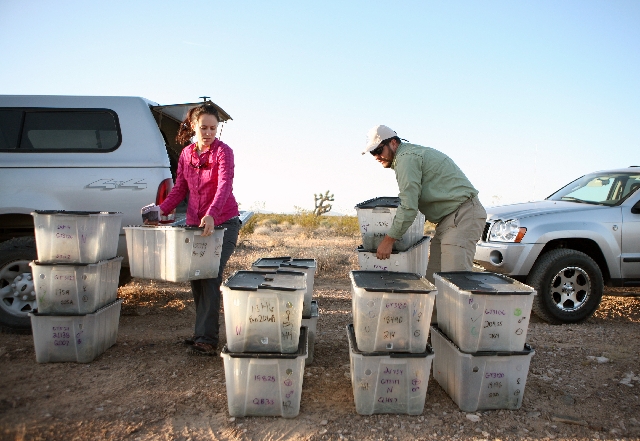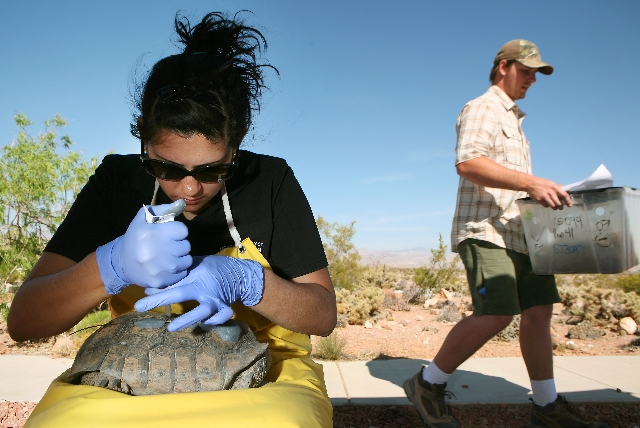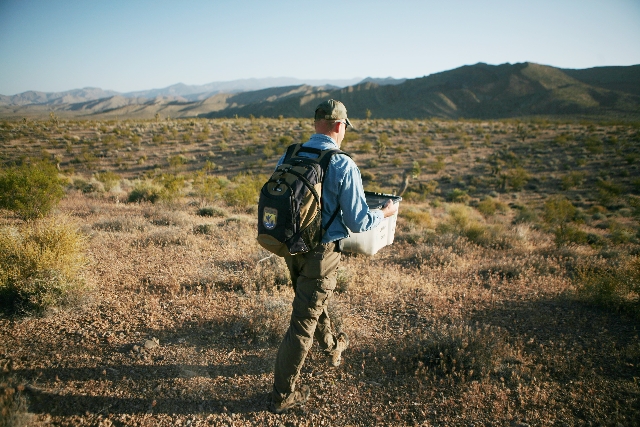 A handpicked group of 32 desert tortoises gave up life in captivity Wednesday to try their luck in the desert between Las Vegas and Pahrump.
But they won't have to go it alone.
The federally protected reptiles were sent out into the world with radio transmitters glued to their shells so researchers can check in on them regularly.
And that wasn't the only precious cargo the tortoises took with them.
Wednesday's group of recent parolees included a number of carefully screened females that are either carrying eggs or about to produce some.
The release was part of continuing efforts to study the species and bolster its numbers in the wild.
This was one of the first batches of tortoises to be set free at the U.S. Fish & Wildlife Service's newest so-called "translocation site": a vast swath of creosote bushes and Joshua trees along the western slope of the Spring Mountains about 40 miles west of Las Vegas.
The animals came from the Desert Tortoise Conservation Center at the southern edge of the Las Vegas Valley.
"Most of them are probably former pets," said Roy Averill-Murray, desert tortoise recovery coordinator for the Fish and Wildlife Service in Nevada and California.
The tortoise center recently stopped taking in unwanted pets and strays after being overrun by them in recent years.
Though biologists have found uses for the healthiest of the once-captive tortoises, they don't need any more of them, said Jen Germano, a postdoctoral researcher from the San Diego Zoo who coordinated Wednesday's release.
As it happened, the tortoises were set free on the same day a new state regulation took effect that seeks to curb backyard breeding by barring pet owners from keeping more than one of the reptiles at a time.
Germano said the captive-raised tortoises she has placed in the desert have fared pretty well for the most part — though they all underwent at least a year of tests and health screenings first.
"After a couple of weeks, they start to behave like wild tortoises," she said. "They'll tuck when you approach them, and they'll tuck when you try to handle them, which makes health assessments more difficult."
Researchers will return to check on this batch daily for the next 10 days and then weekly after that, in part to make sure none of them wander beyond the range of the tracking devices used to find them again.
"When we first release them, that's when they're most likely to bolt," Germano said.
The animals will receive visual health assessments once a month and hands-on examinations quarterly. The females will be checked for eggs in the field using a portable X-ray machine, Germano said.
They won't be followed quite so closely during the winter, when the animals typically bed down for the tortoise version of hibernation.
But they will be checked once a month or so to make sure they don't "do something screwy," Averill-Murray said. "When you quit looking, that's when they'll take off and mess with you."
When working with tortoises, it helps to be a morning person. The animals usually hunker down during the hottest part of the day, so releases start early.
Germano and company gathered at the center at 5 a.m. Wednesday to travel to the translocation site. The first tortoise was set loose just before 7 a.m., and the whole operation was finished by about 9 a.m.
Before being released, each animal received a shot of saline solution — roughly two tablespoons injected into the shoulder to give it a head start on hydration in its new desert home.
The research team has placed tracking devices on 20 wild tortoises living in the same area for a parallel analysis of what Germano called "the residents."
At the same time, researchers are following a pack of juvenile tortoises they set free last year at the southern end of the Nevada National Security Site, 60 miles northwest of Las Vegas.
Germano said all but 10 of the original 60 managed to survive their first winter at the secure federal installation.
Those that didn't mostly fell victim to coyotes, which left behind chewed-up shells with the tracking devices still attached.
One of the surviving test site tortoises has roamed almost four miles from its release point, earning it the nickname Scurry.
"He's probably going to end up climbing a mountain this summer. We'll see," Germano said.
Scurry has wandered so far from the nearest road that it now takes trackers a couple of hours just to reach him and see how he's doing.
"He's going to leave the test site, I'm pretty sure," she said.
Germano expects at least some of the adult tortoises set free Wednesday to move even farther and faster.
"Bigger legs," she said.
Contact reporter Henry Brean at hbrean@reviewjournal.com or 702-383-0350.