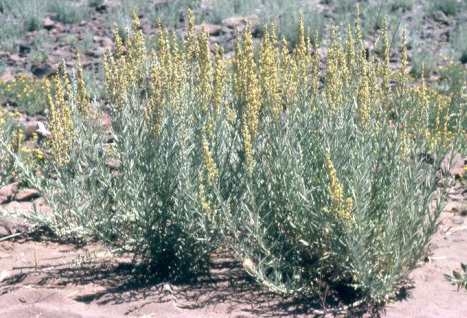 Editor's Note: Nevada 150 is a yearlong series highlighting the people, places and things that make up the history of the state.
Nevada's official flower is a lot like many of the people who call the Silver State home: tough, understated and built to survive in a place where other things just won't grow.
Sagebrush covers most of Nevada north of Las Vegas. In fall, the deep-rooted, gray-green shrub sprouts tiny yellow flowers in small clusters.
"It's not terribly showy," said horticulturalist Tracy Omar, who serves as supervisor of gardens and science at the Springs Preserve in Las Vegas. "In many ways, it's very emblematic of the West. It's a survivor."
The Nevada Legislature designated sagebrush as the official state flower in 1959, but indigenous people discovered its utility generations earlier.
Omar said native people gathered seeds from the plant and ground them into flour to eat. They also used the leaves of the plant to treat wounds and infections and would inhale the vapors from burning sagebrush as a cold remedy, he said.
"It was a useful plant."
It's also plentiful, covering valley floors throughout the Great Basin as far north as Canada.
"Nevada probably has more of it than anywhere else," Omar said. "I don't think anyone has ever counted them, but I feel pretty safe in saying that."
He described the sagebrush as "a handsome gray shrub" that grows slowly but can live for "100 years at least." It ranges in size from 2 to 10 feet tall, with roots that can extend up to 10 feet into the ground in search of moisture.
The plant serves as the primary habitat for sage grouse, a chickenlike bird under consideration in Nevada and elsewhere for federal protection under the Endangered Species Act.
Omar said sage grouse depends on sagebrush to provide cover for it and its eggs.
But the plant is also highly susceptible to fire and prone to being replaced after a blaze by fast-growing non-native grasses, something that could begin to happen with greater frequency if climate change results in significantly warmer, drier range conditions.
For now, though, Omar said sagebrush dominates the state because of its ability to survive extreme temperatures, unfriendly soil and an overall lack of moisture.
"It will grow where other plants won't," he said. Hard-bitten, just like Nevada.
Contact reporter Henry Brean at hbrean@reviewjournal.com or 702-383-0350. Follow him on Twitter at @RefriedBrean.

Celebrating the Silver State