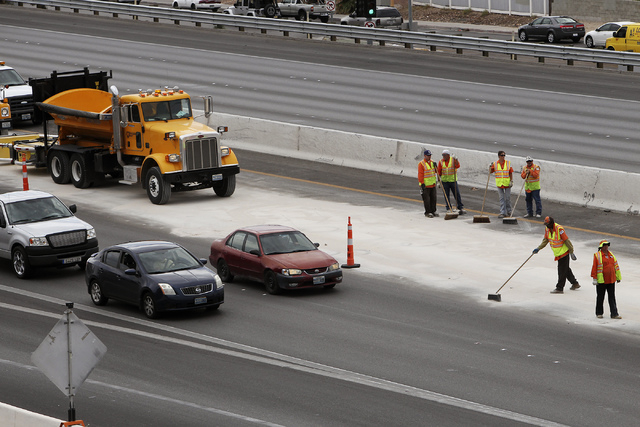 CARSON CITY — Southern Nevadans stuck in traffic might take some solace in a report issued Monday by the state transportation department showing an increase in road construction dollars flowing south.
The report, presented to the board of directors of the Department of Transportation, shows that Clark County will get $344 million in federal, state and local road funding this fiscal year, or nearly 66 percent of the total.
Washoe County will get 20 percent and the other 15 counties will get 14 percent.
Clark County received 52 percent of total funding in fiscal year 2013, while Washoe County received 4.5 percent and the rural counties got 43.6 percent.
This distribution of funding will likely continue several years into the future as major projects in Southern Nevada move forward, including the widening of Interstate 15, called Project Neon, and the Boulder City bypass project.
The transportation board, including Gov. Brian Sandoval, was told that $500 million will be invested in Project Neon between 2014 and 2018, with another $125 million being spent on the Boulder City bypass project.
Project Neon is a $1.2 billion improvement plan for Interstate 15 from Sahara Avenue to the Spaghetti Bowl.
"I think the facts speak for themselves about what this board has done," Sandoval said. "You're going to see a record amount of capital deployed to completely revolutionize the transportation infrastructure in Southern Nevada."
Major projects in Clark County include $52 million in federal and local funding to construct a flyover bridge from the McCarran International Airport from the airport connector to the Las Vegas Beltway to improve traffic flow to Henderson.
Another $24 million is set aside for right-of-way and other costs associated with the first phase of the Boulder City bypass, and $32 million to widen U.S. Hwy. 95 from Ann Road to Durango Road.
Other projects and their costs, which are still being finalized and are subject to change, include $11 million to upgrade the northern Las Vegas Beltway and I-15 interchange, and $12 million to widen Las Vegas Boulevard South from St. Rose Parkway to Silverado Ranch Boulevard.
The total Clark County funding does not include $100 million expected to be allocated to acquire right-of-way for Project Neon.
The board also received data that shows Washoe County was a net exporter of state gas taxes from 2008 to 2012.
The county contributed 15.6 percent of total gas tax revenues during that period, but received only 12.7 percent of funding allocations from the agency. Clark was also a net exporter, contributing 60.5 percent of gas tax revenues but getting only 55 percent of the funding.
The beneficiary was rural Nevada, where contributions totaled 24 percent but funding totaled 32.2 percent.
Department Director Rudy Malfabon said much of that is due to the state's commitment to maintaining Interstate 80, which traverses 410 miles of northern Nevada from Wendover to Verdi. The section of Interstate 15 in Nevada, by contrast, runs about 124 miles between California and Utah.
Lt. Gov. Brian Krolicki, also a member of the board, said the fact that Washoe County was an exporter of gas tax money between 2008 and 2012 should be noted by all Nevadans.
There is still some criticism directed at the board and agency for the funding of the Interstate 580 extension, an 8.5-mile project extending the freeway south from Reno to the capital that opened in 2012. The project cost $550 million in large part because of its alignment along the hills above the old highway.
Some Southern Nevadans continue to criticize the project even though the alignment was selected by local officials more than three decades ago.
The gas tax revenue breakdown presented to the board would likely show more investment in Washoe County, however, if it went back to 2003 through 2006 when the I-580 contracts were approved by the board.
State Controller Kim Wallin, also a member of the board, asked for reports showing the cost-benefit analysis of the I-580, Project Neon and Boulder City projects.
The board needs to make its decisions on which projects to fund based on solid numbers, she said.
Krolicki said his decisions on funding projects have always been made on a statewide basis.
There has been criticism aimed at agency funding decisions, but the data in the report will help educate the public on the realities of the funding allocations, he said.
Sandoval said the expenditures to keep Interstate 80 in good condition should not be discounted either.
The freeway is a critical element of the state's economic diversification efforts, he said.
"We have to have great roads, logistically, so that we can move goods in and out of the state, and that is one of the reasons why companies are coming here to distribute," Sandoval said.
Contact Capital Bureau reporter Sean Whaley at swhaley@reviewjournal.com or 775-687-3900. Follow him on Twitter @seanw801.