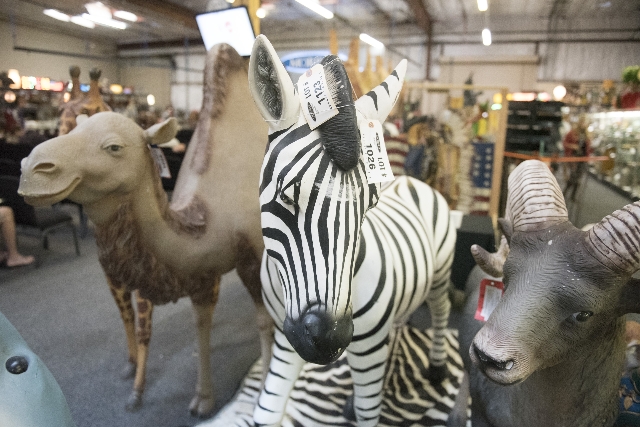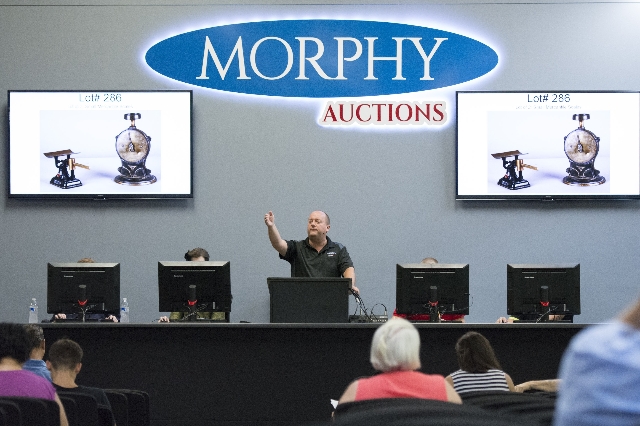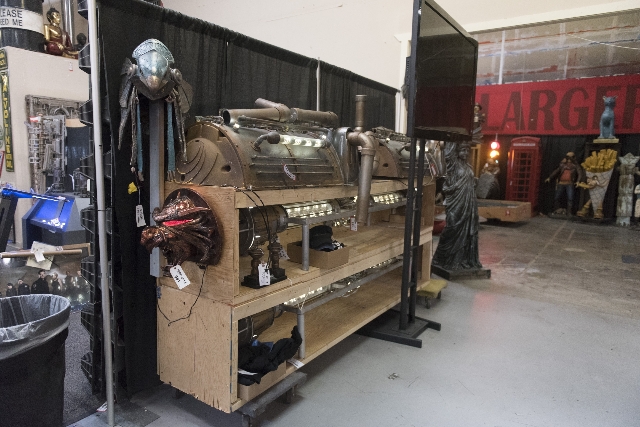 Melinda Conger was on the hunt for timeless treasures Saturday morning at the Morphy Auctions Las Vegas auction.
"They have history and a past," the Las Vegas resident said of antiques. "I wonder who had it and what people surrounded it."
Conger, a self-proclaimed "hunter," said she regularly visits antique and thrift stores across the valley in search of items such as stained glass, fans and radios.
"I love auctions," she said. "There are a lot of beautiful items and I'd take all of it home but my husband would kill me."
A live auctioneer took bids from the nearly 40 attendees on signs, paintings, statues, jukeboxes, an assortment of TV and movie props used during the 2009-11 production of the TV show "Stargate Universe" as well as hundreds of other items that are up for grabs through Sunday at the auction. Payments are accepted on the spot.
Henderson resident Steven Zamiar was hoping to take home antique signs and trains.
"It's Americana and something from the past," he said of his love for signs. "It's stuff you can't get anymore."
Zamiar said he visits garage sales, estate sales and auctions, such as McManus Auctions, which are held on Silvestri Lane in Las Vegas every Sunday, on a weekly basis looking for signs for himself as well as to sell on eBay.
"There's very good quality stuff here that's in near-mint condition so you know it's been taken care of," he said of the Morphy auction. "A lot of people are looking for signs for their man caves."
Don Tausendfreund of Las Vegas was one of those people hoping to outfit his man cave with various signs and trays.
"I love signs that I remember seeing as a kid," he said.
Tausendfreund said he's drawn to companies from his past including Coca-Cola, Pabst Blue Ribbon and L&M cigarettes. He purchased a Pickwick Ale and Birch Beer sign at the auction.
"I have about a dozen now and once I run out of wall space then I'm done," he said. "I've seen people start out putting a few in their garage, then putting them in one box then two boxes until they're overflowing, but once my walls are filled then I'm done."
Ed Parkin drove to Las Vegas from Los Angeles in a pickup in case he scores another statue to add to his collection of nearly 30.
Uncle Sam and the Statue of Liberty are a few of the statues for sale at the auction.
"I've been collecting for the past 10 years and sometimes I'll sell one but mostly they're for me," he said. "I have them all over the house."
His favorite, he said, is a 6 foot tall Betty Boop statue.
"I like it, it's a cool statue," Parkin said.
Though he drives to Las Vegas at least four times a year to attend an antique auction, Parkin said he has noticed that the industry has slowed in recent years.
"I think it's because the economy has slowed down so people are spending their money on things other than antiques," he said. "Also, new generations aren't as into antiques as older generations."
The auction continues at 9 a.m. Sunday at the Morphy Auctions gallery, 4520 Arville St., Suite 1, and online.
Contact Ann Friedman at afriedman@reviewjournal.com or 702-380-4588. Follow @AnnFriedmanRJ on Twitter.