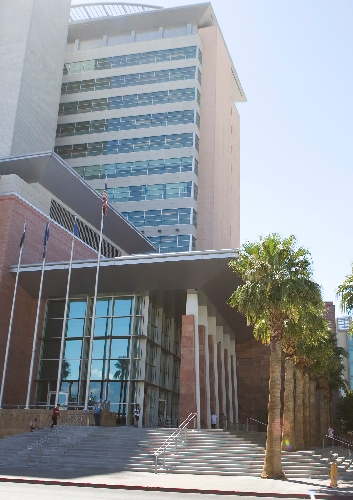 County landscapers this week quietly trimmed palm trees blocking some security camera views outside the main entrance to the Regional Justice Center in what was described as "routine" maintenance .
But the landscapers did not trim rows of lower trees just west of the Lewis Avenue entrance that create larger blind spots for the cameras.
They also did not trim tall bushes blocking cameras above a judge's parking lot on the Clark Avenue side of the Regional Justice Center.
The Las Vegas Review-Journal reported these and other obstructions nearly five weeks ago. A reporter observed the obstructions with marshals and court officials inside the main control room at the 17-story building.
Officials, however, have refused to discuss any efforts to fix the problems, saying they don't comment on security matters.
Court Executive Officer Steve Grierson declined comment on Friday.
County spokesman Dan Kulin called the tree trimming this week "routine annual maintenance."
The county first informed Regional Justice Center officials in an e-mail on Monday that it would be trimming the palms. The e-mail made no mention of trimming other trees or bushes that also impede surveillance efforts.
The obstructions, which have been there since the Regional Justice Center opened its doors in 2005, became more obvious to marshals on Jan. 4, when dozens of people ran for cover inside the building after a shooting at the nearby federal courthouse. Sources said the marshals had trouble identifying potential threats outside the Regional Justice Center at that time.
Among the blocked camera views was the entrance to the Phoenix Building across the street from the courthouse's main entrance.
Contact Jeff German at jgerman@reviewjournal.com or 702-380-8135 or read more courts coverage at lvlegalnews.com.