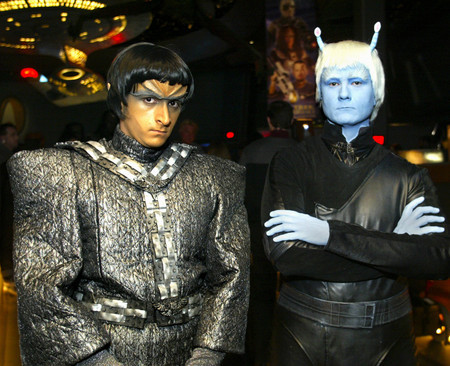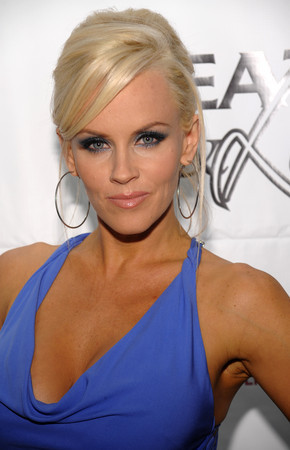 Greetings "Star Trek" nerds and welcome to the annual Trekker/Trekkie convention at the Las Vegas Hilton. I remember you all from last year, with your zesty costumes and computer-speaking patterns. You were a blast to drink with, and I'm not even kidding.
As you'll notice this year, the Hilton (insanely) got rid of its super fun "Star Trek" attraction called "Star Trek Experience." Also gone is the "Star Trek" bar, which was perhaps the friendliest bar in town, and again I am not kidding.
Just so you know, the "Experience" attraction is supposed to reopen at some point in downtown Las Vegas, although no one can give you a stardate for that yet. Actually, I am told the "Star Trek" stuff is sitting in boxes downtown. You industrious Trekkers should volunteer to unpack that stuff.
But for now, enjoy your convention, your Klingon bible, your autograph-session lines and your asking "Star Trek" actors complex questions about fictional galaxies of unknown quarks.
You might see me down there — today, Saturday or Sunday for $20-$35 a day — looking for my favorite character from last year, the "blue elf" Lilith Astaroth. If so, hollah.
I'm not one of you. But I welcome you back to Earth Vegas from whichever irretrievably sketchy and futuristic parallel universe you hail.
PRE-SIGHTINGS
• Usher walks a red carpet at 7 tonight into the Playboy Club at the Palms for Vegas Magazine's first men's issue, which has Usher on the cover. I'll be there, but sorry to say you can't go inside: It's a private party.
• Jenny McCarthy is atop the guest list for club Pure at Caesars on Saturday, walking the red carpet around 11:30 p.m.
• Playmate Stephanie Larimore slinks about at what is said to be a lingerie party at McFadden's at the Rio on Saturday. The restaurant-bar wants women to wear sexy little things and sleepwear. It doesn't seem, lately, that women have been dressing down for lingerie parties as much as they have in the past. So let's see.
WEEKEND PLANNER
Check out today's Neon section for this and more:
Judas Priest and Whitesnake on Saturday at the Thomas & Mack Center. No Doubt and Panic at the Disco tonight at Hard Rock. Morris Day and the Time tonight at Silverton. Gladys Knight today through Sunday at The Orleans. Alan Jackson on Saturday at M's outdoor piazza. Rodney Carrington today through Wednesday at MGM.
Doug Elfman's column appears Sundays, Mondays, Tuesdays and Fridays. E-mail him at delfman@reviewjournal.com. Read the blog's at reviewjournal.com/elfman.