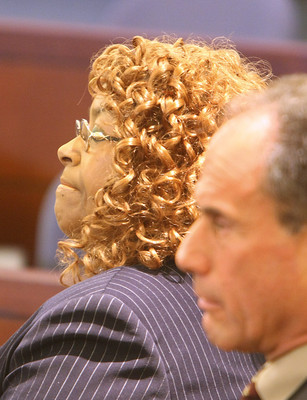 Mamie Hubbard-Washington is accused of beating her autistic students at Reed Elementary School with a yardstick and a hairbrush, even slamming one child's face into a tabletop.
And Prosecutor Vicki Monroe argued Tuesday that Hubbard-Washington deserved to face felony charges in District Court not only for inflicting physical abuse but also for the psychological damage she caused by yelling and demeaning children who lacked the ability to speak out about what was happening to them.
Nicole Williams, whose then-8-year-old son was one of the children alleged to have been victimized by Hubbard-Washington, put it more simply, describing the students as "just loving children who were tortured."
Hubbard-Washington's unusually long preliminary hearing, which took four days over a span of a month, concluded Tuesday with Justice of the Peace William Jansen sending her to District Court to face trial on all five counts of felony child abuse and neglect with which she originally was charged.
Jansen said the crux of the case is whether the incidents described by teaching assistants and parents occurred "due to a lack of patience in an attempt to discipline" or were intentional, constituting criminal abuse.
Joanie Ferguson, the grandmother of one of the Hubbard-Washington's former students, attended Tuesday's hearing. Hubbard-Washington is accused of hitting Ferguson's granddaughter on the head with a brush, forcing food into her mouth, pinching her and calling her fat.
"We have to speak for them," said Ferguson, who shares custody of her granddaughter with her daughter.
Williams said Jansen's ruling gave her hope for justice.
Each count of child abuse carries a sentence of one to six years, and Williams said she wants to see Hubbard-Washington go to prison for "a long time."
Hubbard-Washington is accused of slapping Williams' son, hitting him on the forehead, digging her nails into his arm and forcing his head down toward the desk.
A number of the parents testified that they noticed their children's behavior changed after attending Hubbard-Washington's class. They said their children began crouching or forming defensive positions when they heard voices raised at home.
Hubbard-Washington's attorney, Vince Consul, argued that yelling does not constitute child abuse. He referred to an assistant principal's testimony and said Hubbard-Washington inherited a chaotic classroom where she had to gain control.
He estimated that 50 percent of district teachers would be fired "if this court is going to find that anytime a teacher yells at a student, that that constitutes child abuse."
But Monroe countered, and the judge agreed, that it is the "totality" of Hubbard-Washington's behavior the jury must consider to determine whether she is guilty of child abuse.
"This is a teacher in a classroom with children who are nonverbal," Monroe emphasized, adding that the only reason the abuse ended was because teacher's aides reported Hubbard-Washington's behavior to school officials.
Consul said Hubbard-Washington will plead not guilty at a Nov. 21 arraignment.
He accused the parents of trying the case in the media in an effort to pursue their civil case against the school district to win money.
"This is a civil case in criminal sheep clothing," Consul said.
A number of the parents who previously attended the preliminary hearing were not present in court Tuesday because they were in Los Angeles taping an episode of the nationally syndicated "Dr. Phil."
An attorney representing the parents in their future civil suit said they were there to speak out not just about the specifics of the Hubbard-Washington case but also about autism and abuse of autistic children in general.
"These parents are concerned with raising awareness, and even more so, they are concerned with preventing future reoccurrences of similar acts," attorney Aram Kouyoumdjian said.
Ferguson likewise defended the other parents' appearance on the show as an opportunity to raise awareness for autism.
Contact reporter K.C. Howard at khoward@reviewjournal.com or (702) 380-1039.