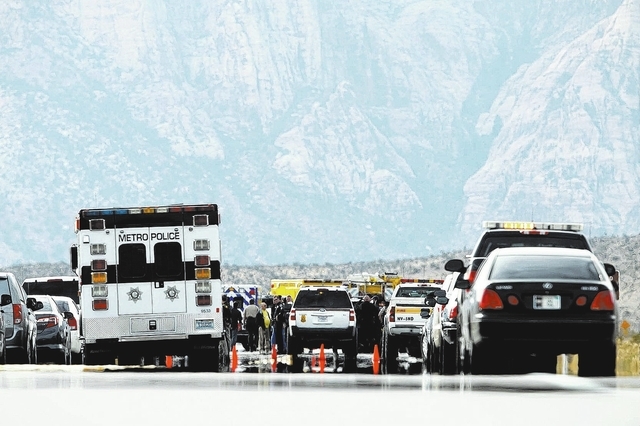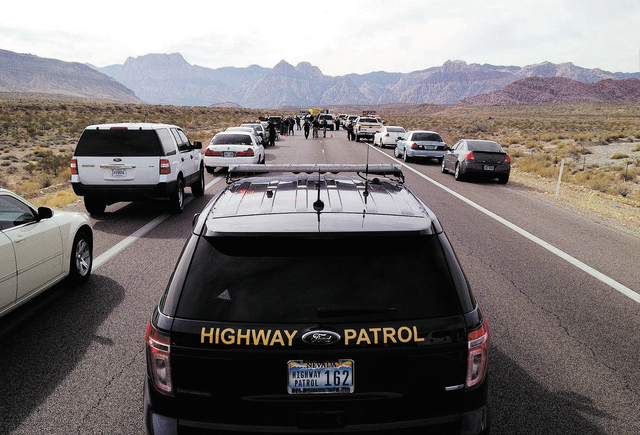 A man is dead following an altercation with a Nevada Highway Patrol trooper and Bureau of Land Management rangers near Calico Basin in the Red Rock National Conservation Area on Friday, but authorities released few details about how the incident unfolded.
It started about 11:45 a.m. after cyclists riding on state Route 159 reported an altercation with a pedestrian, described as a black man in his 20s, according to Trooper Loy Hixson.
A trooper and two rangers responded and at some point during the encounter Hixson said the officers "felt their lives were in danger," but didn't say whether the man had a weapon.
No officers were injured, and the man who was shot died, Hixson said. The man had been carrying a rolling suitcase, a backpack and a bedroll. The items were left on the side of the road as police investigated.
The shooting prompted the closure of Highway 159 in both directions. The body of the man still remained on the north side of the highway several hours later while authorities investigated. Clark County coroner's office staff arrived on scene about 7 p.m.
Las Vegas police are leading the investigation into the incident, with assistance from the Highway Patrol and FBI.
Contact reporter Mike Blasky at mblasky@reviewjournal.com and reporter Tom Ragan at tragan@reviewjournal.com.