Trump backs Romney in GOP race, surprising Gingrich supporters
February 2, 2012 - 9:07 am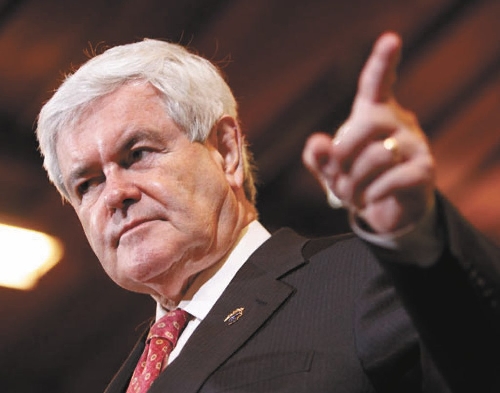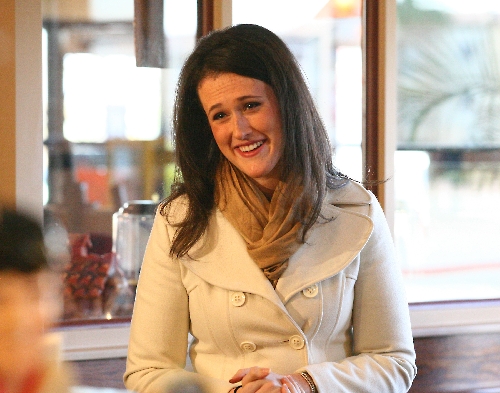 In an attention-grabbing twist worthy of Cirque du Soleil acrobats, real estate mogul and reality TV star Donald Trump endorsed Mitt Romney for president on Thursday.
"Go out and get 'em," Trump told Romney during a joint news conference, saying the Republican is the best bet to turn the economy around and beat President Barack Obama in November.
Looking bemused, Romney and his wife, Ann, smiled and held hands as Trump stood behind a "Trump" embossed podium to announce the endorsement at Trump International Hotel.
Taking the podium, Romney thanked Trump for backing him and joked that he never envisioned standing in front of dozens of TV cameras and dozens more members of the national and international media — drawn by Trump's flamboyant celebrity — to accept his support.
"There are some things you just can't imagine happening in your life. This is one of them," Romney said, drawing laughter from about 200 supporters who also crowded into the news conference.
The endorsement from the star of NBC's hit reality show "Celebrity Apprentice" came just ahead of Saturday's GOP presidential caucus in Nevada, where Romney is far and away the favorite to win.
The endorsement came as a surprise to Newt Gingrich's campaign, which had expected the former House speaker to win Trump's backing. Several GOP sources said Gingrich's camp tried to reach out to Trump to change his mind the night before the Romney announcement. Trump said he tried to call Gingrich twice Wednesday but couldn't get through.
"I respect Mr. Gingrich. I respect all four," of the remaining GOP candidates, Trump said in an interview after the news conference. "I just think Mitt has the best chance of getting elected."
The Trump endorsement isn't likely to shift the strategy of the campaigns in Nevada or affect the national race. Gingrich, however, could have used the publicity jolt to help him gain traction to prevent Romney from running away with the GOP contest in the Silver State.
A Las Vegas Review-Journal and 8NewsNow poll shows Romney leading the field with 45 percent support among Republicans who said they planned to caucus on Saturday. That compares with 25 percent support for Gingrich, 11 percent for Rick Santorum, 9 percent for Ron Paul and 10 percent undecided.
Campaigning in Reno on Thursday night, an exuberant Romney didn't talk much politics with 600 people crammed into a tiny events center but waxed nostalgic about "America the Beautiful." He also chatted outside with 200 people who gathered in 40-degree temperatures to greet him.
Paul campaigned in Elko and Reno on Thursday.
Santorum, too, stopped in Reno on Thursday evening to address a Republican Jewish Coalition group.
Today , the last day of campaigning before the caucuses, Romney planned to continue his swing in Northern Nevada in the morning. The former Massachusetts governor is scheduled to have a business roundtable in Sparks, then rally supporters in rural Elko. In the evening, he's to return to Southern Nevada for a get-out-the-vote event at Metro Pizza in Henderson.
Gingrich plans two Southern Nevada stops today : a morning rally at Stoney's Rockin' Country bar, a popular conservative hangout, followed by an event at the International Church of Las Vegas.
Paul had three events on tap today , including a rally in Pahrump, a meeting with Gun Owners for Paul supporters in Las Vegas and a rally to support World War II Filipino veterans in Las Vegas.
Santorum didn't plan to campaign in Nevada today or be here on caucus day, choosing instead to focus on Missouri's nonbinding primary Tuesday.
Gingrich isn't on the ballot, giving Santorum a shot to make a play for conservative voters in competition with only Paul and Romney.
Dave McGowan, the Nevada state director of Santorum's campaign, said the former senator from Pennsylvania isn't giving up on the Silver State and hopes to pick up a few delegates.
"Honestly, from the phone calls we've done, a lot of people are undecided and they're saying, 'I'm going to look at Santorum as an alternative to Gingrich,' " McGowan said.
The Gingrich campaign appeared to be struggling to maintain its stride in the face of back-to-back bobbles — not winning Trump's backing on Thursday and missing the chance for Gingrich to meet with Gov. Brian Sandoval on Wednesday. The campaign cited a scheduling mix-up.
"Donald's going to do what Donald's going to do," Gingrich campaign spokesman R.C. Hammond said. "Our job is to show that conservatives are not behind Mitt Romney."
Besides campaigning, Gingrich also was spending a lot of his time raising money behind the scenes, Hammond said. He is building a war chest for a long GOP nomination fight that could continue through Super Tuesday in March, where he has a chance to win several Southern states.
Thursday morning, Gingrich addressed a crowd of 300 people at Xtreme Manufacturing, a heavy equipment maker on West Bonanza Road, near Martin Luther King Boulevard. Most of them were employees, but dozens of fans also cheered him.
"We're really running with people power versus money power," Gingrich said, speaking inside a warehouse and making the case that he is the grass-roots candidate versus the establishment. "There are some very big differences between me and Governor Romney, and me and Barack Obama."
"I really believe that we should care about the very poor, unlike Governor Romney," Gingrich said, a reference to Romney saying he is mostly concerned with the middle class and not the very poor.
Gingrich said he disagrees with Obama expanding the "safety net" for the poor.
"What the poor need is a trampoline so they can spring up," Gingrich said, drawing cheers.
He said that trampoline would come as the economy improves by lowering the corporate tax rate, for example, to make it easier for companies to hire and create jobs.
Gingrich ignored questions from reporters about the Trump endorsement of Romney.
His campaign, however, later mocked Trump, saying he "wasn't always a fan of Mitt Romney." They cited several quotes from last year of Trump criticizing Romney, a former head of Bain Capital, an investment company that invested, bought and sold companies.
"Mitt Romney is a basically small-business guy," Trump said in April on CNN. "He was a hedge fund guy, a fund guy. He walked away with some money from a very good company that he didn't create; he worked there. He would buy companies; he'd close companies; he'd get rid of jobs."
Trump said that he has since changed his mind about Romney after getting to know him over the course of several months and several meetings. He met with most of the GOP candidates.
"Mitt is tough. He's smart. He's sharp. And he's not going to allow bad things to continue to happen to this country we all love," Trump said during his news conference with Romney.
Romney, in turn, praised Trump, calling him a highly successful businessman.
"Donald Trump has shown an extraordinary ability to understand how our economy works," Romney said, adding the two men are both critical of other countries taking advantage of America on trade. "He's one of the few people who have stood up and said China is cheating."
Trump, who is registered as an independent, said he would not run for president if Romney is the GOP nominee. He had flirted last year with the idea of a White House run, possibly as an independent.
Wearing a power-red tie, Trump relished the lavish media attention Thursday.
"I can tell you, people wanted my endorsement," a beaming Trump said after the TV lights had been turned off and the cameras had gone away. "You saw what happened today with the hoopla."
Review-Journal writer Ed Vogel contributed to this report. Contact reporter Laura Myers at lmyers@review journal.com or 702-387-2919. Follow @lauramyers on Twitter.
Review-Journal-Channel 8 January poll results
Caucus coverage
Follow @reviewjournal #nvcaucus on Twitter.
Updates on the caucuses Saturday at lvrj.com.
GOP Caucus Information
Clark County Republican Party
ccrp2012caucus.org
Information: 702-258-9184
Find your precinct
Clark County Election Department
Guide to caucus process
Appearances today
ROMNEY
■ Business roundtable at 8:10 a.m, Western Nevada Supply Irrigation Showroom, Sparks. He also will address employees
■ Grass-roots rally at 12:25 p.m., El Aero Services Inc., Elko
■ Get out the vote event at 5:15 p.m., Metro Pizza, 1420 W. Horizon Ridge Parkway, Henderson
GINGRICH
■ Rally from 10 to 11:30 a.m. at Stoney's Rockin' Country, 9151 Las Vegas Blvd. South, Las Vegas
■ Appearance from 7:30 to 8:30 p.m. at International Church of Las Vegas, 8100 Westcliff Drive, Las Vegas
PAUL
■ Nye County rally at noon, Skate Zone, 1261 E. Calvada Blvd., Pahrump
■ Greets Gun Owners for Ron Paul supporters at 5:30 p.m., American Shooters, 3440 Arville St., Las Vegas
■ Rally in support of H.R. 210 & World War II Filipino Veterans Fairness Day at 6:30 p.m., Leatherneck Club, 4360 W. Spring Mountain Road, Las Vegas