Trump's punching bag includes Oreos
January 31, 2016 - 10:44 pm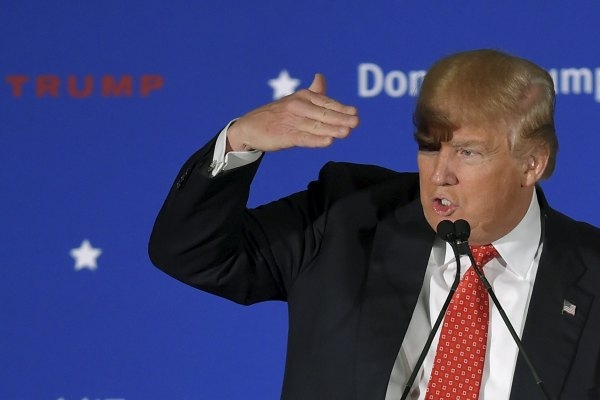 Republican presidential front-runner Donald Trump has a frequent punching bag on the campaign trail: Oreos.
It typically comes up in the context of his stump speech about U.S. jobs getting shipped to other countries.
"They're killing us on trade," Trump said at a campaign rally in Las Vegas earlier this month. "Nabisco is moving into Mexico with a big plant from Chicago, which means what? No more Oreos."
The crowd chanted back: "No more Oreos."
"Ah, it's going to be tough getting off Oreos," Trump said, referring to the chocolate sandwich cookie with a creamy white filling that has been called he most popular cookie in the world. "I never liked Mexican water, to be honest with you, so probably not going to eat them anyway."
Trump added: "I don't want Oreos made in Mexico. … So it's good we'll stay away from Oreos. It's one thing we don't have to eat."
The good news: Trump can still eat Oreos. American-made Oreos are still plentiful.
Laurie Guzzinati, a corporate spokeswoman for Mondelez International, the parent company for Oreos, has fielded calls from reporters for months, trying to clarify the matter since the summer when Trump first dragged the cookie into GOP politics.
"This is the inaccuracy that keeps going and going," she said. The inaccuracy, she said, is the "incorrect assumption" that the company is closing a bakery and moving it to Mexico.
The bakery in Chicago did shed about 600 jobs when it moved Oreo production to an existing, expanded facility in Mexico, but the Windy City's facility is staying open to continue making other food products, she said.
Another misperception from Trump's comments on the campaign trail is that Oreos are no longer made in the United States because of the move, she said. The cookie with cream in the middle is still made in New Jersey, Virginia and Oregon.
"It's very much part of the fabric of this country," Guzzinati said.
One thing Trump didn't disclose in Las Vegas: About two or three years ago, he did a commercial for Double Stuf Oreos that's still on YouTube.
— Ben Botkin
Three-way Senate race
The race for a key seat that could decide control of the Nevada Senate is now a three-way contest.
Devon Reese, a Reno lawyer, last week announced his candidacy for Senate District 15. He was quickly endorsed by the Senate Democratic leadership.
The district includes parts of Washoe County and west Reno, and the election is a wide-open contest. Republican incumbent state Sen. Greg Brower announced the fall that he would not seek re-election.
Heidi Gansert, a former Republican assemblywoman who served as chief of staff to Gov. Brian Sandoval during his first year in office, also is running for the seat.
Adding spice to the election is Nevada brothel boss Dennis Hof, who is running as a Libertarian.
Republicans hold an 11-10 majority in the state Senate.
— Sandra Chereb
Reid pays tribute
U.S. Senate Democratic leader Harry Reid of Nevada, a former police officer on Capitol Hill, paid tribute to the late U.S. Capitol Police officer Vernon Alston.
According to news reports, Alston died while shoveling snow after a huge winter storm that recently hit the Washington region.
"I'm saddened to learn that the U.S. Capitol Police has lost one of our own over the weekend as a result of the storm," Reid said in a statement.
Alston was a fixture at the Capitol for 20 years, he said.
"My thoughts are with officer Alston's family during this difficult time," Reid said.
— Jim Myers
Legislator off the hook
An assemblyman arrested on allegations of drunken driving and possessing a loaded pistol while intoxicated has been given a clean slate after a state judge overturned his convictions.
District Judge James Wilson last week reversed the misdemeanor convictions of Assemblyman Richard Carrillo, D-Las Vegas.
Wilson agreed with Carrillo's defense lawyer, who argued a test that showed his blood-alcohol level as 0.10 percent was inadmissible because a crime lab technician who testified at trial didn't supervise the entire testing process and could not confirm its accuracy.
The threshold for DUI is 0.8 percent blood-alcohol content.
Carrillo in the summer was sentenced by Justice of the Peace John Tatro to 42 hours of community service and fined $800. Those penalties were negated when the conviction was overturned.
Carrillo was arrested Feb. 27 when a sheriff's deputy said he found him asleep in his sports car with the engine running. The car was parked outside a bar just north of the state Capitol. Carrillo was in Carson City for the 2015 legislative session, which began a few weeks earlier.
The assemblyman, who has a concealed-weapons permit, had a loaded .22-caliber handgun in his pocket.
— Sandra Chereb
— Contact Sandra Chereb at schereb@reviewjournal.com or 775-461-3821. Find her on Twitter: @SandraChereb Contact Jim Myers at jmyers@reviewjournal.com or 202-783-1760. Find him on Twitter: @myers_dc Contact Ben Botkin at bbotkin@reviewjournal.com or 702-387-2904. Find him on Twitter: @BenBotkin1