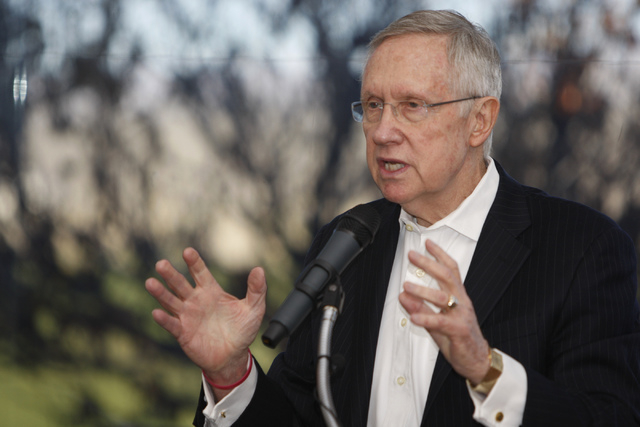 WASHINGTON — Sen. Harry Reid is preparing for turnover at the top of his staff, the Review-Journal learned Wednesday.
David Krone, Reid's chief of staff since 2011, is stepping aside. His successor is expected to be Drew Willison, a former Reid senior adviser who is returning after working in the private sector and as Senate sergeant at arms.
The impending change was reported by Politico, and was confirmed by sources familiar with the plan. Few details were immediately available.
A Reid spokesman told Politico there was no timeline for the changeover, which comes as the senior Nevada senator is beginning his tenure as leader of the Senate minority after eight years as majority leader.
It also comes as Reid is preparing to run for re-election in 2016. The change would place a top aide at the Democrat's side with nuts and bolts experience on Nevada, and signals that might be where much of Reid's attention will be focused.
Krone, a close Reid associate, is not being pushed from the job and will continue to serve as a Reid political adviser, Politico reported. He and his wife, former White House Deputy Chief of Staff Alyssa Mastromonaco, recently bought a home in New York City where she accepted a job as chief operating officer of Vice Media.
Krone, a Pennsylvania native who has a reputation as a partisan battler and someone fiercely protective of his boss, garnered headlines in November when he told the Washington Post that the White House was largely to blame for deep Democratic losses in the elections.
Willison, a native of Ohio, joined Reid's staff in 1997 as a legislative aide on environment and public works issues.
Over time Willison, 48, was promoted to staff director of the Senate's energy and water appropriations subcommittee. During the age of earmarks, he helped Reid stymie funding for the Yucca Mountain nuclear waste project while helping steer millions of dollars in projects back to the state.
In 2007 Reid appointed Willison deputy sergeant at arms, effectively the chief operating officer of the Senate. From 2010 to 2013 he was a vice president at the Battelle Memorial Institute, a science and tech think tank.
Willison returned to the Senate as sergeant at arms in 2013, and left after Republicans gained control in November.
Contact Stephens Washington Bureau Chief Steve Tetreault at stetreault@stephensmedia.com or 202-783-1760. Find him on Twitter: @STetreaultDC.