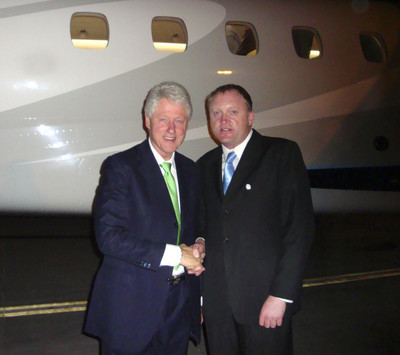 K TNV-TV, Channel 13, reporter, Jeff Gradney has been fired after he and his girlfriend were accused of soliciting male partners on the Internet.
Gradney, who joined the ABC affiliate three years ago, was dismissed Monday, after a disgruntled employee sent management and staffers a Craigslist ad, a source said, that appeared to show the reporter having sex with his girlfriend. The ad read: "hot, intensely passionate couple looking for a cool guy to play with."
Jim Prather, vice president and general manager of the Journal Broadcast Group station, confirmed Gradney was let go but declined further comment, saying it was a personnel matter.
The firing is the latest incident to batter the ABC affiliate's image.
Last month, the station fired longtime on-air personality Ron Futrell after he was cited for a hit-and-run car crash.
Three and a half years ago, KTNV was embarrassed by a racial incident after a weekend weather anchor was fired for referring to Martin Luther King Jr. as "Martin Luther Coon."
Rob Blair made the comment the day before Martin Luther King Jr. Day. Blair was fired by Prather the next day after African-American staffers raised the possibility of a walkout.
STEUART FIRED AT KVVU
Holly Steuart is out at KVVU-TV, Channel 5, after four years as vice president and general manager.
She was informed on Thursday, sources said.
Jen Harken, spokeswoman for Meredith Corporation, confirmed Steuart's departure but said she could not comment on personnel matters.
LUCK OF THE IRISH
Bartender John O'Donnell called it "a pretty good experience for a little Irish boy from Dublin."
Instead of bartending at N9NE Steakhouse at the Palms on Monday, O'Donnell, 39, was driving the third car in Bill Clinton's motorcade on its way to a birthday dinner for the former president. Clinton turned 62 on Tuesday.
O'Donnell landed the volunteer position after his boss, N9NE Group owner Michael Morton, introduced him to some Clinton staffers last winter at the steakhouse.
O'Donnell, a Las Vegas resident since 1996, was driving a black Tahoe that accompanied Clinton from Atlantic Aviation to the Cox Pavilion, where he delivered an energy speech.
After the speech, Clinton was driven to the MGM Grand, where he had a birthday celebration dinner at Craftsteak with Cher, Sen. Harry Reid and billionaire T. Boone Pickens.
Before Clinton departed on a private plane, he took a photograph with O'Donnell and told him, "I love Ireland. It's my second home."
THE SCENE AND HEARD
Anita Nelving is leaving Cirque du Soleil as director of public relations for Cirque's resident shows in Las Vegas to become managing director of CineVegas. She will assume the new position on Sept. 2. …
The Scintas, who have been headliners in Las Vegas since 2000, are shooting a sitcom pilot around town.
SIGHTINGS
NFL legend Deion Sanders, with friends at Lance Burton's magic show Monday at the Monte Carlo. … New York City Mayor Michael Bloomberg, dining Tuesday at The Country Club at Wynn Las Vegas. … Actor Danny Glover, dining Monday with Planet Hollywood's Robert Earl at Strip House in Planet Hollywood Resort. … Hugh Hefner's girlfriend, Holly Madison, made a visit Monday night to the CatHouse ultralounge at Luxor. … Members of the New Kids on the Block, filming their music video for their new single "Single" on Monday at Jet, in The Mirage. The song features Las Vegas R&B star Ne-Yo. … Star Wars creator George Lucas and his son, racing indoors at Pole Position Raceway over the weekend. They were spotted watching the Olympics TV coverage at Hawaiian Tropic Zone at Planet Hollywood Resort on Saturday. … At Tao Beach, in The Venetian, on Monday: Kevin Federline with his brother and friends, enjoying Jack Daniels and Patron tequila. … Members of Daughtry, partying Sunday at Revolution, in The Mirage. … At SushiSamba, in the Palazzo, over the weekend: Bravo's "Top Chef" runner-up Marcel Vigneron and Venetian headliner Wayne Brady. At Sugarcane, Sushi Samba's boutique nightclub: Brady and the cast of E!'s "Sunset Tan."
THE PUNCH LINE
"Police in Denver are getting ready for the Democratic Convention in Denver. They're ordering the stun guns, the barbed wire, the plastic handcuffs … and that's just for Bill Clinton's room." — Craig Ferguson
Norm Clarke can be reached at (702) 383-0244 or norm@reviewjournal.com. Find additional sightings and more online at www.normclarke.com.