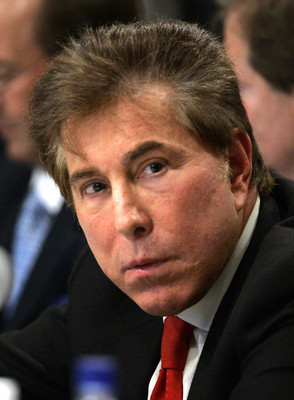 Morning show co-anchor Monica Jackson is on the hot seat at KVVU-Channel 5 for her shaky coverage of the Monte Carlo fire.
Jackson's inaccurate reports, including claims of trapped workers and evacuations at Bellagio and City Center, came under criticism from several news outlets, including a rare on-air rebuke from a fellow anchor.
KLAS-TV veteran anchor Gary Waddell told viewers several times that the Fox station had its facts wrong.
Jackson's report of workers trapped on the roof was picked up by other networks and news outlets and later corrected.
Casey Hendrickson, afternoon drive-time host at KXNT Radio, 840 AM, called Jackson's reporting "unprofessional and irresponsible. It was like she was reporting the apocalypse."
Even after fire authorities said there was nothing to the story of trapped workers, Hendrickson said he flipped over to Fox "and they were saying those people were rescued."
The evacuation claims could have caused panic and injury, he said.
Jackson is Fox5's co-anchor of the celebrity-driven morning show "More."
KVVU news director Adam Bradshaw could not be reached by deadline. A message on his cell phone said he was out of the country until Monday.
WYNN'S $25 MILLION SURPRISE
Resort developer Steve Wynn made a surprise announcement Thursday that left his wife, Elaine, in tears.
Before a private dinner on the eve of the Communities in Schools national board meeting at Wynn Las Vegas, Wynn informed the board that he was committing $25 million to establish an endowment for the nation's largest dropout prevention organization.
Elaine Wynn, the organization's new national chairwoman, said in an e-mail Saturday that she and her husband had discussed wanting to start an endowment for CIS.
"But I had no idea the amount he was considering and when he would want to do it," she said. "I think he was so impressed by the new information he heard during our program, that he decided right then and there to make this extraordinary commitment. Even though I know how generous he is, this was a gesture that completely overwhelmed me. I did lose my composure."
CIS is in over 3,400 schools and impacts over 1.5 million children, including the Las Vegas branch.
BETTE ON OPRAH
Bette Midler arrives in Las Vegas this week to continue rehearsals for the Feb. 20 debut of "The Showgirl Must Go On" at The Colosseum at Caesars Palace.
But first she's going on "Oprah" on Monday to beat the drums for her return to Las Vegas as a two-year resident headliner.
Meanwhile, Tait Towers, a Pennsylvania-based lighting company, issued a recent news release announcing they have been hired by Caesars for work with the property's three-artist rotation in 2008 "that begins with Bette Midler and includes Cher and Elton John."
SIGHTINGS
Hockey great Wayne Gretsky and friends, dining on Kobe beef at Fix (Bellagio) Friday night. … Maroon 5 frontman Adam Levine, back at the Playboy Club (Palms) for the second night in a row, sipping Le Tourment Vert, a rare absinthe that contains wormwood, long banned in the United States until recently. … Jenna Jameson, performing a Marilyn Monroe-like "Happy Birthday" serenade to her boyfriend, UFC star Tito Ortiz, for his 33rd birthday at CatHouse (Luxor). She was rolled in on a 6-foot-high cake and performed a choregraphed number. Guests included Mike Tyson and Ortiz's UFC pals.
THE PUNCH LINE
"Rambo now gets an AARP discount on ammo." — David Letterman, on Sylvester Stallone's fourth "Rambo" film, at age 60.
Norm Clarke can be reached at 383-0244 or norm@reviewjournal.com. Find additional sightings and more online at www.normclarke.com.