TV's 'Talent' show win taking Las Vegas singer on road
September 16, 2010 - 11:00 pm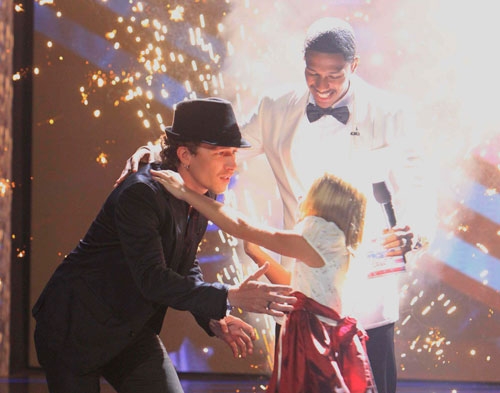 This time last year, Michael Grimm entertained diners in Hank's steakhouse at Green Valley Ranch. But come Oct. 8, the soulful singer will be the headliner, for one night at least, in the Colosseum at Caesars Palace.
The date goes with Grimm's $1 million prize after the Las Vegas singer won "America's Got Talent" in front of 16.4 million TV viewers Wednesday. He will be part of a package tour with other finalists.
"I only came to this show so I would hopefully be seen on TV and get a fan base, so I could go to the labels and get a record deal," the 30-year-old Mississippi native said by telephone Thursday, while waiting to tape "The Ellen DeGeneres Show."
"I didn't know it was going to work out as great as it did."
Neither did most of America, judging by the surprised reaction to Grimm's upset over the odds-on favorite, 10-year-old classical singer Jackie Evancho.
"I felt like it wasn't gonna happen. It was a huge surprise. I was ready to gracefully bow out when I was next to her," Grimm said. When they called his name instead, it was "like I'm living in a whole different universe or something."
He is a big fan of Evancho. "If I had children, I wish I could have one like that," Grimm said. "I think we're looking at a superstar right there and it's an honor to be onstage with her, even though it frightened me. Maybe we'll figure out something to do in the future. As she gets a little older, do a duet."
The two will spend time together on the 25-city tour with "huge venues … and a bus," Grimm said with a laugh. The tour starts Oct. 1 in Oakland, Calif. Last year, the Top 10 winners parked at Planet Hollywood for a 10-week production show. This time, the tour with one Las Vegas stop seems to replace any extended run on the Strip.
Grimm auditioned for the NBC talent show last year, and didn't even get called back. It's "an extreme example" of how much of show business is up to luck, he said.
Two other Las Vegas entertainers, magician Murray SawChuck and fire illusionist Anthony Restivo, also fared well on the top-rated talent contest, though their momentum stopped short of the finals.
Of the two, only Restivo performed the same weeks as Grimm. "There could not be anyone more deserving. He's a great guy. He's sweet, he's humble," Restivo said Thursday. Grimm was "one of the only people I did not want to be onstage with, just because he's so phenomenal I didn't want to compete against him."
SawChuck said he is under consideration for some of the tour stops, but Restivo feared his fire illusions are viewed as too much of a logistical challenge for the road show. SawChuck does plan to be across the street at the Flamingo Las Vegas during that first week of October, as a guest star of fellow magician Nathan Burton, who competed on the first season of "America's Got Talent."
Grimm said he wants to "get an album cooking while doing this tour." Sales of his self-financed recordings shot up during the competition.
His latest, "Leave Your Hat On," was No. 27 in Amazon's music rankings Wednesday afternoon.
The singer said he is proud of his Memphis soul-cooked songwriting, but "I can't wait to get into a bigger studio with a lot of money and start going over those songs again."
Grimm moved to Las Vegas in 2000 after spending a year in the "Legends in Concert" band in Biloxi, Miss. He started working at Hank's in late 2005. That lounge work with a pianist led to him assembling a full band and alternating nights in the larger Ovation nightclub.
Grimm said he hasn't forgotten that the world hasn't heard much of last season's winner, Kentucky "chicken catcher"—-turned country singer, Kevin Skinner.
"I've asked the same question, 'Where is he right now?' " Grimm said.
"I'm definitely going to go down a different route. I come from a different schooling than he does in music, and I've had years and years of doing it.
"Maybe he hasn't got out there enough, or maybe he's just not going and grabbin' it.
"But I'm definitely going and grabbin' it."
Contact reporter Mike Weatherford at mweatherford@ reviewjournal.com or 702-383-0288.