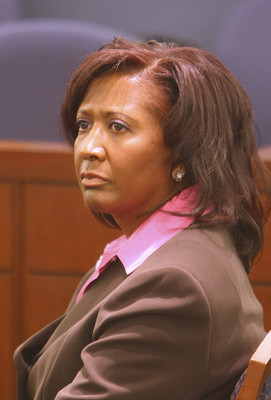 Two felony charges against former County Commissioner Lynette Boggs were dropped Friday when a judge said Boggs didn't commit perjury when she listed a baby sitter as a campaign expense.
District Judge Donald Mosley dropped one count of perjury and one count of filing a false document.
Boggs is still facing two felony counts of perjury and filing a false document on allegations that she lived in a house outside her district and lied about it.
"I don't think it's been shown that there was a willful desire on the part of the defendant to mislead," Mosley said.
Boggs and about a dozen supporters attended the hearing. She declined through her attorney to comment after Mosley made his decision.
Her attorney, Gabriel Grasso, said he was pleased with the ruling. He said Mosley's decision made it clear that the authorities had overcharged Boggs.
"The case now becomes more focused, and we're getting ready for round two," he said.
A county grand jury indicted Boggs in August on two counts of perjury and two counts of filing false documents.
Boggs has pleaded not guilty to all counts. She is set to go to trial March 31.
Friday's hearing centered on accusations that Boggs tried to get around campaign finance laws by paying her baby sitter, Kelly Mcleod, with campaign funds in 2006 and listing those payments as "special events" campaign expenses.
Grasso argued that Boggs listed the baby sitter as a "special events" expense because she paid Mcleod overtime while she was out campaigning at night or at special events.
He said the former county commissioner truthfully reported that she paid Mcleod with campaign funds. He acknowledged that she may have incorrectly listed the baby sitter as a "special events" expense instead of a "miscellaneous" campaign. But Boggs did report the expense truthfully, he said.
"It's not as if she tried to hide this money by saying she paid it to the sign guy or paid it to the campaign adviser," he said. "She didn't list (the baby sitter) as a campaign worker."
Chief Deputy District Attorney Scott Mitchell maintained that Boggs tried to conceal the payments to her baby sitter by calling it a "special events" expense. But on Friday he conceded that Boggs wouldn't be facing perjury charges if she listed the baby sitter expense as a miscellaneous expense.
But Mosley found that Boggs accurately listed the baby sitter and never tried to hide it. That also made filing the false document charge by listing the baby sitter as a campaign expense a non-issue.
Matt Griffin, deputy for elections at the secretary of state's office, declined to comment on the case because it's an ongoing matter before the courts.
Mosley didn't make any decisions on charges that Boggs lived outside Commission District F, in the southwest valley.
The charges against Boggs stem from an investigation paid for by the Las Vegas Police Protective Association and Culinary Local 226. Investigators conducted surveillance on Boggs in 2006 and captured footage of her picking up her newspaper, taking out trash, and coming and going from a house at 3624 Dutch Valley Drive, which lies outside the district. She declared in campaign papers that she lived at 6386 Grays River Court, which is inside the district.
Mosley has also been the subject of alleged campaign finance irregularities. A 2006 Los Angeles Times series on Nevada's judicial system reported that Mosley lent $10,000 in 1990 to his then girlfriend, Terry Figliuzzi, who later changed her name to Mosley.
Mosley said he borrowed the money from the campaign but returned it. Terry Mosley disputed his accounts, saying that she considered the $10,000 as a gift and never repaid the judge, according to the report.
Contact reporter David Kihara at dkihara@reviewjournal.com or (702) 380-1039.