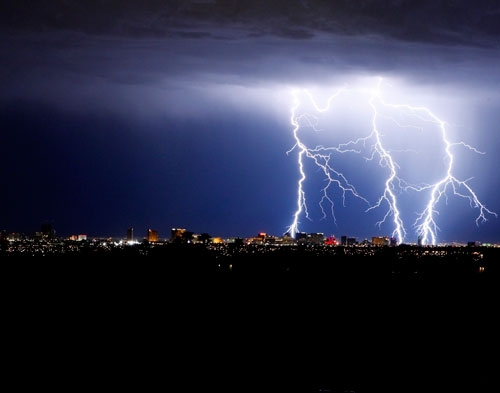 Scattered thunderstorms continued Wednesday, dropping between 0.25 to more than an inch of rain in some parts of the Las Vegas Valley during a two-day period, the National Weather Service said.
Larry Jensen, a National Weather Service meteorologist, said that as of 6:40 p.m., most of the Las Vegas Valley had experienced some rainfall during a 24-hour period.
He said the northwest and northeast areas of the valley on average had received the most rainfall.
The quick-striking storms swept in with a low-pressure system from northern Mexico.
By Wednesday evening, there were reports of light flooding on some streets, particularly near Owens Avenue and Christy Lane.
Wednesday's storms were not as spectacular as Tuesday's storms, which dropped hail on parts of Henderson. But some parts of the valley, including North Las Vegas, experienced power outages on Wednesday.
Although storms might continue throughout the week, the heavy rainfall is most likely over, Jensen said.
"We should definitely be drier tomorrow, and once again drier Friday and Saturday," Jensen said.
"The weekend is looking pretty nice."
Today's forecast calls for a 20 percent chance of thunderstorms in the afternoon, with a high temperature of 78 degrees and low of 60.
There is a 10 percent chance of thunderstorms Friday, with a high of 76 and a low of 58.
Contact reporter Antonio Planas at aplanas@reviewjournal.com or 702-383-4638.