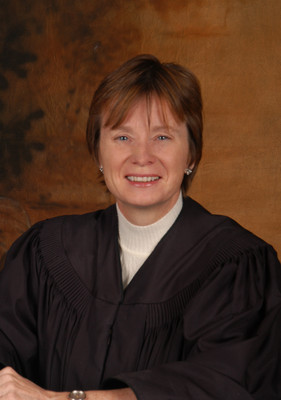 CARSON CITY — The surprise announcement that Supreme Court Justice Bill Maupin would not seek re-election prompted immediate interest from potential successors Wednesday.
Both Las Vegas attorney and previous high court candidate Don Chairez and Washoe County Family Court Judge Deborah Schumacher filed for the position after Tuesday's announcement that Maupin would step down from the bench after his term ends this year.
Chairez, 52, a former Clark County district judge, ran against Maupin for the Supreme Court B seat in 2002 but lost. He has run unsuccessfully for other posts as well, but worked successfully to get a measure on the ballot in 2006 to restrict the ability of governments to take private land through eminent domain. The constitutional amendment will be on the ballot again in November for a second and final vote.
Chairez said he is planning to file another constitutional amendment dealing with judicial reform for the November ballot. Among other changes, it would require judges to disqualify themselves from cases if they had received campaign contributions from the involved parties, and would let voters decide on judicial replacements instead of giving the governor the authority make such appointments.
"I want to come to the court with an open mind and come to the court with a heart for the little people," Chairez said.
Schumacher, 52, has served as a judge in Washoe County since 1997 when she was appointed by then-Gov. Bob Miller to the Family Division. She was twice-elected without opposition.
Prior to taking the bench, Schumacher was a partner in the statewide law firm of McDonald Carano Wilson, where she specialized in commercial and real estate litigation, bankruptcy and business law.
"I offer broad legal and administrative experience," she said. "It is unusual for a Supreme Court candidate to combine high-level business and family law experience with developed skills in judicial administration."
Schumacher is the immediate past president of the Nevada District Judges Association and lists a number of statewide efforts to improve justice for Nevadans, including the recent blue ribbon Indigent Defense Committee appointed by the Nevada Supreme Court; the Ethics 2000 Commission, which successfully recommended improvements to lawyer ethics rules; the Federal-State Judicial Council, which facilitates information exchange and cooperation between Nevada's state and federal courts; and the Court Improvement Project, which helps children in foster care.
She noted that the current high court has significantly reduced its backlog of cases and that she would work hard to continue those efforts. She also supports the court's recent steps in support of open government and the unsealing of court records.
Schumacher said she believes that it is important that the law be clear and predictable, and she would like to apply her analytical and writing skills to the vital issues that the high court decides.
"As the final determiner of Nevada law, our highest court helps ensure justice for our citizens by providing strong, consistent statements of the law," she said.
Schumacher received her law degree from the University of Notre Dame and a graduate degree from the University of Chicago. She has also served since 2000 on the faculty of the National Judicial College, which educates the nation's judges.
Chairez was appointed to the Clark County bench in 1994 by Miller. He won re-election twice but resigned in 1998 to run for Congress as a Republican, losing by fewer than 6,000 votes to the Democratic candidate, Shelley Berkley.
Chairez grew up in Sacramento, Calif., and earned a bachelor's degree in history from Loma Linda University. He earned a law degree from the University of Southern California.
ON THE WEB
Nevada Secretary of State's election Web site