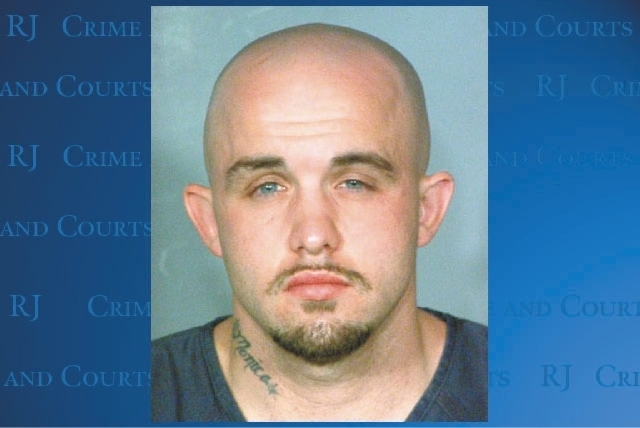 Two men were indicted on murder charges for an April drug robbery that went bad on East Fremont Street, prosecutors said Friday.
Darion "Money" Muhammad-Coleman, 18, and Dustin "Criminal" Bleak, 26, are charged with murder with the use of a deadly weapon, battery, attempted robbery, attempted possession of a controlled substance and two counts of conspiracy.
On April 19, Las Vegas police responded to reports of gunfire at the Travelers Inn on Fremont Street near Oakey Boulevard where they found Dale Borero, who had been shot multiple times, in the parking lot. He later died at University Medical Center.
Prosecutors said Bleak arranged a meeting with Borero at the inn to buy a quarter-ounce of methamphetamine. An argument ensued and both Muhammad-Coleman and Borero took out hand guns and exchanged 14 shots. Bleak and Muhammad-Coleman escaped in a 1980s baby blue Cadillac four-door sedan, authorities said. Two other men in the Cadillac cooperated with detectives and have not been charged, court documents said.
The shooting was captured on the inn's surveillance video.
Bleak was arrested three days later. He declined to speak with detectives following his arrest, according to his arrest report.
Muhammad-Coleman, also referred to as Muhammod-Coleman in records, was arrested in July. Defense lawyers have set a competency hearing for Muhammad-Coleman on Oct. 18, records show.
On Friday, Judge Linda Bell ordered both men held without bail. Muhammad-Coleman remained jailed at the Clark County Detention Center. Bleak, a four-time convicted felon, was imprisoned at High-Desert Correctional Center in a separate case.
An arraignment hearing was set for Nov. 4.
Contact reporter Francis McCabe at fmccabe@review journal.com or 702-380-1039.