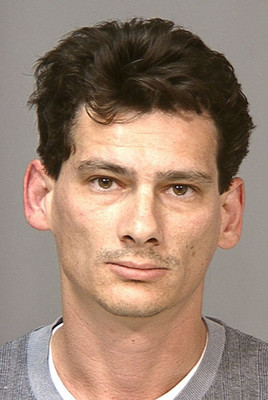 Two people wanted in connection with the half-hour videotape of a 3-year-old girl being sexually assaulted were still at large Saturday night.
Authorities believe Chester "Chet" Stiles, who has been named by police as the man seen molesting the child on the tape, and Darrin Tuck, the 26-year-old Pahrump man who turned the video over to authorities, are on the run.
Stiles' last known address was in Las Vegas, and he was reported to have been in the valley as recently as two weeks ago, Nye County sheriff's Detective David Boruchowitz said.
About 12:25 p.m. Saturday, someone reported seeing a man who looked like Stiles near Fremont and Bruce streets, and Las Vegas police rushed to the area but never found the man.
Las Vegas police took over the case Friday after investigators determined the taped sexual assault took place in Las Vegas. The video was not taken at the girl's home, police said.
The girl, who is now 7, was found safe at her mother's Las Vegas home Friday afternoon. Police said they saw no reason to remove the girl from her home.
Las Vegas police have been working the case nonstop since Friday evening, said officer Ramon Denby, a department spokesman. They contacted "America's Most Wanted" and the case was scheduled to air on Saturday night's show, he said.
Stiles, 37, was described to Nye County District Attorney David Beckett as a survivalist and had reportedly told at least one person he would never be taken alive.
Beckett became confident that Stiles was the man on the tape when a Las Vegas attorney called him saying a client of his was certain Stiles was the man on the video.
Police released multiple images from the video to the media throughout the week in hopes of finding the girl. The client, who recognized a mole on the man's body, wanted the fugitive behind bars but wished to remain nameless because he feared for his own life.
Stiles, a 6-foot 2-inch, 175-pound former animal trainer for Siegfried & Roy, always carries a knife and claims to be a karate black belt and a Navy seal, the tipster told Beckett.
Las Vegas police and the FBI issued warrants for Stiles' arrest in April 2004 after he was alleged to have molested a 6-year-old girl in Las Vegas.
According to a criminal complaint filed with the U.S. District Attorney's Office, the child told an FBI agent that Stiles "pulled her pants down while she was awake and with a finger touched her 'private parts' … kissed her on the mouth and stuck his own tongue in her mouth … (and) told her not to tell anyone because he liked her a lot and if she did, he would not be able to see her again."
Authorities believe Stiles fled Nevada after relatives warned him that police were looking to arrest him.
Between 2001 and 2003, Las Vegas police arrested Stiles at least five times on charges of auto burglary, battery and domestic violence, possession of an unregistered firearm, and assault with a deadly weapon.
In connection with the videotape, Stiles is expected to face charges of sexual assault of a child, lewd behavior with a child and possibly kidnapping, DeMeo said.
Authorities also have been searching for Tuck since Friday night. Tuck was last seen Friday night around 7:30 p.m. having dinner with his family at the Saddle West, a Pahrump restaurant and casino. He is believed to have fled the area, DeMeo said.
Police now plan to arrest Tuck for violating the terms of his probation. Tuck was on probation in the wake of an Aug. 15-27 stint in jail for failure to pay child support, DeMeo said. Tuck couldn't be arrested for a probation violation until the Nye County District Attorney's Office announced he would be formerly charged in connection with the videotape. One of the terms of his probation was that he could not take part in any criminal activity.
Tuck turned the tape over to investigators Sept. 8, saying he had found the tape in the desert four days before. But Boruchowitz said another individual came forward to say that Tuck had shown him the video at least four months earlier.
Authorities have said Tuck failed a lie detector test. "He's lied all the way through this case," Boruchowitz said.
Tuck spent two days in jail after being arrested the week of Sept. 20 on charges of possession and dissemination of child pornography, both felonies. He was released without bail pending a Nov. 26 hearing in Pahrump Justice Court.
DeMeo and Boruchowitz speculated Saturday that the real reason Tuck came forward with the tape was to distract them from an investigation of a burglary ring that involved many of his associates.
"He didn't have a crisis of conscience," Boruchowitz said. "If his conscience or morality was involved, he would have come forward with the tape four or five months ago."
Tom Gibson, Tuck's attorney, said Tuck is being unfairly portrayed.
"They keep lumping Darrin in with Mr. Stiles, but my client doesn't know him. Everyone keeps forgetting that if it had not been for Mr. Tuck, nobody would know who Mr. Stiles is."
Beckett said the Nye County District Attorney's Office is investigating other charges against Tuck.
If convicted of possessing child pornography, Tuck could face up to six years in prison. If convicted of disseminating child pornography, Tuck could face life in prison, he said.
TIP LINEAnyone with information concerning this case can call Crime Stoppers at 385-5555 or police at 828-3111.