Two more high-rise condominium projects have financial trouble
April 30, 2009 - 10:26 am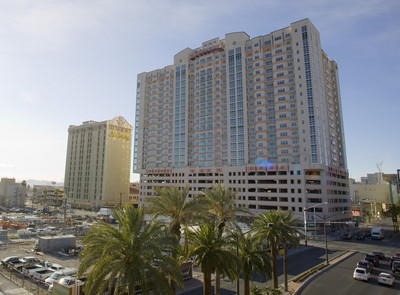 Two luxury high-rise condominium projects on opposite ends of Las Vegas Boulevard have run into financial trouble, though both developers remain optimistic about the market's long-term prospects.
The 275-unit Streamline Tower in downtown Las Vegas filed for Chapter 11 bankruptcy protection Wednesday, while the twin-tower, 359-unit One Las Vegas development near Windmill Lane has been taken over by the lender.
Both projects were financed by Corus Bank of Chicago. Estimated construction cost was $150 million for One Las Vegas and $125 million for Streamline.
Streamline developer Dusty Allen said the project is 10 percent sold and actively selling units as the reorganization plan works through the courts. Streamline received its certificate of occupancy in September and initial move-ins have now been completed, he said.
"We're not victims of this market. We're participants in it," Allen said Thursday. "This is a global economic meltdown we're participating in. It takes some creativity to work though this."
One Las Vegas developer Wayne Krygier, who's been in Las Vegas for 20 years, said the fundamentals that helped Las Vegas grow from 500,000 population to 2 million remain in place.
"We still have in-migration from California. We still have inexpensive housing. We still have tax benefits. The jobs will come back," Krygier said. "I'm optimistic."
Corus will be offering units at One Las Vegas at a discount of about 50 percent from original prices that started in the $400,000s, he said. The development was completed in June and had 40 escrow closings.
"I think it's a great opportunity. It's the nature of the economy, the resetting of prices, just like the hotel rooms," Krygier said. "But I think the bank is being proactive rather than reactive. They're recognizing the resetting of value. Certain people are still asking $400 a square foot."
Corus is one of two banks that were highly exposed to the Las Vegas condo market, the other being Hypo Real Estate Corp., a New York-based subsidiary of Hypo Real Estate Bank International.
Three years ago, Corus had 90 percent of its $9 billion loan portfolio allocated to condo projects around the country, including $750 million in Las Vegas. The bank funded Juhl ($106 million), Panorama ($236 million), Allure ($150 million), Streamline ($123 million) and One Las Vegas ($140 million).
The latest events follow several other Las Vegas condo projects going back to the lenders, including Newport Lofts, Cosmopolitan, Turnberry Towers and Mira Villa.
Allure held an auction in April for 10 units that were reserved with 15 percent nonrefundable deposits. Buyers canceled their contracts either because they could not close escrow or they felt values had dropped to the point that it made more sense to walk away from the transaction.
Alan Schactman, vice president of Chicago-based Fifield Cos., developer of Allure, would not discuss specific results from the auction, other than to say some minimum bids were not met.
"There was bidding and interest on all 10 units and we are currently working with the winning bidders," he said. "This was not an absolute auction where the property is automatically sold to the highest bidder regardless of the amount of the winning bid. We are currently working with these folks to meet the minimum reserves."
The auction reaffirmed the ongoing interest in luxury high-rise living in Las Vegas and underscored the value that is currently available in the market, Schactman said.
High-rise condos accounted for 4 percent of home sales in March with 98 units changing hands, Frank Nason of Residential Resources reported.
Contact reporter Hubble Smith at hsmith@reviewjournal.com or 702-383-0491.