Two North Las Vegas fires displace 14 people
February 22, 2014 - 3:20 pm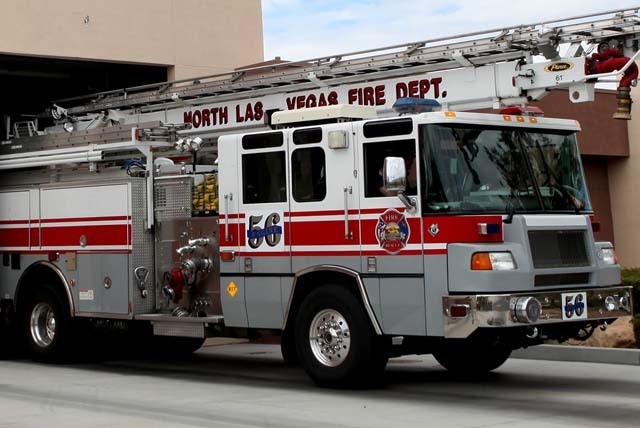 Fourteen people were displaced Friday night after simultaneous fires destroyed two North Las Vegas homes.
Las Vegas and North Las Vegas firefighters responded about 8:47 p.m. to multiple reports of heavy smoke and flames showing from a house near Commerce Street and Carey Avenue.
Fire crews were able to extinguish the blaze within 10 minutes, but the Duchess Avenue home was a loss, according to North Las Vegas fire spokesman Cedric Williams. The American Red Cross is assisting six adults and one child who were displaced by the fire.
The fire was ruled accidental, Williams said. Damage to the two structures on the property was estimated at $200,000.
Both departments responded to a second blaze about 9:10 p.m. at a house near Clayton Street and Lone Mountain Road.
While the first fire was still being extinguished, the North Las Vegas Fire Department received multiple calls about light smoke showing from the garage of a home on Meadow Green Avenue.
Firefighters arrived and found heavy smoke throughout the home. Crews were able to locate and extinguish the fire, which was contained to its area of origin, Williams said.
Red Cross was called to assist the five adults and two children who were displaced by the fire.
Damage to the home was estimated at $250,000. The cause of the fire was still under investigation.
Contact reporter Kimber Laux at klaux@reviewjournal.com or 702-383-0391.