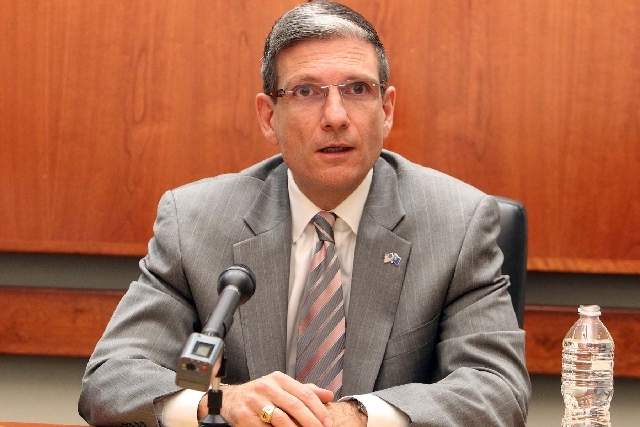 If U.S. Rep. Joe Heck is sweating his re-election chances, it isn't showing — even in 115-degree heat.
But if a town hall forum the Nevada Republican held Tuesday evening is any indication, enduring the sweltering heat outside will be easier than balancing on the political tightrope he needs to walk to remain in office after 2014.
Heck, who represents a district that includes about 9,600 more Democrats than Republicans, was peppered with questions about topics from immigration to Social Security.
Despite cheers and boos from the feisty politically mixed crowd, especially on immigration questions, Heck answered questions directly and without any obvious gaffes that would have provided useful material to the Democratic tracker shooting video during the event at the southwest valley's Windmill Library.
Democrat Erin Bilbray-Kohn, a political trainer and daughter of a former U.S. lawmaker, recently announced she would challenge Heck for his House seat.
On immigration, Heck said he wouldn't support an immigration bill that recently emerged, with Republican support, from the Democratic-controlled Senate.
The bill isn't popular in the House, especially among representatives with low Hispanic and immigrant populations. But Heck, whose district includes large numbers of Hispanic and Asian voters, drew cheers from progressives in the crowd when he said, repeatedly, the immigration system is broken and some changes are in order.
"Those who want to come here legally have significant obstacles put in front of them," Heck said. "One of the reasons we have so many illegal crossings is because we have a broken legal system."
That answer didn't sit well with right-leaning members in the audience, who jeered and told Heck they would prefer to beef up enforcement of existing laws against illegal immigration.
"A law you don't like doesn't mean you break it and come in anyway," said Barbara Teixeira, 73.
Another audience member, who would only identify himself as Ron, articulated fears some immigration reform opponents have about losing job opportunities to newcomers.
"I'm one of 20 million United States citizens who can't find a job right now. It is going to make it more difficult for us," he said. "They'll be eligible for affirmative action, and I, unfortunately, will not qualify."
Others in the audience were there to voice opposition to the notion of cutting Social Security benefits.
Heck said he would oppose changes for people who already receive benefits or are scheduled to receive them soon but added that he would be open to changes that would affect people younger then 40.
Dick Collins of the Nevada Alliance for Retired Americans noted he has a daughter near age 40 who has paid into the system and deserves benefits.
"Social Security does not add one dime to the national debt," Collins said.
Among topics that didn't come up during the event was a recent report by the website BuzzFeed that highlighted racist, sexist and homophobic remarks Heck's 16-year-old-son, Joey Heck, made on Twitter. Heck apologized for his son's remarks after the BuzzFeed story ran last month.
Another topic not addressed by audience members were recent revelations about widespread surveillance of Americans' phone and internet communications by the National Security Agency.
The revelations came via documents leaked by Edward Snowden, a former National Security Agency contract worker who has left the country but is being sought for prosecution.
After the public event, reporters asked Heck, who is on the House Intelligence Committee, about Snowden.
"Snowden is a traitor, and he needs to be brought back to the U.S. and brought up on charges," Heck said.
Contact reporter Benjamin Spillman at bspillman@review journal.com or 702-383-0285.