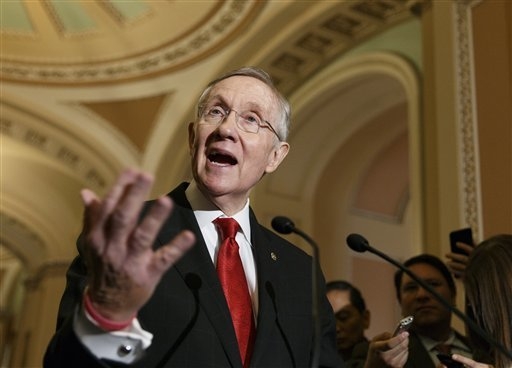 WASHINGTON — Days from their next weeklong recess, senators reported Tuesday they remain apart over extending unemployment benefits to Americans who have been out of work for longer than six months.
Majority Leader Harry Reid of Nevada said the Senate remains one Republican vote short of the 60 needed to pass a Democratic plan to extend emergency jobless payments for six months, retroactive to when the federal program expired on Dec. 28.
"If we get that one vote we can move on it fairly quickly but we do need that vote and at this stage we don't have that assurance," Reid said in a meeting with reporters.
But a Republican senator delivered a pessimistic note, saying sides are no closer to a deal even though both Democrats and Republicans introduced fresh plans last week.
"We are so far apart," said Sen. Dean Heller, R-Nev. Heller and a half-dozen other Republicans have introduced a competing unemployment bill, and he maintained Democrats have shown little interest in meeting GOP senators halfway, or any way.
Republicans are proposing a five-month retroactive bill. Its $10 billion cost would be paid by extending certain customs user fees, changing a pension accounting rule, and by prohibiting people collecting Social Security disability from getting unemployment checks at the same time.
The Democrats propose to pay for their $12 billion-$13 billion bill by applying long-term savings from a recently passed farm bill.
The sides are rejecting each other's plan to pay for the extended benefits, as they did on two earlier failed attempts to pass an unemployment bill.
Republicans also are proposing changes to the unemployment program such as cutting off payments to people who refuse offers of "suitable work," or fail to apply for jobs recommended by state unemployment agencies.
"We have given them seven votes," Heller said of the GOP offer to Democrats. "It is the height of hypocrisy if they don't take it."
"I am convinced the Democratic leadership would rather have a political talking point," Heller said. "This clamor for what's good for those who are unemployed is taking a back seat to the politics on the issue."
The Nevada senators have taken a front seat on negotiations over jobless benefits as their state's unemployment rate is 8.8 percent, second highest in the nation. Rhode Island has the highest rate of joblessness, at 9.1 percent.
The continuing impasse comes as the Senate is scheduled to go out of session next week for a scheduled recess, which could push back votes to the week of March 24 if senators were able to reach a deal.
The December expiration of the federal emergency unemployment program ended jobless benefits for 1.7 million people whose 26 weeks of state-funded basic benefits had run out. That number has grown to more than 2 million people as basic benefits continue to expire for an estimated 72,000 people each week.
In Nevada, roughly 26,000 people have exhausted jobless benefits.
Contact Stephens Washington Bureau Chief Steve Tetreault at 202-783-1760 or STetreault@stephensmedia.com. Follow him on Twitter @STetreaultDC.