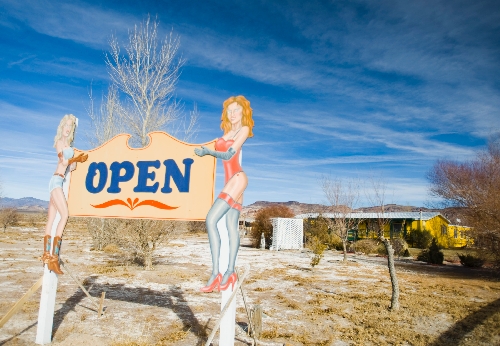 On the same day U.S. Sen. Harry Reid urged state legislators to outlaw prostitution, the legal brothel industry was dealt another blow, this one by the U.S. Supreme Court.
The high court refused Tuesday to hear an appeal from brothel owners, thereby allowing to stand a Nevada law that bans them from advertising in newspapers.
For plaintiff and brothel owner Bobbi Davis, the decision is baffling.
"I find it odd they don't want to hear it," the owner of Nye County's Shady Lady brothel said Tuesday, moments after hearing the news.
Davis thinks the ban is patently unconstitutional, and she thinks it will allow illegal prostitution in Las Vegas to continue to flourish unabated.
The First Amendment decision probably marks the end of the road for the appellants: Davis, the ACLU and two newspapers, West Wendover's High Desert Advocate and Las Vegas City Life, an alternative weekly owned by Stephens Media, which is the parent company of the Las Vegas Review-Journal.
The law as written permits the sex industry to advertise in counties where brothels are legal but not in counties where it is officially illegal.
And therein lies the rub for Davis, who pointed to the hypocrisy of allowing "thousands of escorts" to advertise in Las Vegas yellow pages, handbills and billboards.
"The whole illegal prostitution is rampant," she said, "but don't let anyone know they have a legal alternative. Let the illegals drag their disease-ridden (bodies) everywhere."
Brothels are banned by city ordinance in West Wendover, a casino town on Interstate 80 that straddles the Nevada-Utah border in Elko County, where prostitution is legal. And legal prostitution is banned in Clark County, where City Life is published and circulated.
Ten of Nevada's 17 counties authorize and regulate prostitution, which is illegal in the state's two population hubs of Las Vegas and Reno and the state capital, Carson City.
The appellants won an initial victory more than three years ago when U.S. District Judge James Mahan in July 2007 struck down the anti-advertising laws that have been in effect since 1979, calling them overly broad and therefore unconstitutional.
The state appealed Mahan's decision to the U.S. 9th Circuit Court of Appeals, which ruled that the state ban was constitutional because the state has a right to minimize public exposure to brothels and sex for sale.
Even in counties where prostitution is legal, brothels are prohibited from advertising on state highways, streets and in theaters.
Last July, Nevada Attorney General Catherine Cortez Masto praised the San Francisco-based court's decision. She acknowledged that free speech is "perhaps our most cherished right, but prostitution is a difficult issue in every state."
Also in July, ACLU General Counsel Allen Lichtenstein said the Supreme Court ruled that it is legal to advertise a legal product or service. He said the law was wrongly based on someone's moral judgment. "The social harm of alcohol, cigarettes and gambling is well-documented; no documented social harm of legal brothels exists," he said.
For Davis, the higher courts turned a blind eye to the realities of illegal prostitution.
"Escorts get to put up billboards," she said, "but I can't even advertise for a housekeeper in (the Las Vegas Review-Journal). That's how stupid the law is.
"The courts want to punish a legal business in favor of (pimps) trafficking in 13- and 14-year-old girls, beating their women and getting them hooked on drugs and then they'll give people HIV. The Supreme Court has said we shall let this happen."
Contact Doug McMurdo at dmcmurdo@reviewjournal.com or 702-224-5512.