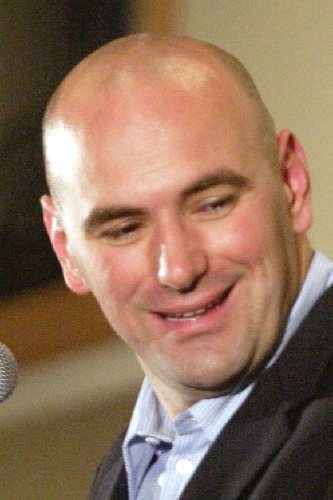 UFC president Dana White has fanned the coals in the growing feud between the UFC and boxing.
This time White's target was boxing Hall of Fame referee Joe Cortez, a central figure in Saturday's controversial finish between Floyd Mayweather Jr. and Victor Ortiz at the MGM Grand Garden.
White added his voice to the raging debate via Twitter. He tweeted "Ref never sent a fighter to a neutral corner to take a point. Especially after a intentional head butt! That's why u have a ref!!!!
"You can't blame the fighters. The ref is in there to stop that shit from happening! That is the worst ref'n I have ever seen in boxing EVER."
It was the latest shot fired in the heated rivalry, which has featured back-and-forth insults between White and Top Rank promoter Bob Arum.
Mayweather ran his record to 42-0 with a controversial knockout of Ortiz in the fourth round of their WBC welterweight title fight.
Cortez had just docked Ortiz a point for head-butting Mayweather, splitting his lower lip. Ortiz apologized to Mayweather with a hug and kiss on the cheek. When Ortiz moved to give Mayweather another hug in mid-ring, he was apparently unaware Cortez said, "time in."
Mayweather stunned Ortiz with a left hook. As a bewildered Ortiz looked to Cortez for a call he dropped his hands. A leaping Mayweather ended it with a right in one of the more bizarre finishes to a title fight.
BIG NIGHT
The magic of Siegfried & Roy was back Saturday, with the longtime headliners producing a record Oktoberfest night at the 8-year-old Hofbrauhaus.
So many reservation requests poured in that the beer hall, a replica of the real deal in Munich, was maxed out for the night by 2 p.m. and no walk-ins were allowed after 6 p.m.
A total of 1,194 guests consumed 1,743 34-ounce steins of beer.
The big moment came at 7 p.m. when the illusionists made the ceremonial entry for the honorary keg tapping.
To a wild ovation, Roy walked from the front door to the stage without a cane, walker or human assistance.
"It gave me goose bumps," said Stefan Gastager, managing partner.
It was another example of how far Roy has come since the career-ending, near-fatal encounter with a tiger at The Mirage in October 2003.
THE SCENE AND HEARD
About 2 a.m. Sunday, rapper 50 Cent tweeted a photo of an expensive watch on a wrist with the comment: "Look what my boy @FloydMayweather got for me." The rapper arrived in the ring with Mayweather.
SIGHTINGS
The celebrity list for the Mayweather-Ortiz fight included Mark Wahlberg, Oscar De La Hoya, Mike Tyson, David Haye, Devon Alexander, Sergio Mora, Kevin Garnett, Caron Butler, Paulie Malignaggi, Ray Leonard, Zab Judah, Leon Spinks, Thomas Hearns, Chuck Zito, Winky Wright, Paul Rodriguez, Kevin Hart, Star Jones, Steven Moyer and Anna Pacquin of HBO's "True Blood", Gabriel Iglesias and Rhys Coiro. … Ortiz, wearing a Kansas City Royals cap on the red carpet at Studio 54 (MGM Grand) Saturday. He was with his girlfriend Alexia Garland and members of his entourage. … Wahlberg, with ex-boxer Mickey Ward at a private viewing party at Palms Place on Saturday. Wahlberg portrayed Ward in the recent movie "The Fighter."… Sean "Diddy" Combs, Kevin Hart, Ray J and Fabolous, in the private dining room at N9ne Steakhouse (Palms) on Saturday. Also at N9ne: skateboarder Ryan Sheckler and Maroon 5 guitarist James Valentine. … Leonard, dining at Joe's Stone Crab on Friday.
THE PUNCH LINE
"If you don't, I'll make 'Dude, Where's My Car? 2.' " — Ashton Kutcher, presenting some of the Top Reasons to Watch the New Season of "Two and a Half Men" during an appearance on David Letterman's "Late Show."
Norm Clarke can be reached at 702-383-0244 or norm@reviewjournal.com. Find additional sightings and more online at www.normclarke.com. Follow Norm on Twitter @Norm_Clarke.