UFC's White cuts ties to the Palms
October 29, 2012 - 1:00 am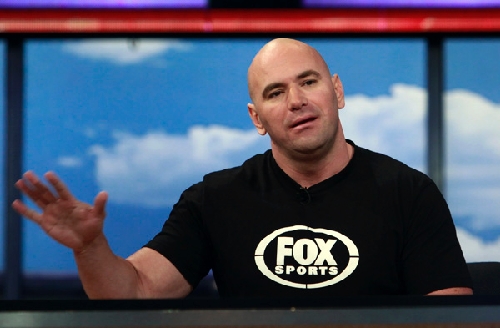 A falling-out with UFC president Dana White is the latest setback for the hard-hit Palms, sources confirmed Sunday.
The blowup occurred about six months ago when White, furious that his credit line was cut in half, pulled all UFC-related events from the Palms and has not returned.
Sources said White immediately informed Palms president Joe Magliarditi he was severing all ties. Magliarditi was hired a year ago to rebrand the hotel, after the Maloof family lost 98 percent of its ownership when the recession ravaged the city.
The UFC had an exclusive contract with the Palms to hold televised "Ultimate Fighter Live Finale" events at the hotel as well as local UFC fights.
One of the Palms' biggest gamblers since it opened 11 years ago, White's tipping habits were legendary.
"He changed people's lives," said one of the sources.
Dealers and wait staff were among the hardest hit by White's departure. During one two-month hot streak, White tipped dealers more than $100,000, sources confirmed.
"Anytime he came in, we knew it was a big payday," a Palms employee said.
A regular at N9NE Steakhouse, White routinely ran up dinner tabs of $15,000-$20,000 and tossed in $10,000 tips. That happened three or four or times a week, the sources said.
"He rarely accepted comps, not just at the Palms but all over Vegas," one source said.
Reached by telephone, White declined comment. A Palms rep did not respond by deadline.
FOOD FOR THOUGHT
Summerlin's latest dining addition, Honey Salt, opens at 11:30 a.m. today in the former space occupied by Nora's Wine Bar and Osteria.
It's a creation of Kim Canteenwalla, executive chef and partner at Society Café at Encore, and his wife Elizabeth Blau, one of the country's top restaurant consultants. Joseph Zanelli is the executive chef.
The menu features farm-to-table comfort food. The chicken breast with macaroni and cheese, kale and Anaheim peppers has been a big hit at pre-opening parties. Saturday and Sunday brunches will be added in a month. …
Gina Gavan's final Project Dinner Table of the year will be cool, in more ways than one.
Known for its spectacular settings, the charity dinner will be held at 3 p.m. Nov. 11 at Symphony Park downtown.
"It's going to feel like fall, so if you have to wear a coat … awesome!" she told the Public Relations Society of America on Thursday at Cili's at Bali Hai.
Chefs from restaurants at The Cosmopolitan will be preparing dinner for about 170.
Founded in 2009, Project Dinner Table will have provided local charities with about $70,000 since then by year's end. Tickets are $175 per person. For information: www.projectdinnertable.com.
SIGHTINGS
At the grand opening of The Act (Palazzo) on Saturday: Elton John, hosting a private party for the 50th birthday of his partner David Furnish, Mark Salling of "Glee," Chris Mann of "The Voice," Matt Stone, co-creator of "South Park," actress Malin Akerman, Michael Gladis and Christina Hendricks of "Mad Men," nightlife queen Allison Melnick, performance artist Raven O and Simon Hammerstein, Murtaza Akbar and Randy Weiner of The Act. … Jenni "JWoww" Farley of "Jersey Shore," hosting a Halloween party at Chateau nightclub (Paris) on Saturday with her fiancé Roger Mathews. They dressed as nerds. She wore thick-framed glasses, suspenders, plaid pants and black Coach high-top sneakers.
THE PUNCH LINE
"After months of dating, this week Taylor Swift broke up with her boyfriend, Conor Kennedy. And when Kennedy asked if they were ever getting back together, Taylor just handed him an iPod and said, 'Play track six.' " – Jimmy Fallon
Norm Clarke can be reached at 702-383-0244 or norm@reviewjournal.com. Find additional sightings and more online at www.normclarke.com. Follow Norm on Twitter @Norm_Clarke.