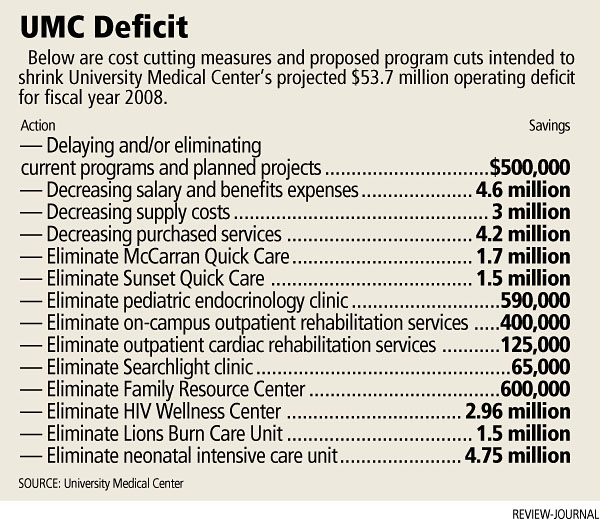 As if learning the Clark County Commission would have to provide UMC with a $60 million bailout wasn't enough, on Wednesday the financially ailing hospital's top administrators proposed eliminating two Quick Care centers, the pediatric endocrinology clinic, some rehabilitation services and several resource centers to reduce its projected 2008 deficit of $53.7 million.
During a preliminary budget review meeting with the hospital's board of trustees, composed of the Clark County Commission, Kathy Silver, the hospital's interim chief executive officer, and her staff also suggested eliminating the state's only burn center and UMC's 36-bed neonatal intensive care unit.
Eliminating the patient care services and undertaking other cost cutting measures would leave the hospital with a projected $27.2 million deficit in 2008, officials said.
Though the options that were presented appear to lower the hospital's future debt, they did not sit well with the hospital's board.
Most were chagrined by the proposals and wondered whether other cost cutting options were available.
"This depresses me," was Bruce Woodbury's response about a proposal to eliminate the Lions Burn Care Unit, which would shave $1.5 million off of the 2008 deficit.
The unit, which opened in 1968, is the state's only dedicated burn care center, providing both inpatient and outpatient care to residents of Nevada and other Western states.
Silver said her staff agonized over the proposals and said their main reason for considering eliminating the Lions Burn Care Unit is because of annual unfunded costs associated with running it.
Donations from the Lions Clubs, firefighters and others county organizations made to the unit do not affect operating expenses. Silver said the donations are used specifically for patient care needs and equipment.
"It's just not UMC without the burn unit," Woodbury said, scratching his head. "I could never support eliminating this service."
Other proposals during the nearly two-hour discussion included cutting McCarran and Sunset Quick Care centers, the Searchlight clinic, neonatal intensive care unit and the HIV Wellness Program.
The HIV program is the only outpatient care service in Nevada catering to people with HIV and AIDS. Cutting it would save the hospital $2.9 million.
Commissioner Rory Reid asked Silver whether the HIV wellness services still would be available in the Las Vegas Valley if the UMC program were cut. Silver said services would be available through independent physicians but not in a centralized location.
Commissioner Lawrence Weekly said he was concerned about eliminating the HIV center, neonatal services and the Family Resource Center because many of the residents he represents use the services.
The Family Resource Center is home to the Baby Steps program, which helps expectant mothers apply for health care aid.
Weekly and Commissioner Chip Maxfield said that one out of every four women who give birth at UMC have not had prenatal care.
Where else, Weekly asked, would women get the kind of prenatal care made available in the program.
"It's just kind of hard for me to wrap my mind on these recommendations and a lot of these programs hit home to me," he said. "I'm really going to have something to say about the neonatal portion of this. I want to fight for it."
Silver agreed with commissioners that some of the programs were much-needed and that it would be a tough decision to get rid of any of them.
But, she said, a discussion about reducing the hospital's future deficit must take place to prevent the county from having to bail UMC out again.
The elimination of the programs would affect 300 employees, who could be laid off or transferred.
Also, hospital officials proposed business-related cuts, including decreasing salary and benefits expenses.
Seven months into this fiscal year, UMC is operating on a roughly $35 million deficit, said George Stevens, the county's chief financial officer.
The overall projected net loss is expected to be at $60 million when the year ends June 30.
The losses in large part are because of the hospital's uninsured and indigent patient population. Last year, the hospital provided $61 million in charity care.
Silver said some of the services proposed for elimination can be provided by other health care facilities and are not necessary for UMC's overall operation.
She acknowledged some of the proposed cuts will upset people and will affect other hospitals.
Eliminating UMC's Level III neonatal intensive care unit would affect the other hospitals that offer the service such as Valley, Summerlin and Sunrise.
With UMC's high volume of high-risk pregnancy patients. Cutting the unit would shave $4.75 million off the hospital's 2008 projected budget deficit.
"It costs money to provide services, and some hospitals make a profit off those services," Woodbury said.
"County hospitals don't make a profit. Naturally, we want to do everything possible to limit the amount of expenses to taxpayers, but we also want to capitalize on what we provide to the community. I don't know. I think we should stop talking about deficits but what services we want to provide to the public."