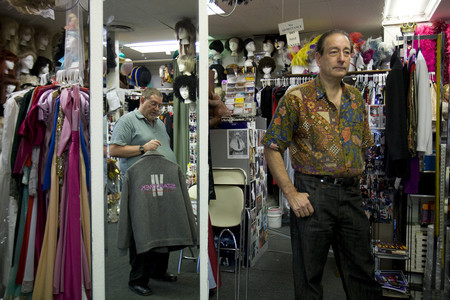 The man on the phone told Martin Howard, owner of the American Costume Shop, that he wanted to apply for a job.
Not at his shop, but at The Venetian.
How much, the caller inquired, would it cost to rent an usher's uniform?
"He explained that The Venetian had a job opening for a theater usher, and he thought it would help him in his job interview if he wore an usher's outfit to show he was serious," Howard said last week as he stood in his West Sahara Avenue store.
When the caller, who described himself as a grandfather, said he was short on cash, Howard told him that if he had black pants and shoes, he could just rent a black usher's jacket for $45.
Howard also said that a major credit card would be needed for a security deposit.
A couple of hours after that phone call, Howard said, a man walked in carrying a jacket with "Star Trek" insignia as well as a "Star Trek" collectors plate.
The memorabilia was probably worth hundreds of dollars, the man said, and he wanted to barter it for the rental of an usher's jacket. The plate would cover the rental fee, and the jacket was for the deposit, the man said.
"When he told me the size of the jacket, I realized he was the man I had been talking to on the phone," Howard said.
"He was very nervous, and I could tell doing this was very difficult for him," Howard said. "It's terrible how unemployment is affecting people. My heart went out to him, and I agreed to the exchange, even though I didn't need 'Star Trek' stuff. I was impressed that this man actually wanted to dress up for a job to put his best foot forward."
On Wednesday, 61-year-old Jim Hagen, one of 155,000 Nevadans now listed as jobless, showed up at The Venetian in an usher's outfit, an hour early for his 9:10 a.m. appointment.
A few days before, he had seen an advertisement for the job on the Internet.
He didn't know whether the resort wanted another usher for "Phantom," Blue Man Group, "Jersey Boys" or Wayne Brady's show, but he knew he could do the job.
"I've been in customer service practically all my life," he said.
Hagen, a divorced father of three with five grandchildren, said that early in his adult life he worked in computer processing. He also worked for 17 years at the Plaza, Golden Nugget and Riviera. In 2007, he took a $12,000 severance package from the Riviera, where he had risen to assistant slot manager. He also cashed in $28,000 in stock options.
"I was basically debt-free when I went to take a job at an Indian casino in California," Hagen said.
But six months after he started work at Cache Creek Casino in the Bay Area, downsizing there left him unemployed. He returned to Las Vegas, where he has worked in temporary jobs for collection and tax preparation agencies.
He has run up $11,000 in debt on credit cards and worries that he soon could be homeless.
He is having difficulty stretching the $1,000 a month he receives in unemployment benefits.
"I'm lucky that the people who rented their condo to me have cut the price from $750 to $500 a month," he said. "I can never run the air conditioner and only get about $25 to $30 worth of food every three weeks. I haven't seen a doctor in months."
If he doesn't get an extension next month on his unemployment benefits, he said he probably will be on the street, without even money for gasoline.
Every week, he said, he applies for five or six jobs on the Internet. When he saw the open position at The Venetian, he jumped at it. "I had worked as an usher at theaters in California and Colorado when I was young," he said.
As he stood near the fountains outside The Venetian on Wednesday, Hagen looked at his watch.
"Whoa, I've got to go," he said. "I don't want to be late."
Two hours later, Hagen was back at the costume shop. He wasn't smiling as he handed over his rented usher's jacket to Howard.
"There wasn't even an interview," Hagen said. "All they wanted to know is if I updated my résumé. They could have contacted me by e-mail to ask me that. But at least the good news is that the job is still open. It's part-time, but I'll take that."
He still doesn't know how much it pays.
"They didn't tell me, but as long as it's over $8 an hour, it's OK," he said. "That will be more than unemployment."
Hagen picked up his "Star Trek" jacket that he left as a deposit. Howard told him that when he gets the $45 in cash to bring it by.
Howard assured him he would get his "Star Trek" plate back.
"I know how important it is to you," he said.
As he walked out the door of the costume shop, Hagen noted a shop next door that was selling signs for $5.
"Maybe I'll buy a sign that says, 'I need a job,' and put it on the side of my car."
Contact reporter Paul Harasim at pharasim@reviewjournal.com or 702-387-2908.
An occasional series profiling people and places affected by home foreclosures and the faltering economy.