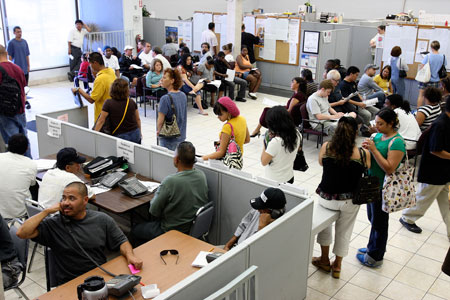 The last time construction employment was this low in Nevada, MGM Mirage didn"t exist, Bellagio and The Venetian weren't open and the Las Vegas Beltway went from Pecos Road to Interstate 15.
From a jobs standpoint, it's almost as if the economic heyday of the late 1990s and early 2000s never happened. (Was Bobby Ewing in your shower this morning telling you it was all a dream? And if you don't know what we're talking about, then you weren't around either the last time construction employment was so low.)
Nevada has given back all of its boom-era construction jobs and then some, the state Department of Employment, Training & Rehabilitation reported Monday. The department's latest data show records of 13.3 percent joblessness statewide and 13.9 percent in Las Vegas in September, and the building sector leads the way in job loss. Contractors added 48,000 jobs statewide from 1997 to 2007, and they've shed 50,000 positions since the recession began in December 2007.
The leisure sector, at least, managed to hang on to more than half of its long-term job formation: Hospitality operators created 77,300 jobs from 1997 to 2007, and have cut 30,000 posts in the last two years. Year over year in September, the number of jobs in all categories fell by 76,500 statewide.
But Monday's news brought signs of life as well.
The 0.1 percentage-point gain in statewide joblessness was the smallest increase since March. Also, Nevada's employers added 11,000 jobs overall from August to September, for the best growth numbers since February 2007. Sectors that grew month-over-month include government, which added 9,800 jobs thanks partly to the start of a new school year, and professional business services such as accounting and law, which grew by 2,800 jobs.
Still, sectors including manufacturing, construction, hospitality and information technology continued to drop jobs from August to September. The number of unemployed reached 190,700 statewide and 141,000 in Las Vegas in September, and the state has lost so many jobs in recent years that even stabilization will mean sustained hard times for many residents.
"For the foreseeable future, we're going to be struggling," said Bill Anderson, chief economist for the employment department. "We do have a lot of ground to make up. Given the fact that we're looking only for modest improvement in the economy once recovery does take hold, it's going to take a long time to get back to where we were."
Anderson added that he'd need to see at least two more straight months' worth of improvements in hiring and declines in job loss before he could conclude more firmly that the recession had hit bottom.
Keith Schwer, director of the Center for Business and Economic Research at the University of Nevada-Las Vegas, said he won't attempt to pin down a time frame on recovery here until he sees stronger indications that consumers nationwide have more dollars to spend on travel and tourism.
"We're going to have to see noticeable improvement nationally before we can feel comfortable about gains in Nevada," Schwer said. "The national economy is beginning to turn upward, and we should begin in the next few months to see some signs of that here. The better the national economy does, the more likely we are to see improvement."
State economists expect joblessness to peak at 14.8 percent in 2010. That projection doesn't include part-timers seeking full-time jobs and discouraged workers who've given up the job hunt completely. The employment department doesn't have recent estimates of how many underemployed and discouraged residents live in the state, but Anderson said research shows that including such citizens would push up unemployment by 75 percent, for an overall jobless rate of more than 23 percent. Nationally, the jobless rate of 9.8 percent climbs to 17 percent when the Bureau of Labor Statistics includes underemployed and discouraged workers in its calculations.
Unemployment rates in Nevada and Las Vegas have nearly doubled from their levels a year ago. Joblessness in September 2008 was 7.3 percent in Nevada and 7.7 percent in Las Vegas.
Anderson said CityCenter's December opening should help ease job losses and boost Southern Nevadans' morale in coming months, but the outlook for the leisure and hospitality sector has more negatives than positives. Visitor volume in Las Vegas continues to fall and discretionary income remains constrained nationwide.
"You have to keep in mind the broader economy in which we're operating, and those economic fundamentals are not favorable to hospitality," Anderson said.
Senate Majority Leader Harry Reid, D-Nev., released a statement calling the new jobless numbers "troubling." He added that Congress should immediately extend unemployment insurance, and he said the Silver State might not have taken full advantage of economic-recovery money available for job formation.
Contact reporter Jennifer Robison at jrobison@reviewjournal.com or 702-380-4512.