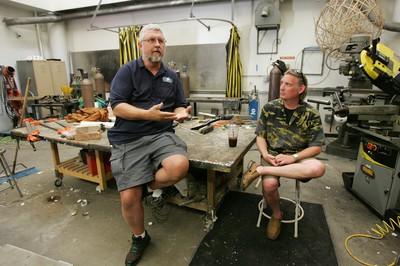 UNLV has long used its unique hometown to make a name for itself.
Its professors have become experts on brothels and problem gamblers.
Its students by the thousands have gone on to casino and hotel management positions in Nevada and around the world.
Starting Monday, the University of Nevada, Las Vegas will take another step in that direction when it launches an engineering major for the entertainment industry.
Students enrolled in the program will be able to work toward a bachelor's degree in entertainment engineering and design.
University officials believe the new degree is the only one like it in the country.
Students will learn about such things as harness setups that allow entertainers to fly across a stage in a predictable and safe way, and water shows that work day after day with little maintenance.
Students will have internships at Cirque du Soleil shows, working on everything from pulley systems to moving stages.
Jobs for people with such training are plentiful and lucrative, industry leaders say.
"We're constantly on the lookout for people with these types of skills," said Tony Ricotta, manager of "O" at the Bellagio.
The program, which straddles the colleges of Engineering and Fine Arts, also could herald a new direction for the university's engineering college in a field that has seen its numbers decline over the last decade.
The program's leaders are looking for high school students who excel in both mathematics and the arts — not your typical, book-oriented engineer, but creative students who want to combine their interests with engineering.
EED courses will be very hands-on, with students learning such skills as metalworking and woodworking to create artistic structures.
"We want students who can think outside the box," said Joe Aldridge, an associate professor in the theater department and co-coordinator for the EED program.
Unlike theater tech programs, students in EED will be required to take a heavy load of civil, mechanical and electrical engineering courses, in addition to classes in the College of Fine Arts.
During their junior and senior years, they will choose an area of emphasis from two of four tracks: automation/motion controls, structural design and rigging, biomechanics/animatronics, and entertainment structures and systems.
Most people don't think about the extensive engineering that goes behind shows on the Strip and attractions such as the volcano at The Mirage, said Dan Cook, an assistant professor in mechanical engineering.
But operators of such shows are in a constant struggle to find people to operate their mechanical and electrical operations, Ricotta said. And when they do find them, the engineers require several years' training — and eventually leave for the next new show opening up.
In amusement-park rich Southern California, Entertainment Engineering Inc. CEO Kent Bingham said the Las Vegas EED grads would be well-suited for work on movie sets and other areas.
Bingham's Burbank, Calif.-based company, which designed the former Buccaneer Bay show at Treasure Island, is looking for two such engineers.
Bingham said he will place ads for the jobs with UCLA, various engineering organizations and, now, with UNLV.
The EED program will cover a wide variety of entertainment fields and, because it's an interdisciplinary field, pool the university's resources for courses that might seem outside the engineering or arts fields.
Think of a "psychology of thrill rides" class for those wanting to design effective roller coasters, Cook said.
University officials are expecting high demand for the program.
Students from around the country already have started inquiring about the major, EED co-coordinator Dan Cook said.
He expects 30 to 50 students to join the program each year.
Officials are already preparing for growth.
UNLV has allotted 3,600 square feet of lab space, along with state-of-the-art metal and woodworking shops and computer graphics and recording studios, in its new Science, Engineering and Technology Building scheduled to open in 2008.
Aldridge said EED students should be adept at designing a project on paper and seeing it through to its physical form.
That is a skill that graduates could take with them to any job, be it with an automobile company or "Ka" at MGM Grand.
The program even has more relevance for the future of engineering, according to College of Engineering Dean Eric Sandgren.
"We need a way to make engineering exciting to students, and this is one way to do it," he said.