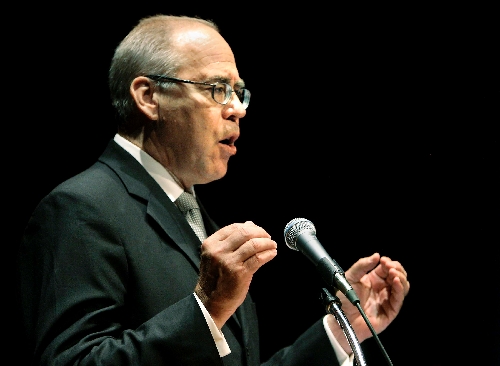 The theme in higher education this year is change.
Change has come in the past few years because of budget cuts, and much more change is to come.
UNLV President Neal Smatresk expanded on that theme Tuesday in his annual State of the University address.
The university wants to change what it charges students in high-demand programs. It wants state lawmakers to change how the state's universities and colleges are funded. And it expects to change into a smaller, better institution.
Smatresk, who has been president since June 2009 after serving two years as provost, said the last several years had been challenging. He said the university was down $50 million in state funding, a full 27 percent of its budget, since 2007.
"It's not over," Smatresk told a crowd of several hundred faculty, staff and students gathered on campus. He said cuts probably will continue through the next two years.
"We hope there will be a light at the end of the tunnel after that," he said.
Before Smatresk spoke, James Dean Leavitt, chairman of the Board of Regents, told the crowd that the state's elected leaders and political candidates were not facing up to reality. The state cannot fix its problems without more revenue, he said.
"You don't have any business in public office unless you're willing to tell the truth," Leavitt said.
He said he wanted more candor from the candidates about how they would fix the state's problems. Cutting higher education makes no sense, he said. Education should be seen as a way out of the economic problems, he said.
"There isn't a single NSHE (Nevada System of Higher Education) institution that's properly funded," he said. "Let's make that clear when we go into the legislative session."
Smatresk said he applauded the Board's decision last month to ask the state to maintain its current funding. Gov. Jim Gibbons had asked state agencies to submit budgets with 10 percent cuts for the next fiscal cycle. The Board instead asked for a small increase.
He said state higher education leaders will advocate that the Legislature rewrite the formula used to fund the state's eight higher education institutions.
He said UNLV adds value to the community. As an example, he said out-of-state students have a $250 million economic impact locally every year.
A top priority for the next year will be maintaining current staff levels, he said.
In addition, the university will begin to implement differential tuition, which got formal Board approval earlier this month. Some programs — the most popular, most expensive — are expected to begin charging students more next year to help pay for themselves.
Smatresk said he will create several task forces to focus on developing a new general education plan, on marketing, branding and recruiting, and on employee benefits, among several other things.
He closed his address by lamenting a state funding formula that has historically rewarded growth.
The more an institution grows its enrollment, the more money it gets. Typically, this means freshmen and sophomore classes with more students end up paying for smaller, more intense upper division classes.
But Smatresk said it is very difficult for a university to compete with a community college and a state college for students when it charges two or three times as much.
A better model, he said, would be to shrink the university a little and improve upper division and graduate education so students will want to come to UNLV because of its quality.
Contact Richard Lake at rlake@reviewjournal.com or 702-383-0307.