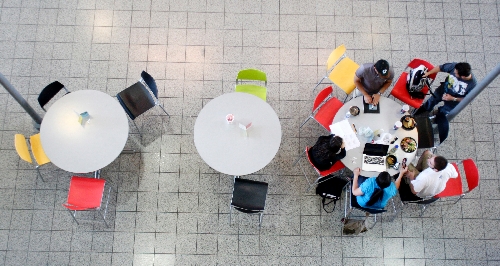 Monica Lounsbery , chairwoman of the Sports Education Leadership Department at UNLV, made her case Tuesday to the university's president.
She had just made an impassioned defense of her program before the Faculty Senate. The program is one of a half dozen on a list proposed for elimination in the latest round of budget cuts.
"The truth is," the president, Neal Smatresk, told Lounsbery, "we have about 60 programs here. We have enough money for 50."
In addition to Lounsbery's program at an estimated savings of $645,000, also on the list to eliminate and the estimated savings are the following:
■ Educational Leadership, $1,529,000.
■ Recreation and Sports Management, $633,000.
■ Informatics, $472,000.
■ Marriage and Family Therapy, $360,000.
■ Urban Horticulture, $0 (it is projected to save future costs).
The list, which includes some other potential cost-saving measures, is the latest winnowing of what was once a longer list of programs that could be eliminated. A committee made up of people appointed by faculty and the administration has spent the past several weeks coming up with the list.
Over the past three years, cuts at UNLV and the state's other higher education institutions have been made across the board. Every department and program on campus has had to absorb the cuts by not filling open jobs, deferring maintenance and either taking pay cuts or increasing their workload.
But, the administrations at both universities contend, the latest cut requires more drastic measures. The 6.9 percent cut in state funding will mean about $10.7 million less than was budgeted for at UNLV next year. About $5.7 million will be cut from administrative services, about $1 million from areas such as the dental and law schools, and about $4 million from academic programs.
"Nevada has failed to maintain a commitment to building a future with a vital and prosperous economy," Smatresk told the Faculty Senate on Tuesday.
The senate gathered to hear a report on the committee's proposal.
Several representatives of the targeted programs spoke.
Education Dean Bill Speer said that his college would be the hardest hit, with two programs on the list.
"These two programs are critically important," he said.
Engineering professor Bill Hogarth said Informatics, a new program, brings in more independent research money than it costs to administer the program.
Recreation and Sports Management Chairman Dan McLean said the department trains vitally important parks and recreation workers and is the only program of its kind in Nevada.
Lounsbery said now is a terrible time to cut a program that trains future physical education teachers, among others.
The nation has a terrible problem with childhood obesity, she said, and Nevada needs a program to train more experts in the field.
"Nevada needs us," she said.
Also among the committee's recommendations are holding open or eliminating several administrative positions, relocating some programs and shrinking the staff in some programs.
The committee rejected an earlier proposal from the provost's office that might have eliminated other programs, such as women's studies and entertainment engineering.
UNLV professor Gregory Brown led the committee. He said the committee looked at data, such as enrollment numbers, and talked to representatives from the programs before deliberating.
Criteria included cost, quality, demand and how it fit in with the university's mission.
The committee's recommendations were forwarded to Smatresk.
He said he will decide by next week which programs should be eliminated. The higher education system's governing Board of Regents will have to vote on any eliminations at its meeting next month before they become official.
If a program is eliminated, students in the program will be given a "reasonable" amount of time to finish. Staff and nontenured faculty will be laid off.
Tenured faculty will be given a chance to be reassigned to other areas of the university, though it is expected that many of them will choose to leave. That is different from the tack taken at University of Nevada, Reno, where tenured faculty will lose their jobs.
Smatresk said the university has extended the deadline to accept its buyout offer through the end of next week.
Tuesday's meeting got emotional at times. John Filler, the immediate past chairman of the Faculty Senate, called the budget cuts a tragedy.
"Nevada has failed us," he said. "It has failed education, and this is the inevitable result that I hope we will not have to experience more than one time."
But Bill Robinson, another past senate chairman, said that the state's budget problems are expected to get worse next year.
"In 2011, we'll be lucky to get another 10 percent cut," he said.
Contact reporter Richard Lake at rlake@reviewjournal.com or 702-383-0307.