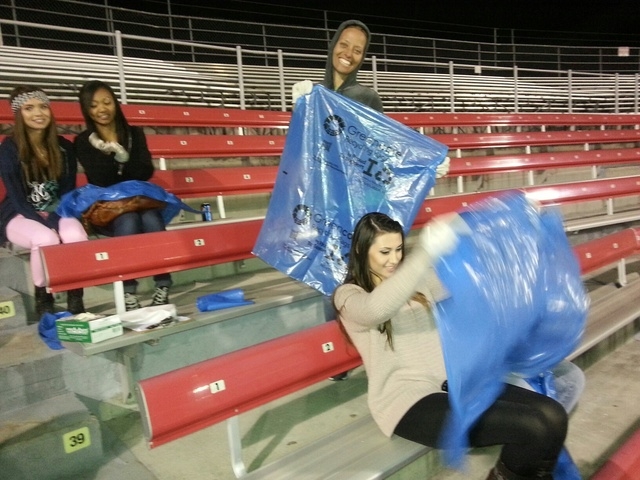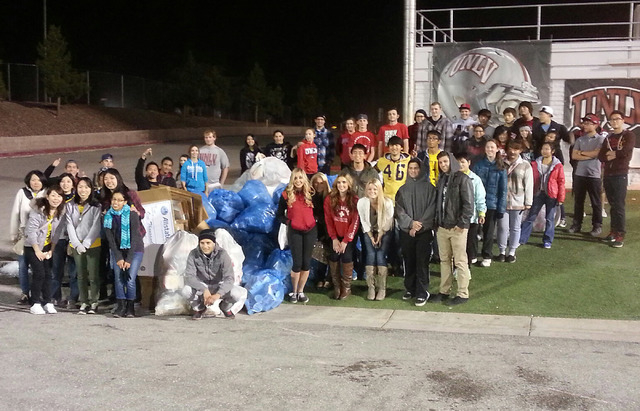 UNLV doesn't draw much national attention for what it does on the football field, but the Rebels did crack the top 5 for their recycling efforts at Sam Boyd Stadium this season.
The school finished as high as second in several categories during a nationwide competition known as the Game Day Recycling Challenge.
This year's contest took place during games played from September through early November and involved 88 schools and 6.4 million college football fans. Together they kept nearly 1.46 million pounds of waste generated at stadiums and tailgate parties from ending up in landfills, according to challenge organizers.
The team from the University of Nevada, Las Vegas finished second in the nation for per capita recycling overall and for the per capita amount of organic waste it captured. Just under one pound of recyclable waste and almost five ounces of organic waste — things like food, drinks, certain plant-based paper goods, basically any product made from something that used to be alive — was collected for every person in the stadium.
At UNLV's Nov. 2 homecoming game, Rebel recyclers sifted out enough reusable material to reduce the amount of trash sent to the landfill by 85 percent. That was good enough for seventh in the nation, though first-place Ohio State University managed to divert an incredible 98 percent of its stadium trash away from the dump.
Tara Pike-Nordstrom, UNLV's recycling manager and sustainability coordinator, hopes to build on this year's performance, and not just for future competitions.
"I want to solidify our presence at Sam Boyd Stadium so we're there for every event," not just Rebel football games, she said.
But to make that work, the team has to find a more efficient way to operate. Pike-Nordstrom said it took more than 100 volunteers and the better part of two days for UNLV to post the results it did, because they had to clean the entire stadium and parking lot and sort through every bag of trash by hand.
Most of the volunteers usually show up late in the game and work for a few hours after the stadium empties out, so most of the time is put in by Pike-Nordstrom and a handful of equally dedicated individuals.
"That's not sustainable," she said.
The only real long-term solution is to limit — and maybe one day eliminate — the sale of items that cannot be recycled, Pike-Nordstrom said. After that, it's a just a matter of finding the most efficient way of collecting and separating the waste.
She seems like someone who could make that happen. Pike-Nordstrom basically created her own job at UNLV 18 years ago when she launched a campuswide recycling program as part of her undergraduate thesis.
She is the sort of person who will pack her recyclables home with her in her suitcase if she finds herself in a hotel that doesn't offer recycling. She is the sort of person who knows for a fact that those red, white and blue bins handed out by Republic Services are themselves recyclable, but she refuses to use them because she can't stand the thought of her paper and plastic blowing away before they can be picked up. Instead, she hauls her trash from home to the recycling center she set up at UNLV.
Pike-Nordstrom thinks competitions such as the Game Day Recycling Challenge are a great way to spark innovation and improvement, especially when it comes to cutting waste at special events. It is possible to hold "zero-waste events," she said. "It just takes planning, and it takes effort."
In other words, the season isn't over yet for UNLV's recycling team.
"Next year we'll be out there for every single event if it kills me," Pike-Nordstrom said. "And it might kill me."
Contact reporter Henry Brean at hbrean@reviewjournal.com or 702-383-0350. You can find him on Twitter at @RefriedBrean.