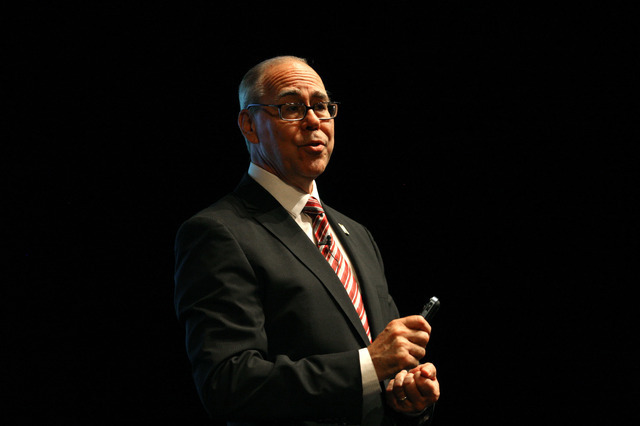 UNLV President Neal Smatresk on Friday said he was "offended" by a letter sent by eight faculty members to Nevada higher education leaders claiming that women and minorities are overlooked and under-promoted at the university.
His comments came the same day a story on the letter appeared in the Review-Journal. The letter was sent to Nevada System of Higher Education Chancellor Dan Klaich and the state's Board of Regents on Wednesday.
The information in the letter was not factual, Smatresk said.
"We are as close to 50/50 as can be," he said of female and male employees at the institution. In addition, "We've made really large strides in adding ethnic diversity."
The letter was brought up during the state's Board of Regents' meeting Friday before the board voted to approve Tina Kunzer-Murphy's contract as UNLV's first female athletic director.
The university has various strategies and efforts in place, such as a diversity hiring committee, to make sure that the university hires and retains women and people of color, Smatresk said.
An example is his cabinet, which has gone from having one female member to three women, he said.
"The cabinet has never been more gender or ethnically diverse with women and minorities or both," he said.
The letter calls for former UNLV President Carol Harter to be appointed as acting president after Smatresk departs from the university. She is now executive director of UNLV's Black Mountain Institute, an international literary center.
Smatresk was named the sole finalist for the president's position at the University of North Texas last month. If confirmed by the system's Board of Regents Thursday, he will submit his official resignation the following day.
His last day with the university would be Feb. 2.
Reached Friday evening, Harter said she was planning to retire at the end of the academic year, in 2014, but said she would accept the job as acting president if tapped for it.
She said she hasn't seen data that suggests there are race and gender issues at the university, but would commission a study with the UNLV Office of Institutional Research, if selected.
"I'm not saying there's an absolute problem of which I'm aware," Harter said. "But I know how people feel about it. Where there's smoke, there's fire."
UNLV Faculty Senate Chairman Paul Werth said there are issues regarding women and minorities on campus that still need to be addressed, but there's also concrete evidence that a lot has been done, and is being done, to address the issues. Obviously, some changes will take longer to materialize than others, he added.
"I think there's truth on both sides," he said.
In the last two years, a large number of the new incoming faculty have been women and minorities, Werth said.
This year, 34.4 percent of executives at UNLV are women, according to statistics from the university's Equal Employment Opportunity and Affirmative Action Program.
Women represent 36.5 percent of academic faculty, which is up by 3.7 percent compared to 2009, statistics show. Women represent 53.8 percent of administrative faculty, and 57.8 percent of classified staff.
Women account for 49.5 percent of all employees at UNLV, statistics show.
People from ethnic and racial groups represent 34.9 percent of all employees at UNLV, statistics show.
"We are always looking to improve all of those numbers," said Luis Valera, vice president for diversity initiatives and government affairs at UNLV.
The university has done surveys on equity and pay disparities, Smatresk said.
Equity issues are created by many factors, including pay cuts, furloughs and job assignments that took place during the time of budget cuts, he said. And those issues are not easy or cheap to solve.
"How far can you make your money go?" he asked
And, as in any other industry, there will always be people in academia who think are more deserving than others, Smatresk said.
UNLV Executive Vice President and Provost John White said UNLV's Office of Human Resources and the Office of General Counsel are working, or will be working, on a sophisticated study that looks at employee salary, years on the job and experience.
Review-Journal writer Kristy Totten contributed to this report.
Reporter Yesenia Amaro can be reached at (702) 383-0440, or yamaro@reviewjournal.com.