UNLV professor gets 5 years for child porn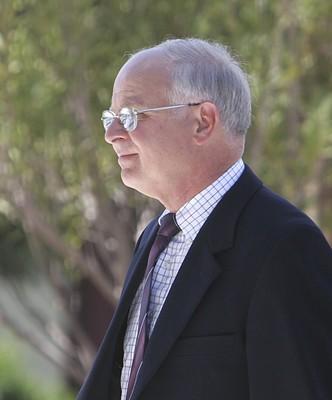 Until last September, 61-year-old Richard Soule was known as a nationally acclaimed flutist, a distinguished UNLV professor and a married father of three. Never once had he violated the law, his lawyer said.
On Tuesday, Soule sat quietly as U.S. District Court Judge Edward Reed sentenced him to five years in prison for downloading thousands of pornographic images of children on his University of Nevada, Las Vegas, computer. Soule, who holds a doctorate of musical arts from the Peabody Conservatory of Music at Johns Hopkins University and had taught at UNLV since 1974, pleaded guilty to one receipt of child pornography count in January.
Defense Attorney Margaret Stanish said Soule's colleagues and wife of 39 years were stunned when the professor was arrested last year. The charges also appeared to bewilder Reed.
"How does someone like Dr. Soule get involved is something like this?" the judge asked, abruptly interrupting Stanish's argument for a shorter period of supervised release.
"I can't answer that, your honor," Stanish said. "I don't know how much information is available about why someone collects child pornography."
Soule offered no insight to his attraction to child pornography, but told the judge he has undergone therapy since his arrest. He must continue therapy during his incarceration and after he is released from prison.
"I have learned enough to understand the unacceptabililty of my behavior," he said.
Soule apologized to his colleagues and his family and "to the children depicted in the images I downloaded on the Internet."
The federal government alleges Soule began downloading images on his university computer at least five years ago. In June, a university computer tech found child pornography on Soule's computer. Working from a remote laptop, the tech monitored Soule's computer and caught the professor downloading pornographic materials that included images of infants and toddlers, prosecutors said.
The tech said Soule transferred the material to external storage devises and erased it from the hard drive. University police were contacted in August 2006 and an arrest warrant was issued in October.
Assistant U.S. Attorney Nancy Koppe said some 26,000 images of children were found on Soule's computers or on the external drives stored in a locked cabinet. She said the government used a conservative estimate when it said more than 10,000 of the images were pornographic, meaning they showed children's genitals or children engaging in sex acts.
"These are not innocuous images," Koppe said of the pornographic photographs. "These are permanent pictures of the worst day of a child's life."
Koppe said many of the other images taken from Soule were pictures of young children modeling or wearing only underwear, so they were classified as "child erotica" instead of pornography.
Stanish unsuccessfully argued that Soule was not at risk of becoming a repeat offender. She said he is supported by a strong family, he is well educated and he has contributed to the Las Vegas community for 32 years. The fact that his wife is aware of his problem will keep him from offending again, she said.
"Imagine if your spouse knew the worst thing you've done in your life…," Stanish said. "Do you think she would turn a blind eye?"
Reed rejected Stanish's request to place Soule on five years supervised release.
"Likening this to drug addiction, you have an urge and that urge I believe will always be there," Reed said.
Reed said many computer users, perhaps including Soule, are unaware that downloading child pornography is a felony that carries a mandatory minimum sentence of five years in prison.
Soule must turn himself in by June 18. He asked to be assigned to the federal prison in Taft, Calif. In addition to the prison time, Reed assessed a $12,500 fine.
Soule's case was originally pursued by the Clark County district attorney's office. The federal government charged Soule because he used a computer to download the images, which came from other states.
Attorney Conrad Claus, who represents Soule in the state's case, said he expects those charges to be dismissed because of the sentence levied in federal court.