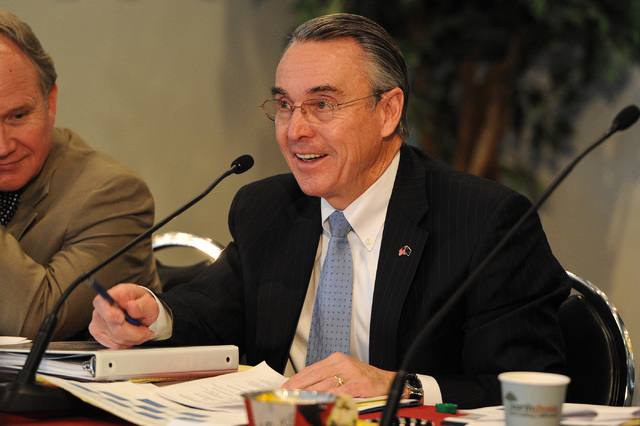 The UNLV stadium board on Friday picked a Texas company with experience in Las Vegas to help determine the need, size, cost and funding of an on-campus stadium.
The 11-member University of Nevada, Las Vegas panel unanimously selected Plano, Texas-based Conventions Sports & Leisure International, which did arena evaluation work in Las Vegas in 2006 and claims on its web site to have worked for 75 percent of all professional sports franchises on facility issues. The company will be paid a maximum of $325,000 for its consulting work.
CSL will guide the stadium board on issues such as whether an on-campus stadium should be domed; how many seats it should have; cost options for various stadium designs; local market trends and funding alternatives. The stadium board has until Sept. 30 to submit a report to state lawmakers on the venue's feasibility, scope and cost.
CSL was chosen over one other finalist, JMI Sports of San Diego.
Board member Kirk Hendrick, who was part of a state committee that evaluated bids from nine companies, said CSL's prior work in Las Vegas "gave them a leg-up to hit the ground running."
Hendrick, legal counsel for the Las Vegas-based Ultimate Fighting Championship, said CSL understands there is a tight deadline.
CSL's proposal summary said Bill Rhoda, president of Legends Global Planning, will lead the project team. CSL International is a business unit of Legends Global Planning, which has worked on $30 billion worth of venue development, the summary said.
CSL has worked on football stadium projects for NFL teams such as the Minnesota Vikings, New York Giants, San Francisco 49ers, Dallas Cowboys, Atlanta Falcons and Indianapolis Colts, according to its proposal.
Board Chairman Don Snyder was charged with finalizing the agreement with CSL before Dec. 27. Then, the deal will go before the state Board of Examiners for final approval on Jan. 14. CSL would start work after that date.
No CSL representatives attended the 8:30 a.m. meeting at UNLV but one of its sub-contractors, John Restrepo, principal of Las Vegas-based RCG Economics, was among the dozen people in the audience.
"We'll follow the data to determine what kind of facility should be built. We'll follow the facts," Restrepo told the Review-Journal after the meeting.
Board vice chairman Paul Chapmak, a representative from Boyd Gaming, said CSL was involved with a previous ill-fated UNLV stadium project called the mega events center, so he asked whether CSL has any restrictions in its work on the current stadium study. He learned there were none.
The stadium board is made up of Regents, casino industry representatives and public officials and is part of UNLV's strategy of partnering with the Las Vegas resort industry to build a stadium on campus. UNLV previously partnered with developer Majestic Realty on a stadium proposal, but university officials cut ties with Majestic in March.
Alan Snel can be reached at asnel@reviewjournal.com or 702-387-5273. Follow Snel on Twitter at BicycleManSnel.