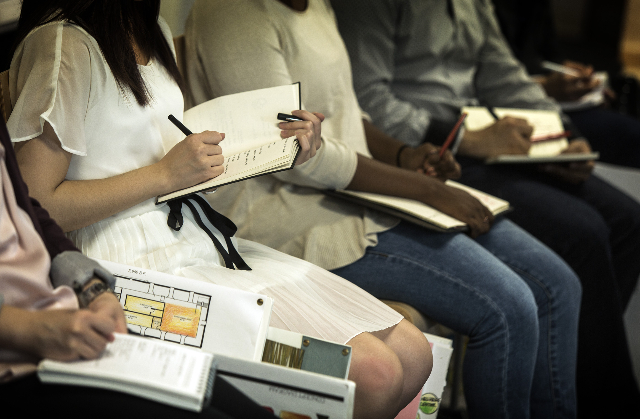 While most Clark County high school students want to attend college, many of them don't know how to pursue and pay for a degree, according to survey findings released Friday by the University of Nevada, Las Vegas.
"Nevada students have high aspirations, and (educators) do a decent job of encouraging them," said Magdalena Martinez, who led efforts to conduct the survey for the UNLV-based think tank Lincy Institute. "But there's a missing link."
UNLV college access specialists surveyed 500 high school seniors at a dozen area high schools a year ago and found that most respondents believed they were strongly encouraged by teachers, counselors, friends and family to obtain a post-secondary degree.
Despite that, many seemed unprepared to enter college. For instance, 68 percent of the survey participants said they had not taken college entrance exams, and 56 percent said they did not know if they were eligible for the Millennium Scholarship, Nevada's performance-based award program which gives students up to $10,000 to fund their education.
Martinez said the survey results, presented Friday during a gathering of Nevada higher education officials in Henderson, could indicate that the Clark County School District and Nevada's higher education system need to come up with new ways to teach students how to enter college.
The study found that nearly 80 percent of its participants wanted to obtain a four-year degree, yet only about 60 percent planned to apply for college. Many cited concerns about paying for school.
Mallory Levins, who heads high school outreach programs at UNLV and worked with Martinez to carry out the survey, said first-generation college students often put off pursuing a post-secondary education until they find work to pay for their studies instead of seeking financial aid, usually because they don't know about opportunities available to them.
"They don't know that they'll find themselves in a better financial situation in the long run if they seek out that financial aid," Levins said. "There's a discrepancy between knowledge and aspiration."
Contact Ana Ley at aley@reviewjournal.com or 702-224-5512. Find her on Twitter @la__ley.