UNLV-Wyoming: Rebels grab 2nd win of year, 42-16, as Cornett scores 4 TDs
November 13, 2010 - 6:56 pm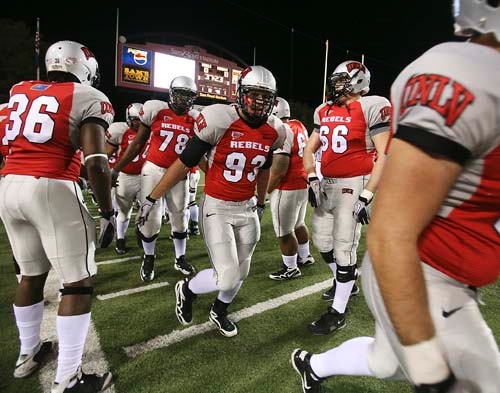 The Rebels ended a five-game losing streak with the convincing victory, improving to 2-8, 2-4 in the Mountain West Conference.
Wyoming (2-9, 0-7) will finish in last place in the conference. UNLV running back Tim Cornett rushed for three touchdowns and caught a scoring pass.
HALFTIME REPORT
The Rebels rallied from 13-7 down with a pair of time-consuming drives that combined for 23 plays and 134 yards and took 11:19 off the clock.
Quarterback Omar Clayton completed 8 of 12 passes for 74 yards and a touchdown in the half, and he rushed for a team-high 34 yards on six carries. UNLV has outgained the Cowboys 203 yards to 165.